If you have paid attention to the NFL offseason, then you would know that most of the decent running backs have protested that they are undervalued and need to make more money. This seems to have carried on into the start of the season, as two players are rumored to be faking their injuries until they get the pay they deserve.
𝗕𝗥𝗘𝗔𝗞𝗜𝗡𝗚: The #NFL is filing a grievance against the NFLPA alleging advising runningbacks to fake injuries as a negotiating tactic to get more money, per @MarkMaske

These are some serious allegations… pic.twitter.com/5AyXM71HK1

— JPAFootball (@jasrifootball) September 18, 2023
NFLPA Allegations
The NFL has filed a grievance against the NFLPA claiming that running backs are possibly faking injuries as a negotiation tactic to get more money. If this ends up being true, then the NFLPA would be under some serious fire from everyone. It looks like the league is targeting two specific running backs in this claim. The names listed may shock you.
Rumors have stated that Los Angeles Chargers running back Austin Ekeler may be "faking" his injury to sit out until the team pays him what he thinks he deserves. Ekeler has come out multiple times saying how he isn't happy with the league not paying running backs more money. He has even gone as far as to throw shade at his team. The running back is currently dealing with an ankle injury, which caused him to be ruled out for the Chargers' week two matchup against the Tennessee Titans.
Head coach Brandon Staley said there is "No timeline" for when Austin Ekeler will be able to return to the field. Could this be the coach sticking up for his guy, hoping that he gets the pay that he deserves? It's hard to tell with Staley, as he usually has this response for every player's timetable to return.
New York Giants running back Saquon Barkley is also rumored to be involved in this issue. With Barkley also dealing with a bad ankle, speculation has grown that he and Ekeler have gone out with similar injuries around the same time. Barkley is believed to have suffered a sprained ankle, which may sideline him for a few weeks according to Dov Kleiman.
𝗨𝗽𝗱𝗮𝘁𝗲: #Giants believe that RB Saquon Barkley suffered a sprained ankle, per @Schultz_Report

"Could've been worse", a source told Jordan and they feel he avoided a major injury.https://t.co/ojqmX1rSDP pic.twitter.com/EsDa0sQtdU

— Dov Kleiman (@NFL_DovKleiman) September 18, 2023
The rumors going around the NFL about the NFLPA are claiming that this may also be a negotiation tactic for the Giants' star, saying that he may be faking an injury also. If this ends up being the truth, then it can seriously end up hurting Saquon Barkley's chance of getting a payday.
Are these Running Backs Faking it?
Although these are some serious allegations from the National Football League, the likeliness that these players are not telling the truth is very unlikely. Yes, these players want to make more money, but they would not go as far as to hurting their teammate's chances of competing. Both Barkley and Ekeler are vital pieces to their offenses and hope to come back from their injuries as soon as possible.
For Additional Content
Please go and follow me on Twitter @TaylorHartmaNFL for more NFL news and updates. If you have any further personal questions or comments for Taylor, connect with him on Linkedin. For more articles on the NFL, go to this site here!
Our Partners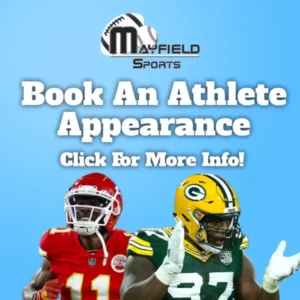 Mayfield Sports Marketing
Call Mayfield Sports Marketing at 262-366-8188 to schedule Green Bay Packers players or alumni for your corporate appearance or product promotion.  Our booking agents will work on your behalf to get you the best price for your desired sports speaker. Mayfield Sports Marketing has earned a reputation of being the one to call for booking top athletes to speak at events and trade shows. To learn more about Packers players or alumni appearance costs and booking fees, please call us today.
 www.MayfieldSports.com
.
Radtke Sports
Wisconsin Sports Heroics is proud to partner with Radtke Sports to offer autographed memorabilia. Brett Favre, Rob Gronkowski, Giannis Antetokounmpo, and MORE Guaranteed Authentic Collectibles and Memorabilia, including signed jerseys, photos, and more at
www.RadtkeSports.com
 USE promo code: WSH for FREE SHIPPING on your purchase. Some restrictions may apply.