Preview: Green Bay Packers (1-1) vs Tampa Bay Buccaneers (2-0)
Packers lead series 33-23-1
Vegas Prediction: Buccaneers -1 (41.5 O/U)
There are only two teams with Hall of Fame quarterbacks with the number 12 located in cities near bays, and they are playing on Sunday. Aaron Rodgers and the Green Bay Packers travel down to Raymond James Stadium to face the Tampa Tom and his Buccaneers. These former division rivals have been playing each other since 1977, with this game being the 58th meeting between the two. This is the third time these teams have played each other since Brady joined the team in 2020. The Packers are 0-2 in that span, with the last lost being the 2021 NFC Championship game. This is a statement game for both teams; a win for the Packers will put them at 2-1 in a wide open NFC North, while a win for the Buccaneers will keep them undefeated.
Injury report
Packers
Out – WR Sammy Watkins (hamstring)
Questionable – T David Bakhtiari (knee), WR Randall Cobb (illness), TE Mercedes Lewis (groin), WR Christian Watson (hamstring)
Buccaneers
Out – WR Chris Godwin (hamstring), DT Akiem Hicks (foot)
Doubtful – TE Cade Otton (personal), T Donovan Smith (elbow),
Questionable – RB Leonard Fournette (hamstring), WR Russell Gage (hamstring), WR Julio Jones (knee), WR Breshad Perriman (knee)
What to watch for
Packers run defense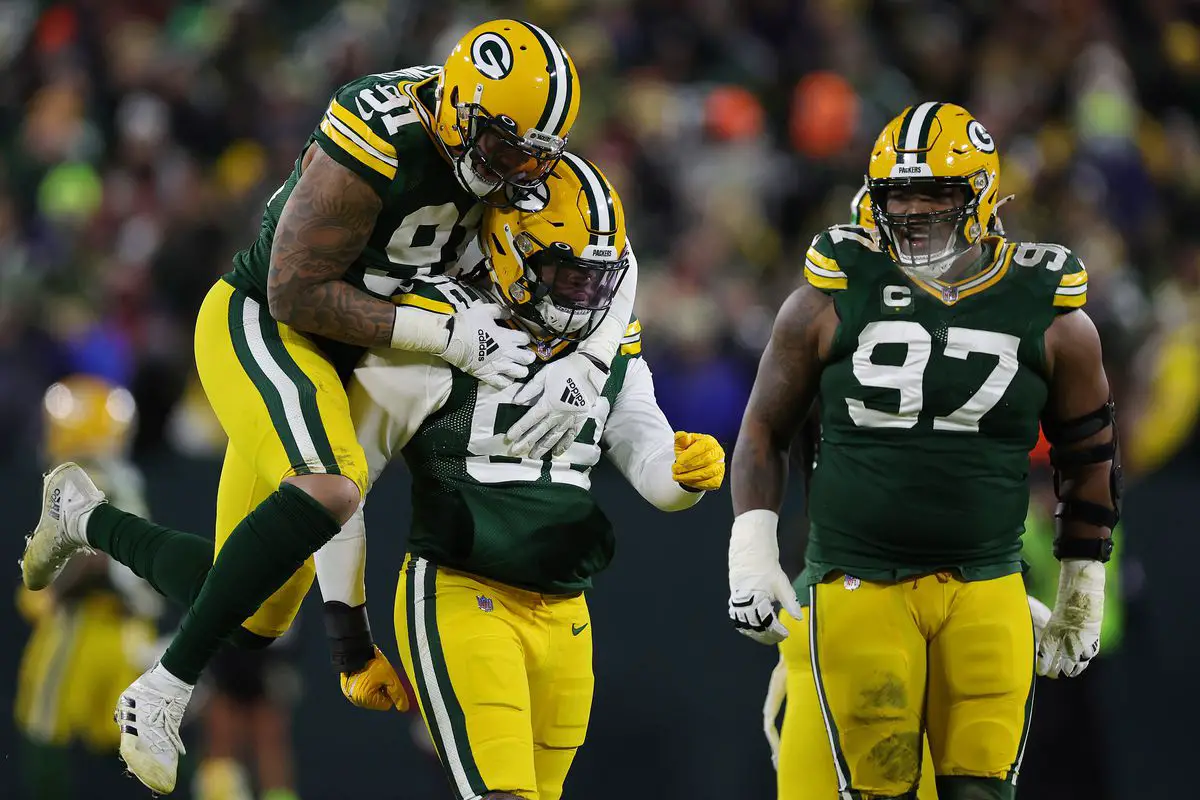 The Packers run defense ranks bottom third in the league in yards allowed (306) through two games. They are also allowing the 6th highest rate of 1st downs (29.1%) and the 4th most YPC (5.6). Small sample size so far for sure, but it seems concerning. Tampa's run game isn't the greatest; they've yet to score a rushing touchdown and have the 4th lowest 1st down rate (15.9%). Fournette has logged limited practices all week and is listed as questionable with a hamstring injury. Regardless of Fournette's health, Buccaneers may have to lean on their rushing attack this game (reasons below), so the Packers' defensive line will be tested once again.
The health of the Buccaneers pass catchers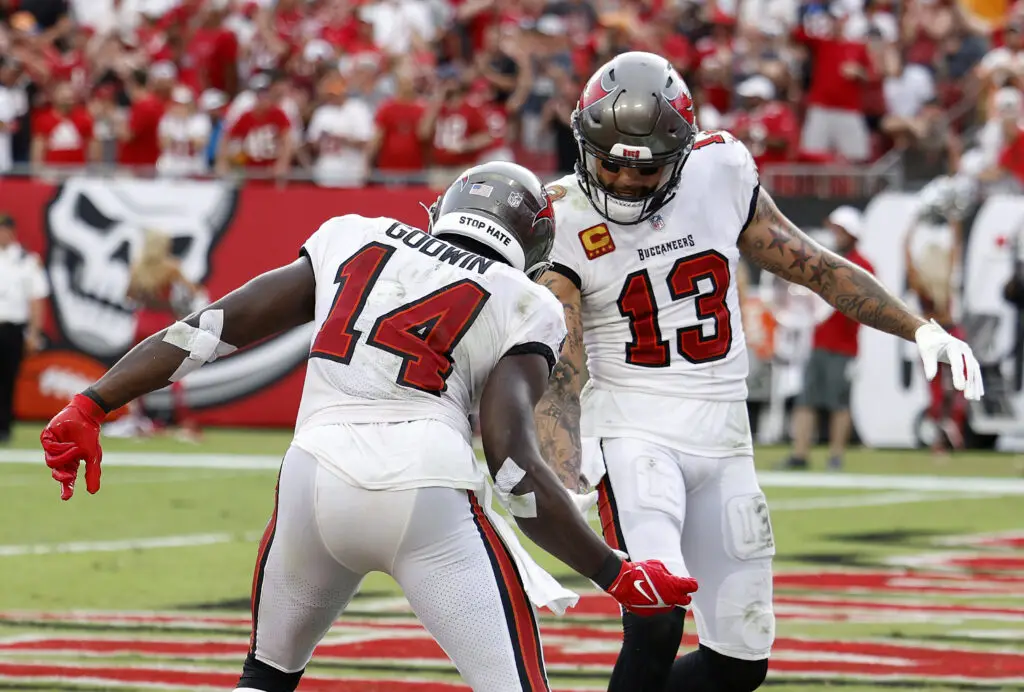 Things are looking rough for the Tampa Bay pass catchers. Mike Evans is serving a one game suspension for tussling with his arch nemesis Marshon Lattimore. Chris Godwin is out for a hamstring injury he sustained after being rushed back from his ACL injury. Julio managed a Friday practice after missing the first two of the week. Gage missed Friday's practice. Perriman logged limited practices all week, so he is likely a go. Things must be dire in Tampa if they are summoning Cole Beasley to do his best Julian Edelman impression.
The magic number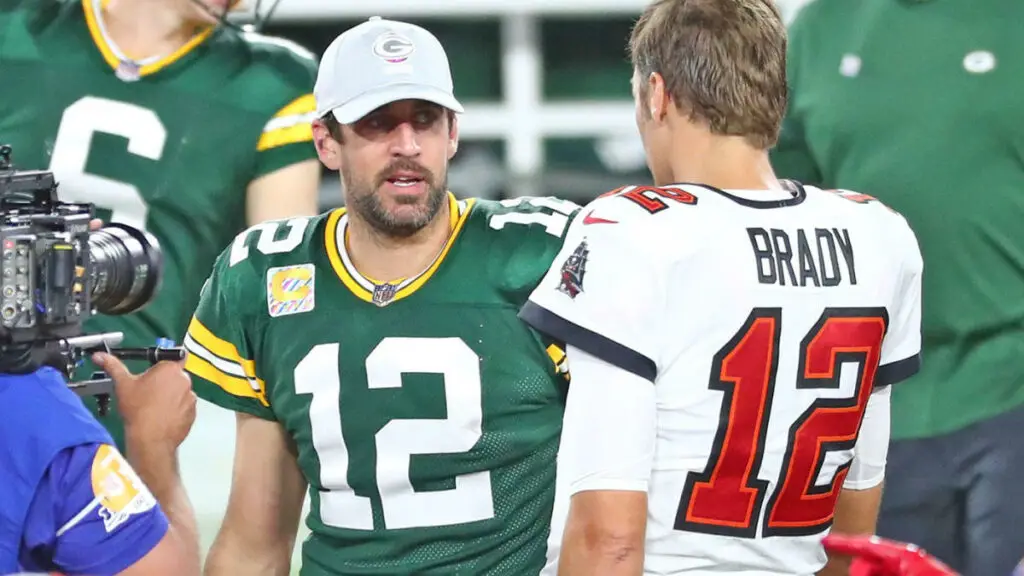 Most legendary quarterbacks have worn the number 12 on their jersey. Each one of those fan bases will argue until they are red in the face that their Hall of Famer is the best. "But he is undefeated in the Super Bowl!" Steelers fans will shout about Bradshaw. "But he is the best pure passer ever!" Packers fans will argue about Rodgers.  "He has seven rings! He's the G.O.A.T.!" Patriots and Buccaneers fans will smugly say about Brady. The Brady vs Rodgers argument is almost as hot as the Jordan vs James one. Despite being a more accurate and efficient passer, Aaron Rodgers doesn't have the success Brady has in the playoffs. Rodgers is by all metrics a better passer in the regular season and playoffs, yet Brady a higher win rate. Aaron Rodger is an artist; Tom Brady is a trained killer. This article concludes that is up to the individual to decide who is better based what they value. Do you value wins or pure passing stats?
In conclusion, Rodgers has a better arm than Brady, but statistically, both are close in many areas. Brady wins much more than Rodgers in both the regular season and the playoffs. Brady has six Super Bowl rings to Rodgers' one. However, Brady also had a far greater amount of talent surrounding him throughout his career than Rodgers ever did. Brady has led his team to many more late-game clutch victories, and he was a top four-team 70% of his entire career. Who do you think is the greatest QB of all time? The greatest winner in the history of the game, Tom Brady? Or the greatest arm talent the game has seen, Aaron Rodgers? – @jesseunksi
My Predictions: Packers 26 – Buccaneers 20
The quarterbacks will struggle this game. Both teams boast a top 8 pass defense with a "meh" pass catching group. I will say two or less touchdowns throw between them.
Most of the work will come from the ground. The Packers will lean on their highly efficient rushing attack and Fournette will have a big game by having a touchdown through the air and another one on the ground.
Mason Crosby will be busy.