It's a big year ahead for Ezekiel Elliott. The New England Patriots took a gamble on the decorated running back by signing him on a one-year deal that reportedly could rise to up to $6 million. It took the three-time Pro Bowler some time to find a new home this summer after cutting ties with the Dallas Cowboys earlier this offseason. He has a fresh start in New England and he's certainly looking to make the most out of it.
Ezekiel Elliot on Rhamondre Stevenson: 'We'll Complement Each Other'
Elliott recently spoke about his fit with his new team. Specifically, the former All-Pro running back shed some light on how he feels he can function alongside fellow Patriots RB Rhamondre Stevenson:
"It's great working with Rhamondre," Elliott said, via Doug Kyed of the Boston Herald. "Me and Mondre have the same agents. We've known each other for a while. He's a back that has a similar running style as me. We'll be able to complement each other very well."
He's not wrong. You can see Elliott's powerful running and ability to break tackles complement Stevenson's more elusive style of play. At the same time, both RBs are effective pass blockers, which should work in the favor of Pats quarterback Mac Jones.
Ezekiel Elliot Already Making an Impact in New England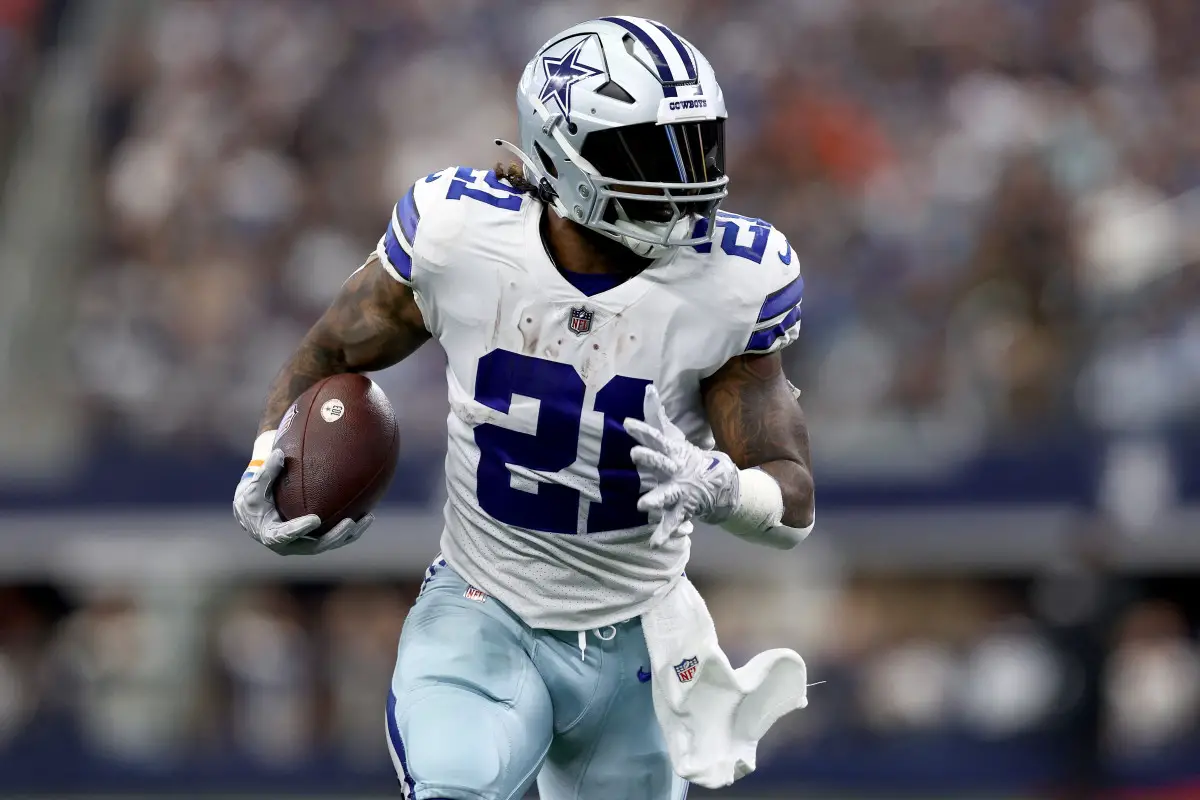 Apart from being a threat on the football field, Ezekiel Elliott also brings a distinct fire with him in the locker room. He's already making his mark early on, and as QB Mac Jones put it, the veteran has been "bringing juice to the practices."
"I think I missed the first 17 practices of camp," Elliott said. "So, I thought I definitely should come in and be a little energizer boost. The transition has been good. I've been getting along with the team. I love the coaches. I love this atmosphere. I love this program. Just having fun."
That's all well and good but of course, Elliott's impact on the field is what's going to determine whether or not he's going to get a longer-term contract with New England or if this will end up as being a one-year stint for the former Rookie of the Year.
For his part, Elliott used his hiatus to good use. He still has some work to do with his new team, but he remains confident that he will make a significant impact on the Patriots this season:
"I was at home, but I was definitely working my tail off," Elliott said. "I feel good. I feel like I'm ready to play. Just gotta — I've been here, what? A week? Eight days? Still getting in that playbook, trying to know it the way I should, but getting there."
Our Partners
Mayfield Sports Marketing
Call Mayfield Sports Marketing at 262-366-8188 to schedule Green Bay Packers players or alumni for your corporate appearance or product promotion.  Our booking agents will work on your behalf to get you the best price for your desired sports speaker.
Mayfield Sports Marketing has earned a reputation of being the one to call for booking top athletes to speak at events and trade shows. To learn more about Packers players or alumni appearance cost and booking fee, please call us today. www.MayfieldSports.com.
Radtke Sports
Wisconsin Sports Heroics is proud partner with Radtke Sports to offer autographed memorabilia. Brett Favre, Rob Gronkowski, Giannis Antetokounmpo, and MORE Guaranteed Authentic Collectibles and Memorabilia including signed jerseys, photos, and more at www.RadtkeSports.com USE promo code: WSH for FREE SHIPPING on your purchase. Some restrictions may apply.
For More Of My Content
Follow me on Twitter at @PaoloSongcoNBA. You may also reach out to me personally at pao.songco@gmail.com.