The Bobby Dodd Coach of the Year Award, also known as the Dodd Trophy, is given to the college football coach who most excels at getting the best out of his players, on and off of the field.  Ohio State Head Coach Ryan Day is on the watchlist, and it couldn't be at a better time.  The Buckeyes are poised for a historic run, with the team focused on a national championship.  And if all goes well, Day may become the first Ohio State Dodd winner since Jim Tressel won it in 2002.
An Outstanding Track Record
Since taking over as the Buckeyes' head coach at the end of 2018, Day has established himself as a winner.  Under his leadership the team has amassed a 34-4 record, a 23-1 record versus Big Ten opponents, and a 13-4 record against top 25 opponents.  Just as important is the fact that he shares the program's standards.  During the Big Ten media days, Day noted that "maybe at some places 11-2 with a Rose Bowl victory is a good year. It isn't at Ohio State."  I think it's safe to say that coach Day shares the sentiment of every Bucks fan.  The standards are much higher in Buckeye nation.  And expectations this year are soaring.  But Coach Day appears to be just the man for the job.
A Coach Who Cares
— Harry Miller (@h_miller76) March 10, 2022
Last season, center Harry Miller was dealing with a very serious mental illness just prior to the season.  In a tweet to announce his retirement from sports, Miller spoke of what was happening behind the scenes.  "Prior to the season last year, I told Coach Day of my intention to kill myself. He immediately had me in touch with Dr. Candice and Dr. Norman, and I received the support I needed."  True to his statements on his concern for mental health, Coach Day took immediate action.  And he likely had a hand in saving Miller's life.
This week Day and his wife Nina announced a donation of $1 million to the Ohio State Wexner Medical Center and College of Medicine.  This generous donation has made headlines around the nation and as a result is also increasing awareness.  And the results that come from that are immeasurable.  With people struggling with mental illness, just hearing that there are options can make all the difference in the world.  Coach Day is quickly becoming a hero to many.  In a world where character is often questionable he is a breath of fresh air.
The Next Ohio State Dodd Winner?
It really is a shame that there has been a 20 year Dodd drought at Ohio State.  Tressel and Urban Meyer had some solid seasons that should have earned them more than just the one Dodd for Tressel.  Entering his fourth season Ryan Day should bring a halt to the drought.  With this year's team featuring several players that are at or near the top in their positions, this season in very promising.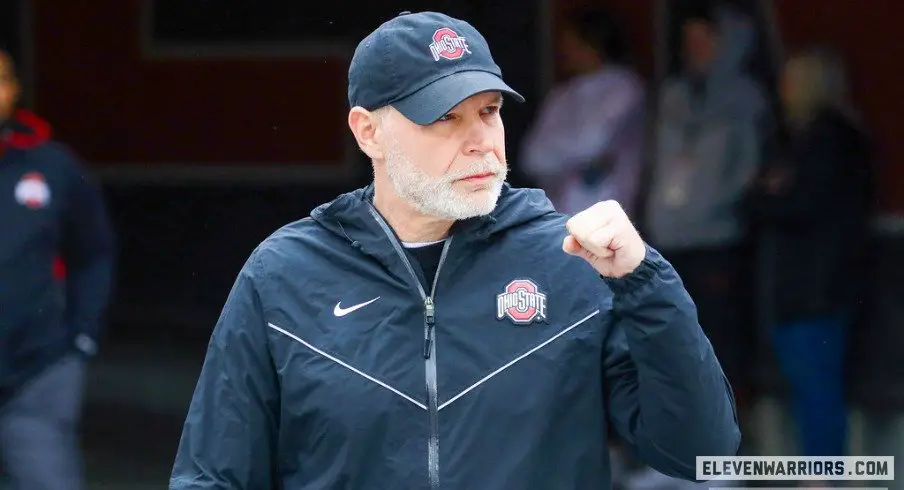 New Defensive Coordinator Jim Knowles is a top talent, if not THE top talent, that will bring the defense to the next level.  And yet Coach Day has made it very clear what the expectations are when he said "…in terms of expectations, yeah, we expect a top ten defense."  Though top ten may be a stretch, aiming high only makes you better.  And we expect much better from the Buckeyes' defense.
And then there's an improved O-line and the return of rising stars on offense.  Not the least of which is Heisman front runner C.J. Stroud.   This year's team looks primed to dominate college football and become unstoppable.
All of this brings national championship expectations to an already high standard in Columbus.  As a result the pressure is on for the head coach and his team.  But if your worried about the pressure getting to them, Coach Day's drive for excellence gives him and the team focus.  And this will push the team forward, oblivious to anything but the goal.
And if they are successful, Ryan Day should bring the Dodd back to Ohio State.