Ohio State Football Report January 28th, 2023
Moving On to Championship Weekend
Tomorrow these Buckeyes will play for an opportunity to get to the Super Bowl. I was going to try to put highlights of them from their respective teams but for some reason the No Fun League won't let me share highlights even from their site or official social media accounts. So instead here's their highlights on the best dang team in the land.
No matter who wins on the NFC side, at least one Buckeye will be playing in the Super Bowl. On the AFC side only the Bengals have men of the scarlet and gray on their roster. Just another reason for me to shout who dey! That and being born in Cincinnati and living my whole life in Butler County just outside of the Queen City.
Stats of the Week
In the past decade, Ohio State has been the road warriors of college football. They are a nation leading 40-4 when they are visiting their opponents stadiums. That's 91% of the games they walk into the building as visitors and leave as conquerors. The next best is Alabama with a 35-7 record and an 83% winning percentage.
Speaking of Road Warriors
Back to the Brotherhood 👀🌰 pic.twitter.com/ZC0TeWS8tC

— Ohio State Football (@OhioStateFB) January 27, 2023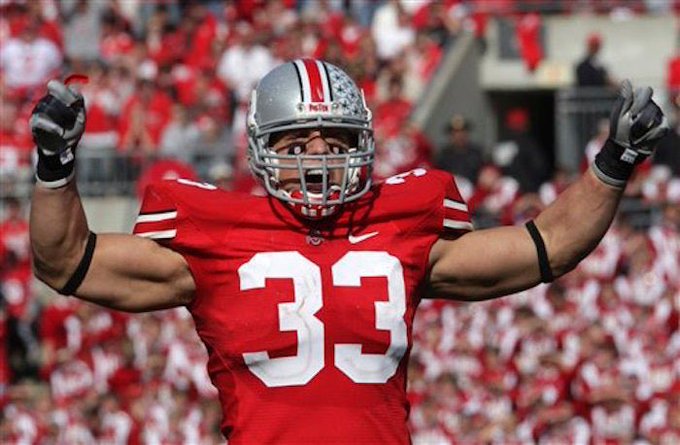 The son of the great professional wrestler, the late great Animal, one half of the legendary tag team the Road Warriors is returning to Columbus. James Laurinaitis, the three-time All-American, and proud owner of four pairs of Gold Pants has joined Ryan Day's coaching staff. Laurinaitis will be a graduate assistant on defense. This is a huge addition to the staff by Ryan Day for Ohio State football.
I think Laurinaitis will be the de facto linebackers coach, a position currently held by defensive coordinator Jim Knowles. As much as they are allowed by NCAA rules, Laurinaitis will recruit the linebackers the Buckeyes want and will teach them about playing the position as much as rules permit as well. Brian Hartline was hired to a similar position but for the offense and wide receivers in 2017 and Laurinaitis could and likely will payoff as quickly and as immensely for the linebackers and the defense.
Living the Rivalry
Some way-too-early oddsmakers had Kyle McCord having better chances to win the Heisman than any player at that team up north. This obviously had Ann Arbor in an uproar given how good J.J. McCarthy and Blake Corum were in 2022. A simple statistic quickly explains why McCord has better odds (particularly over McCarthy).
Ohio State quarterbacks have thrown at least 40 touchdown passes in four of the past five seasons with the only exception being 2020 when the Buckeyes only played eight games. Haskins had 50 in 2018, Fields 41 in 2019, Fields 22 in 2020 (Covid year), Stroud 44 in 2021, and Stroud 41 in 2022. The highest number of touchdowns any quarterback for that team up north has ever thrown in a season is 25.
The biggest thing Kyle McCord or Devin Brown will have to do, isn't throw 40 or more touchdowns. That's nice, and a reason why Buckeye quarterbacks are up for more hardware than their rivals to the north, but 40 or more touchdown passes are a distant second to winning The Game.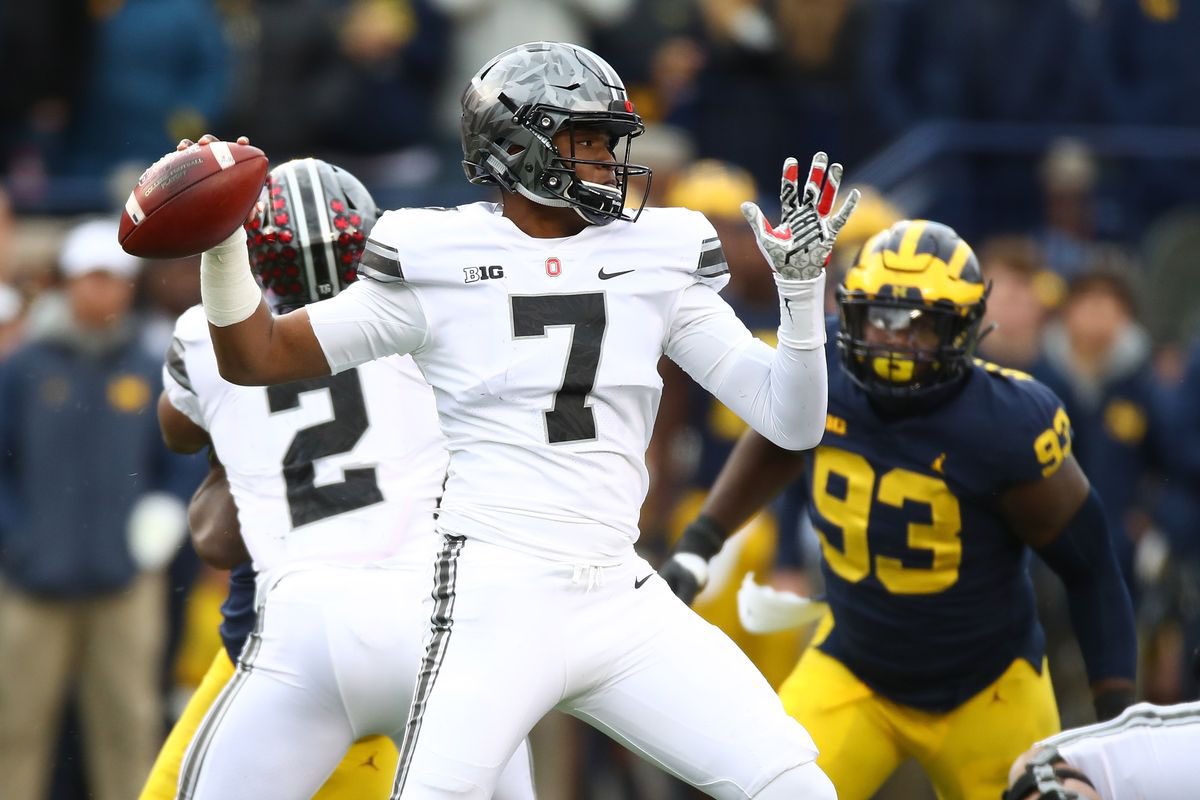 More Than One Home
With an average age of 25 years-old, it hasn't been long since these NFL Divisional Round starting QBs were in college 💪

Which of these players was your favorite to watch in college? 🤔 pic.twitter.com/x62B9eJ0Yu

— FOX College Football (@CFBONFOX) January 22, 2023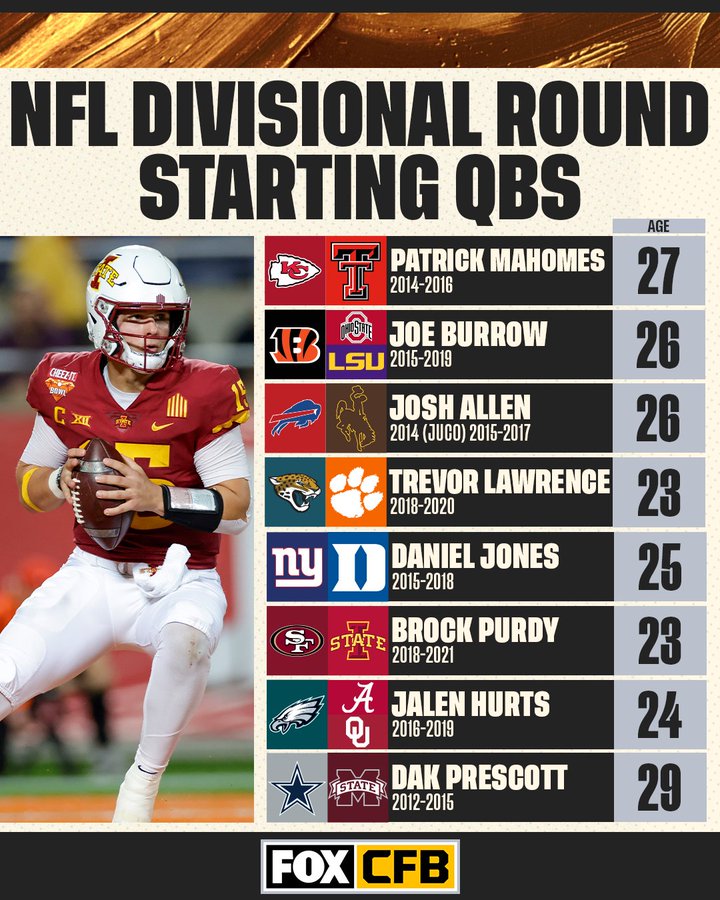 I like that Fox Sports put both Ohio State and LSU for Joe Burrow and both Alabama and Oklahoma for Jalen Hurts on here. I have to laugh at all the fans on social media whining and saying Alabama and Ohio State shouldn't be claiming Hurts and Burrow. When if they took a look what these two have said, they'd see that it's Burrow and Hurts claiming Ohio State and Alabama along with where they finished their careers.
Joe Burrow has said multiple times that he still considers himself a Buckeye and values his time spent at Ohio State and more than embraces being known as an Ohio guy after growing up near Athens, going to Ohio State, and now playing in Cincinnati. Hurts removed all doubt about his love for both schools before he was even drafted by having his Senior Bowl helmet represent Oklahoma on one side and Alabama on the other. Let the players and fans claim both. All it does is make football more fun.
Sustained Greatness
🌰😳 @OhioStateFB has appearance in the AP Poll for 55 straight seasons

Which team on this list is the most surprising? pic.twitter.com/ikDkqZhUlx

— FOX College Football (@CFBONFOX) January 19, 2023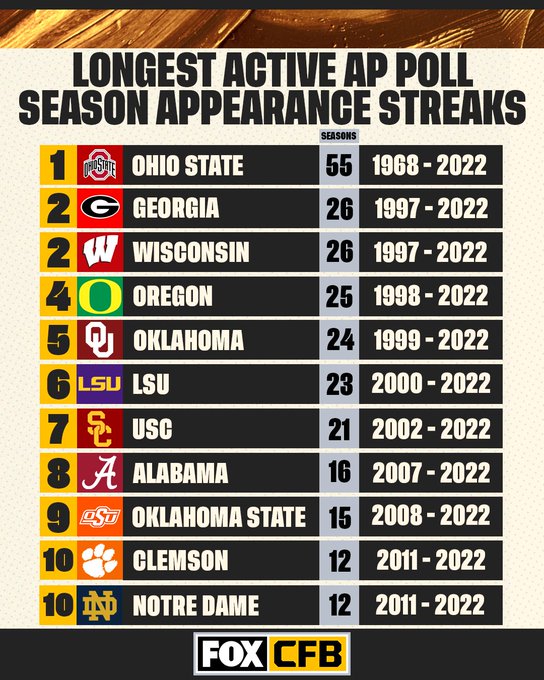 What absolutely floors me about 55 straight seasons in which the Buckeyes appeared in the AP Poll is that the next two best teams COMBINED are still short of the record that the Buckeyes hold. It's a record to be proud of and shows that the standards for Ohio State football are three things. They're high, their obtainable, and anything less won't be accepted.
Old School Game of the Week
Since we began this month celebrating the 20th anniversary of one of the greatest victories in Ohio State football history, it seems only appropriate that we do so to end the month. I hope to write more about this game as this year goes on as seeing it 20 years later when I'm two decades older and wiser I have a new and greater appreciation for it. That 2002 team is my favorite sports team of all-time and with good reason! Enjoy and Go Bucks!
Check out last week's report to make sure you're all caught up on your Ohio State football news and content.
For More Great Football Content
Follow us on Twitter at @GridironHeroics for more great content. We appreciate you taking time to read our articles. To interact more with our community and keep up to date on the latest in Football news, JOIN OUR FREE FACEBOOK GROUP by CLICKING HERE
Checkout our latest podcast!
[powerpress_playlist limit=1]