The 2023 NFL season begins this week, and NFL records are going to be shattered. There are a few records that we can pinpoint and expect to be overtaken here. Let's talk about three records that should be changing holders as the season goes on.
NFL Record #1: Most Consecutive Wins
This record is something that can be very interesting. The Kansas City Chiefs have won eight consecutive games to end last season (including the postseason). If they can manage to remain undefeated until their Week 15 matchup against the New England Patriots and win that game, they will break the longest winning streak record in NFL history.
They have a tough schedule, but this Chiefs team has shown the ability to dominate in the division and win games at an incredible rate. Expect this to happen as well to solidify Kansas City as a dominant franchise. It also helps that they would beat the record against the franchise that holds the current record from the undefeated regular season in 2007.
NFL Record #2: Most Rushing Yards in a Season by a QB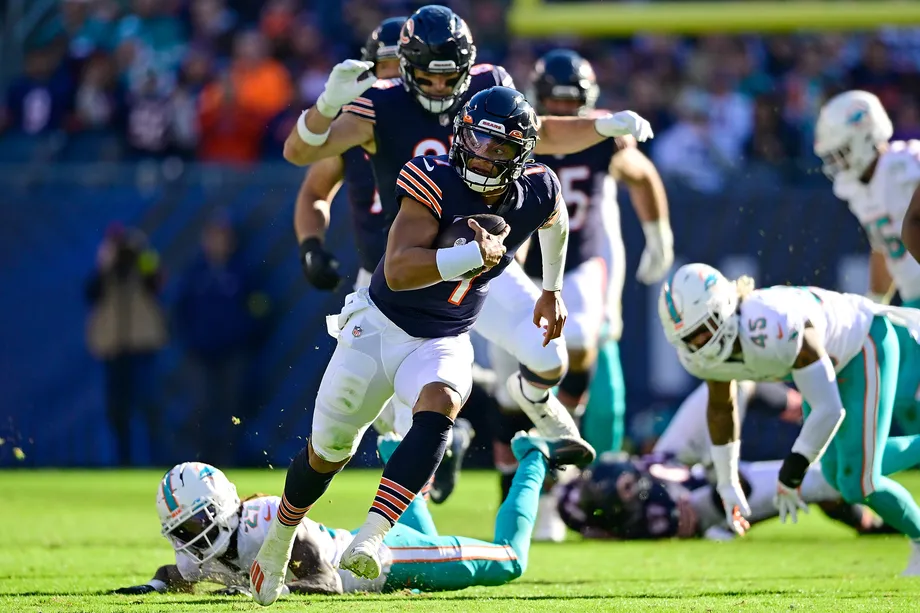 The current record is held by Lamar Jackson in 2019 with 1,206 rushing yards. Justin Fields threatened the record last season as he ended at 1,143 yards but only was able to play in 15 games. If a running quarterback, like Fields, is able to stay healthy for all 17 games in a season, then the record will be shattered.
Expect Justin Fields to continue running the football and break the record.
NFL Record #3: Most Points Scored by a team in a season
The 2013 Denver Broncos hold the record for scoring the most points with 606 points in a season on the back, 71 offensive touchdowns, and 25 field goals. There is one offense explosive enough to match the firepower, and that is the Kansas City Chiefs.
The most dangerous duo in the league 😤 🔥 @PatrickMahomes @tkelce

📺: #Kickoff2023 – Thursday Sept. 7 on NBC
📱: Stream on #NFLPlus pic.twitter.com/uhQIHztaW1

— NFL (@NFL) September 1, 2023
The Chiefs would have to average 35.7 points per game to accomplish this, but it should happen. This offense is dominant and obviously has Patrick Mahomes throwing the football. He is averaging 38.7 touchdown passes over the last three seasons. This offense has the firepower to explode and would need the defense to step up and get them in advantageous situations. This will be interesting to keep tabs on as they should have enough offense to break the record with a 17th game.
Our Partners

Mayfield Sports Marketing
Call Mayfield Sports Marketing at 262-366-8188 to schedule Green Bay Packers players or alumni for your corporate appearance or product promotion.  Our booking agents will work on your behalf to get you the best price for your desired sports speaker. Mayfield Sports Marketing has earned a reputation of being the one to call for booking top athletes to speak at events and trade shows. To learn more about Packers players or alumni appearance costs and booking fees, please call us today. www.MayfieldSports.com.
Radtke Sports
Wisconsin Sports Heroics is proud to partner with Radtke Sports to offer autographed memorabilia. Brett Favre, Rob Gronkowski, Giannis Antetokounmpo, and MORE Guaranteed Authentic Collectibles and Memorabilia, including signed jerseys, photos, and more at www.RadtkeSports.com USE promo code: WSH for FREE SHIPPING on your purchase. Some restrictions may apply.