It was announced on Wednesday morning that Cleveland Browns quarterback Deshaun Watson will undergo season-ending surgery on his shoulder. The quarterback has been dealing with several injuries this season including his shoulder, which was revealed to be a broken bone. NFL fans went crazy on Twitter reacting to the announcement that Watson will officially be out for the rest of the 2023 season.
#Browns Deshaun Watson took a long time to compose himself and his eyes welled up when asked about the emotions of being lost for the season pic.twitter.com/RUuxhdkZMT

— Mary Kay Cabot (@MaryKayCabot) November 15, 2023
Deshaun Watson knowing he got a fully-guaranteed contract pic.twitter.com/MgStoyvdUL

— GhettoGronk (@TheGhettoGronk) November 15, 2023
Browns announce Deshaun Watson out for the season pic.twitter.com/0Ct6pOayBl

— McNeil (@Reflog_18) November 15, 2023
Deshaun Watson out for the season?!

I swear the Browns can't catch a break. This was literally their best show to win the AFC North this year.

Damn. pic.twitter.com/zuLtbIYg2A

— Dan Mitchell (@realdanmitchell) November 15, 2023
NFL Fans Reaction
Many fans are calling the news "karma" regarding the incident of Watson reportedly sexually assaulting massage therapists. On the other side, Browns fans are in despair as they will now be without their $230 million quarterback for the rest of the year. This has prompted the team to start rookie quarterback Dorian Thompson-Robinson for the time being.
There are now rumors going around, of course, that Cleveland should look into signing a veteran quarterback so that they can keep their momentum going this season, including guys like Colin Kaepernick and Colt McCoy. Kaepernick has been in a ton of rumors inside different NFL fanbases, and a return to the league is very unlikely for him at this point. As for McCoy, he is now 37 years old, so it is also very unlikely that he will want to make a return.
The Browns need to go sign Colt McCoy. He's a 13 year @NFL vet with 37 starts under his belt who was drafted to Cleveland.

He's a .500 quarterback over his last 3 years and with the @Browns defense, he can get this team to the playoffs.#DawgPound

— Emmanuel Acho (@EmmanuelAcho) November 15, 2023
Better yet go out and sign a proven Super Bowl caliber quarterback who's available right now @Browns @Kaepernick7 https://t.co/REEEhVyYPQ pic.twitter.com/9GIZ3m0z76

— Peter Pattakos (@peterpattakos) November 15, 2023
Deshaun Watson Statistics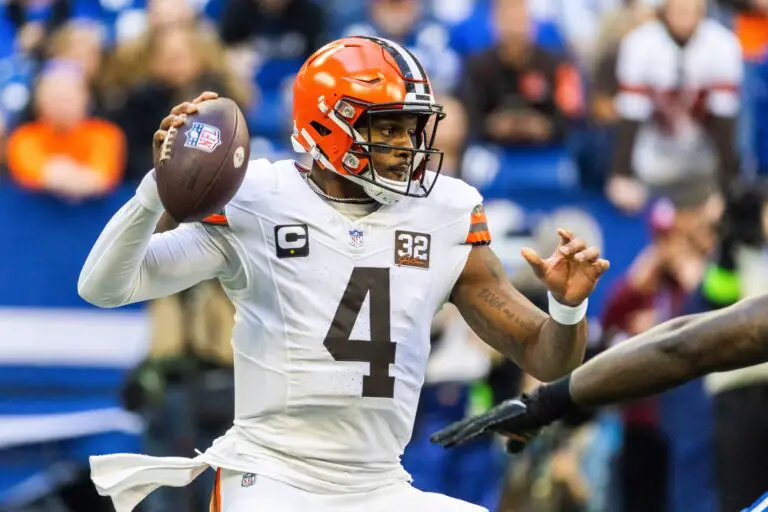 Watson will finish the season with 1,115 passing yards and seven touchdowns along with four interceptions. He has not performed to the expectation of fans and analysts this year, but it has been just enough for the Browns to have success this season.
Cleveland is currently 6-3 and is in a tie with the Pittsburgh Steelers for second place in the AFC North. The two teams will face off against each other this week to determine who will solidify the second spot in the division, but Cleveland will be doing it without their multi-million-dollar guy. Watson's surgery date is still unknown, and we will make sure to update you once it is revealed.
For Additional Content
Please go and follow me on Twitter @TaylorHartmaNFL for more NFL news and updates. If you have any further personal questions or comments for Taylor, connect with him on LinkedIn. For more articles on the NFL, go to this site here! Also, go check out our podcast @FSHeroics!