It's now just a little over two weeks away before the Kansas City Chiefs kick off their title defense in a Week 1 matchup against the Detroit Lions. At this point, however, there is a lot of uncertainty surrounding the availability of wide receiver Kadarius Toney, who suffered a concerning knee injury during the first day of training camp.
The good news for the Chiefs, though, is that the 24-year-old seems to progressing well in his road to recovery.
Kadarius Toney Could Be Ready for Week 1 Amid Knee Injury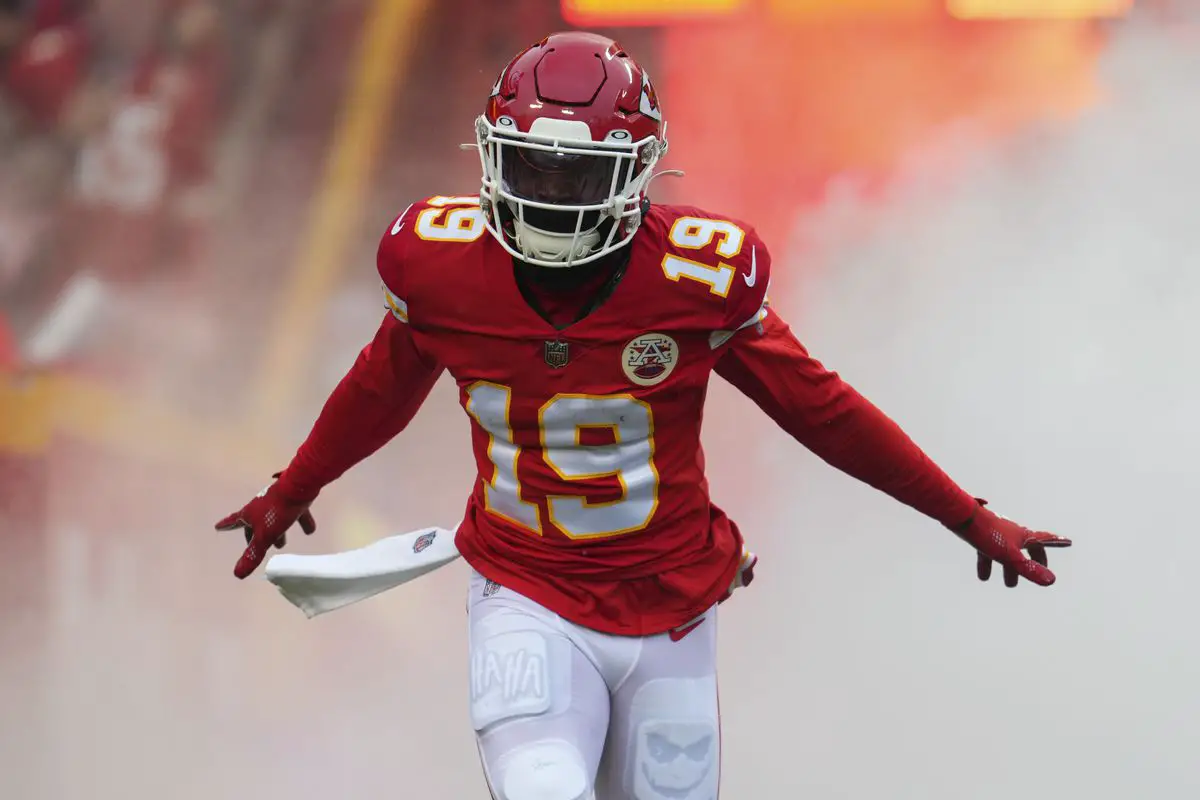 While nothing is guaranteed at this point, it seems like there's now a chance that Toney will be available for the Chiefs in Week 1. This report comes via league insider James Palmer of the NFL Network.
"There's some optimism that he's going to be able to go for the Kansas City Chiefs in this opener." Palmer said (h/t Jack Murray of Bleacher Report). "….At the start of this offseason, they made it very clear that he was their clear-cut No. 1 wide receiver heading into the 2023 season, but he has missed all of that time with this knee injury. This week, I am told, is going to be very important. They think he's doing great in terms of his recovery but how he practices this week would be big."
Can #chiefs WR Kadarius Toney, who has missed all of training camp with a partially torn meniscus, actually play Week 1 vs the #lions? There's some optimism. My report @nfltotalaccess on @nflnetwork pic.twitter.com/ycpCcr4nS5

— James Palmer (@JamesPalmerTV) August 28, 2023
As Palmer said, the upcoming week will be pivotal in terms of Kadarius Toney's race to fitness. There's now a good chance that he will be ready on time for the Chiefs' season-opener against the Lions, but at the same time, Kansas City will likely take a cautious approach on their WR1. Unless he's fully healthy, I just don't see how (and why) the Chiefs will force Toney to play in Week 1.
Our Partners
Mayfield Sports Marketing
Call Mayfield Sports Marketing at 262-366-8188 to schedule Green Bay Packers players or alumni for your corporate appearance or product promotion.  Our booking agents will work on your behalf to get you the best price for your desired sports speaker.
Mayfield Sports Marketing has earned a reputation of being the one to call for booking top athletes to speak at events and trade shows. To learn more about Packers players or alumni appearance cost and booking fee, please call us today. www.MayfieldSports.com.
Radtke Sports
Wisconsin Sports Heroics is proud partner with Radtke Sports to offer autographed memorabilia. Brett Favre, Rob Gronkowski, Giannis Antetokounmpo, and MORE Guaranteed Authentic Collectibles and Memorabilia including signed jerseys, photos, and more at www.RadtkeSports.com USE promo code: WSH for FREE SHIPPING on your purchase. Some restrictions may apply.
For More Of My Content
Follow me on Twitter at @PaoloSongcoNBA. You may also reach out to me personally at pao.songco@gmail.com.