It is no secret that the New York Giants are having a disappointing 2023 NFL season. They currently have a 2-6 record and traded DL Leonard Williams to the Seattle Seahawks. However, GM Joe Schoen made headlines last night.
That was because he was a notable attendee of last night's clash at the Los Angeles Memorial Coliseum between the Washington Huskies and the USC Trojans. While it was not the first college football game that Schoen attended this season, it was certainly a notable one. That is because of who leads each of these respective teams.
Quarterback of the Future
QBs Michael Penix Jr. and Caleb Williams headlined the talent on display in last night's game. Penix for Washington is the current favorite to win the Heisman Trophy and Williams for USC is the current favorite to get selected #1 overall in the 2024 NFL Draft. For these reasons, Schoen's presence at this game certainly sparked the interest of Giants fans.
Right now, the Giants' current QB is Daniel Jones. He was just offered a $160 million contract extension last off-season. However, if you look closer at this contract, you will note that the Giants could get out of it by the end of the 2024 season. That could leave some to speculate whether the New York Giants may be willing to cut ties with Jones if they find a good alternative before then.
Jones is certainly having a season to forget. He missed the last three games due to a neck injury. Before that, he looked like he was regressing for the New York Giants after a promising 2022 season. Jones had just touchdown passes with six interceptions and four fumbles through five games this season.
College Quarterback Options
If the New York Giants were to draft a quarterback next year, Penix and Williams are arguably the two best ones available. Both of them showed what they were made of last night.
Penix revitalized his college football career transferring to Washington last season after playing for Indiana for four seasons. Since then, he has 7,842 passing yards, 57 touchdown passes, and just 15 interceptions in 22 games. He could top it off by leading the Washington Huskies to the College Football Playoff if he keeps up this performance for the rest of the season.
Caleb Williams is another college quarterback who found success transferring. He followed head coach Lincoln Riley to USC in 2022 and has not looked back. Since transferring to USC, Williams has 7,495 passing yards, 70 touchdown passes, and just nine interceptions.
However, Williams does have one problem. That is hanging onto the football. He has 30 fumbles throughout his college football career. That is the most in the FBS in that period. Still, there is no question about the raw talent he has.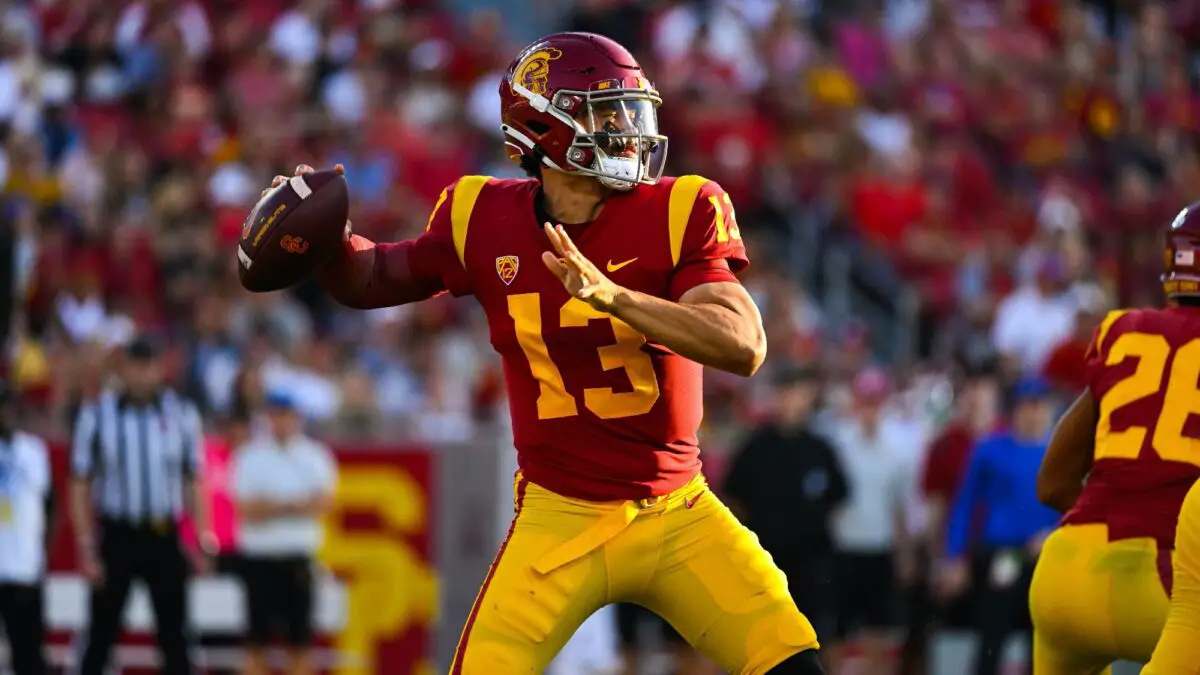 New York Giants' Draft Position
The New York Giants are likely going to be in the mix for one of the top spots in the 2024 NFL Draft. Currently, they hold the fourth overall pick. The main problem is that every team in the top five may be looking for a quarterback.
However, the Chicago Bears currently hold two of those picks and may trade at least one of them to a team looking to move up for a quarterback. If the Giants remain in this high of a draft position for next year, GM Joe Schoen may have no choice but to seriously consider drafting a quarterback in this loaded quarterback class. For now, we will have to wait and see if they remain in a position to do so.
Get More NFL Content
For the latest news around the NFL, click here or follow me on Twitter @JohnGalletley. If you want sports betting or fantasy sports advice, check out our Fantasy Sports Heroics podcast.