The Minnesota Vikings finally got off the mark on Sunday with their first win of the season. This came in the form of a 21-13 victory against the Carolina Panthers in Week 4. After suffering defeat in three out of their first three games of the new season, Minnesota finally got their first W of the campaign. Needless to say, this was a long time coming.
Justin Jefferson Speaks Out on 'Too Short' Celebration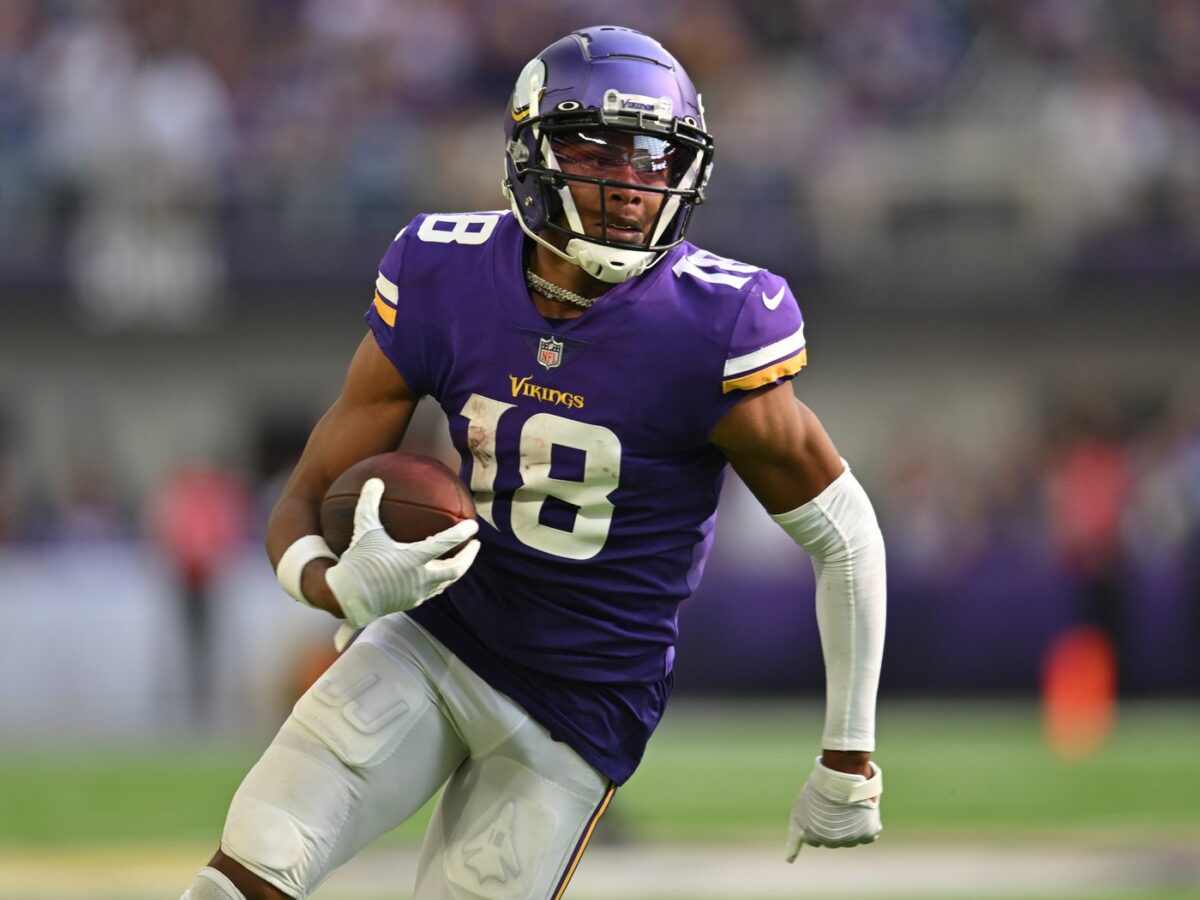 Justin Jefferson has been on the receiving end of some criticism amid his team's slow start. It appears that the All-Pro running back has heard the noise, and he responded with a big game on Sunday.
At one point in the win, Jefferson busted out the "too short" celebration after scoring his second touchdown of the game. It came in the form of a 30-yard score from the three-time Pro Bowl WR:
Oh my god Justin Jefferson 💀 pic.twitter.com/dQpGkCrfM4

— JPAFootball (@jasrifootball) October 1, 2023
After the game, Jefferson was asked to explain the motivation behind his celebration. According to the 24-year-old, he wanted to send a message not only to the Panthers but to the rest of the NFL as well:
"I mean, that's a message to the league," Jefferson said, via Mike Florio of PFT. "I'll go out there to show that it doesn't matter who's out there to stiff me. I'm gonna make a play, I'm gonna make a catch. I'm gonna do whatever it takes for my team to win."
That's exactly what Jefferson did on Sunday, finishing with a team-high six receptions for 85 yards and two touchdowns. More of the same will be expected from him as the Vikings look to turn their season around.
Minnesota Vikings Come Back from Adversity Vs. Panthers
This wasn't an easy win by Minnesota by any means. In fact, the Vikings entered halftime down by six points. For his part, Jefferson just had to make sure that his team stayed the course:
"Just keep stressing to keep going, you know?" Jefferson said. "It's a long game. It's a lot of time to go out there and make something happen. So, it's really just don't get discouraged by the turnover or the bad plays that we have on the field. We just gotta reset and just have that confidence to go back out there, have a better drive and put points on the board."
Minnesota came roaring back in the second half, scoring two touchdowns in the third quarter. Their second one came after safety Harrison Smith forced Carolina rookie quarterback Bryce Young to fumble, leading to a D.J. Wonnum touchdown.
Harrison Smith and D.J. Wonnum combine on a defensive TD that flips this game around and gives the Vikings their first lead.pic.twitter.com/AGW1eSxMW9

— Will Ragatz (@WillRagatz) October 1, 2023
"I feel like that changed the whole game around," Jefferson said. "You know, us going back on top. Just us having that momentum from that play. I felt like we kind of leaned on that play and kind of played the rest of the game with more tempo, more energy."
Jefferson and Co. return to action in Week 5 against the defending champs, the Kansas City Chiefs, on Sunday.
For More Of My Content
Follow me on Twitter at @PaoloSongcoNBA. You may also reach out to me personally at pao.songco@gmail.com.