Miami Dolphins' wide receiver Tyreek Hill will be facing his old teammates as they take on the Chiefs in Frankfurt, Germany as part of the NFL's International Series.
Dolphins' WR: "They gon' get this work"
Hill has stated how appreciative of the Chiefs organization and all they did for him, and even though he'll face some of his old teammates this weekend, there isn't really any added emotions going into his game.
Hill spent the first six seasons of his career as a member of the Kansas City Chiefs before he was traded to the Dolphins in the offseason last year and looks to face his former team for the first time in Germany. While it's kind of a bummer that Hill won't be able to play the game at Arrowhead Stadium, he said that location doesn't really matter as long as he can play a good game of football.
"It doesn't really matter where we play at," Hill said. "I mean, obviously it would've been great to play in KC, but it really doesn't matter where we play at, you feel me? They going to get this work wherever."
The reunion comes after Hill was named October's AFC Offensive Player of the Month, leading the league with 1,014 receiving yards and is on pace to reach 2,000 yards in a single season. In his first season with the Dolphins, he set a career high with 1,710 receiving yards, and since then, no other player in the NFL has been able to come close to what Hill has been doing.
Hill Glad the Trade Happened
When Tyreek Hill had went on I am Athlete, he talked about how the trade proposal was initially one to bait the Chiefs into giving him a new contract, however the trade actually went through and it made him the highest paid wide receiver in the NFL at the time. Hill said per ESPN that he's glad the trade happened, the experience has been great.
"I'm kind of glad that happened," Hill said. "Obviously the situation that I'm in is great. I've got great teammates. My family is from Miami, and also, I accomplished one of my goals of being one of the highest paid in the league. So, everything's great. Life is great, man. Never can take anything for granted. So I can't look back. Always got to look forward. That's my mindset."
Hill is looking forward to seeing former teammates like QB Patrick Mahomes and Travis Kelce, and expects there to be a lot of chatter back and forth.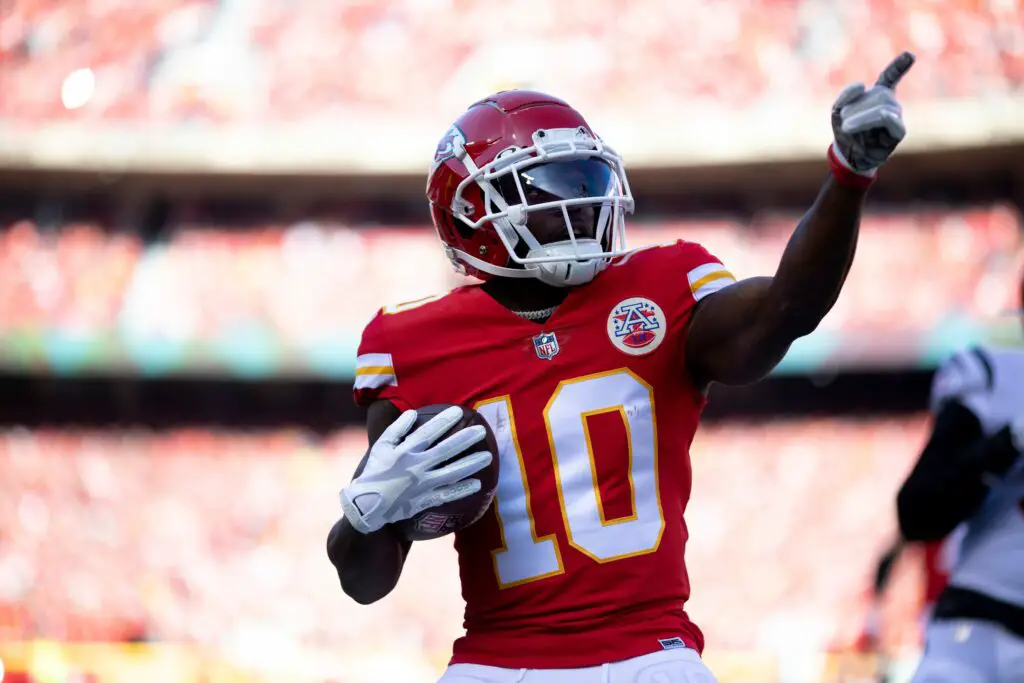 "It is going to be trash talk, but it's going to be fun though," he said. "It's going to be like, 'I want to see you do good, but we're gonna bust your a** at the same time though'. It is going to be one of those things like backyard football with your brothers."
The Kansas City Chiefs (6-2), and the Miami Dolphins (also 6-2) face off on Sunday in Germany with kickoff set to begin at 9:30AM ET.
For More Football News:
Follow me on Twitter at @sarahspooon. My written work can be found here on Gridiron Heroics and also on Wisconsin Sports Heroics.