The Miami Dolphins as a team are breaking and setting records left and right this season, but one player is on pace to shattering an NFL single-season record for receiving yards and we're only in Week 7.
Dolphins' Tyreek Hill Could Eclipse 2,000 Receiving Yards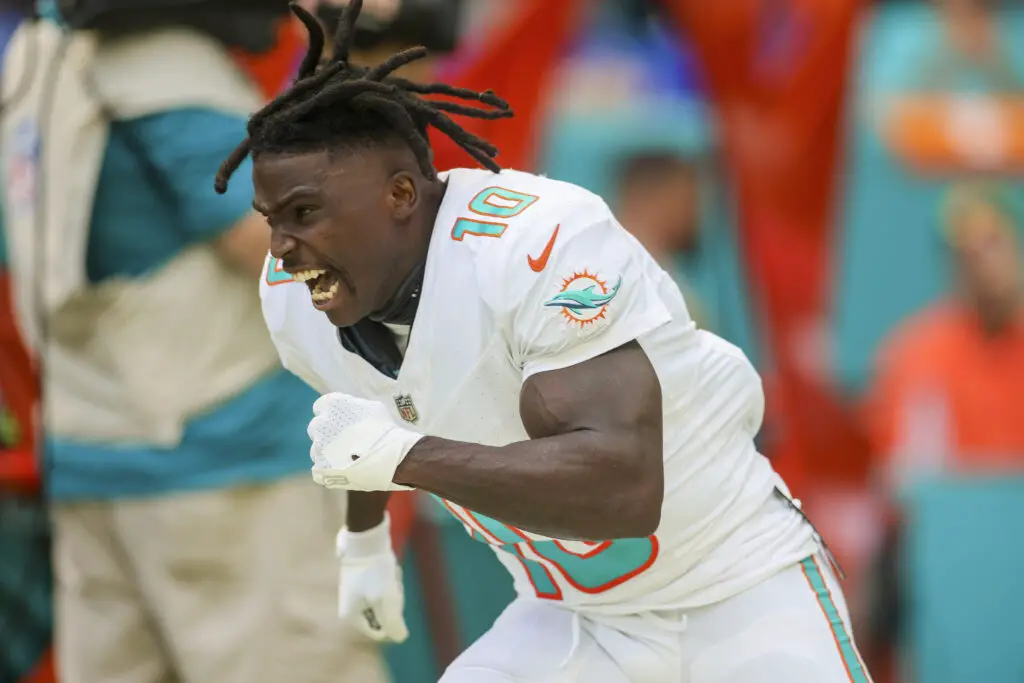 Tyreek Hill said back in preseason that he was going to smash 2,000 receiving yards before the season was over. So far on the season, Hill has tallied 42 catches for 814 yards and six touchdowns all through six games.
If he keeps on pace for the rest of the season, he'll finish with well over 115 catches and 2,300 yards; Making him the first NFL player in history to eclipse 2,000 receiving yards, according to ESPN.
Back in July, Hill went on the It Needed to be Said podcast and said getting 2,000 yards was a bucket list item:
"All I'm going to say is 2,000 yards was on my bucket list to get before I leave this league," Hill said. "Y'all think Cheetah gonna leave without doing something he promised himself he was gonna do as a jit? I got y'all baby! 2,000 yards and another Super Bowl, we getting that, believe that. Thank you."
The season record was recorded back in 2012 by Calvin Johnson when he gained 1,964 receiving yards. Hill had another 100-yard game on Sunday in the win against the Carolina Panthers where he grabbed six passes for 163 yards and a touchdown. Miami's wide receiver recorded 1,710 receiving yards last season, and he is well on his way to crushing that milestone.
The Cheetah leads the league in yards gained, yards per game, touchdowns, and yards per reception among other players across the NFL.
Should Tyreek Hill be in the MVP conversation?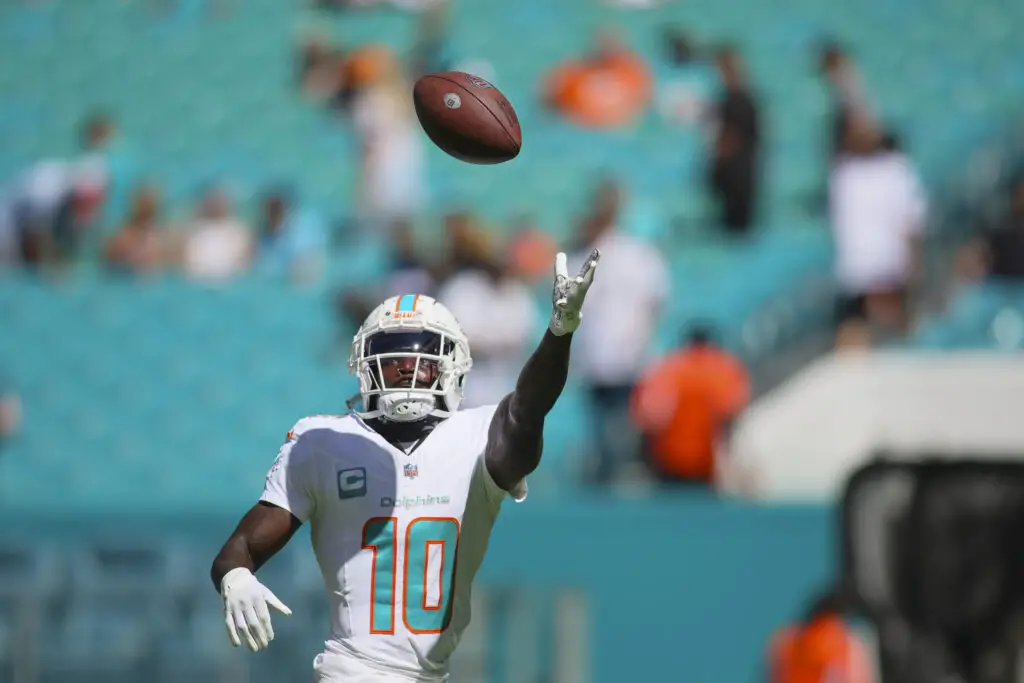 According to ESPN's Stephen A. Smith, Hill should be in the MVP conversation:
"We talked about Goff, you want to throw Purdy in there up until this past weekend, that's fine," Smith said. "Shannon, Jeff Saturday – I'm going to have to put [Tua Tagavailoa's] wide receiver in that conversation. I'm going to have to put Tyreek into that conversation.

"We went from talking about whether or not he [Hill] could eclipse or capture 2,000 yards, to say he's on pace for 2,300 yards on the season."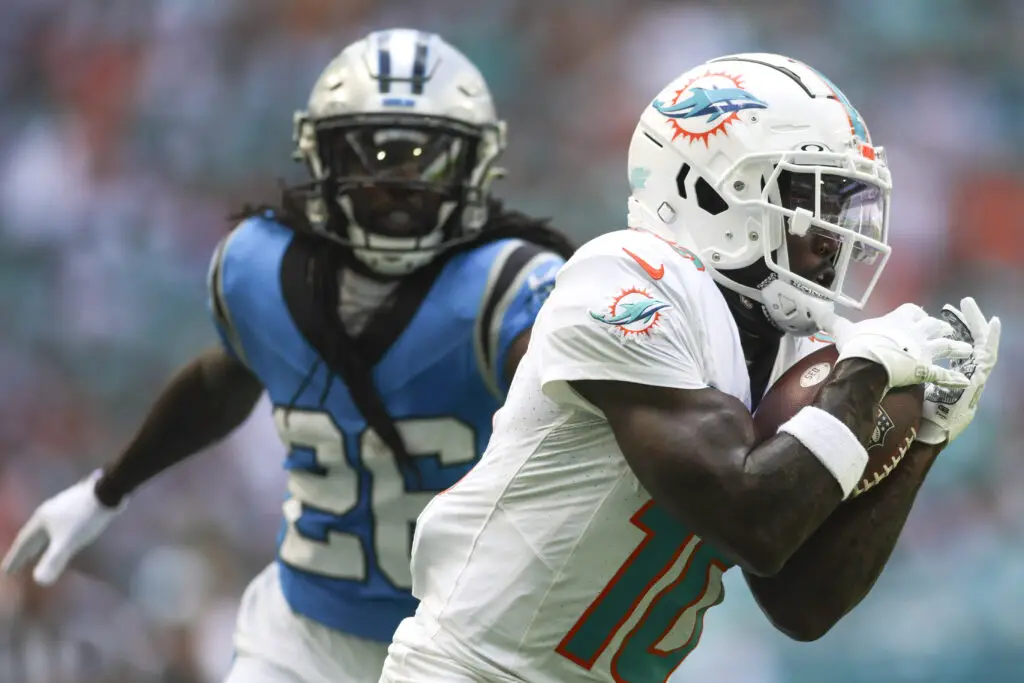 The Dolphins' wide receiver is averaging 135.7 receiving yards per game, leads the NFL in 814 receiving yards through six games. Smith compared Hill to players such as Randy Moss, Jerry Rice, asked his First Take co-hosts what receiver they would rather have on their NFL squad with Tyreek Hill at his best:
"Tyreek Hill right now is a legitimate, bona fide leading candidate for NFL league MVP."
.@stephenasmith is throwing Tyreek Hill into the NFL MVP conversation 🏆 pic.twitter.com/o70ToQ0adp

— First Take (@FirstTake) October 17, 2023
Shannon Sharpe also mentioned on First Take on Monday that Hill is the league's most valuable player that isn't a quarterback:
"He's completely changed the way the Miami Dolphins do business," Sharpe said. "He's one of the few guys in the history of the game that can take a 5-yard route and turn it into an 80-yard spectacular. He is a threat, legitimately, to hit his head on the goal post every time he touches the football.

"He is the most dangerous man, regardless of position…That man- No. 10, 5-foot-8, 195 pounds – Strikes more fear in the heart of opposing coaches than any current player because of that speed and his ability to break the game open at any moment."
It's not going to be easy for Hill as the Dolphins move into a pretty intense schedule of games with the Eagles and Chiefs coming up in the next three weeks. However, Cheetah has the ability to plow through any defense in the league at any given time.
For More Football News:
Follow me on Twitter at @sarahspooon. My written work can be found here on Gridiron Heroics and also on Wisconsin Sports Heroics.