There's a good reason why Los Angeles Rams DT Aaron Donald was once the highest-paid non-quarterback in the entire NFL. In fact, the seven-time All-Pro tackle had the biggest contract for a defensive player in the history of the sport before Nick Bosa put pen to paper on a record-breaking $170 million contract with the San Francisco 49ers last week.
There's no denying that Donald is one of the most respected players in the league. He also happens to be one of the most feared individuals in the entire NFL. Just ask Seattle Seahawks quarterback Geno Smith.
Los Angeles Rams DT Aaron Donald Had Geno Smith Spooked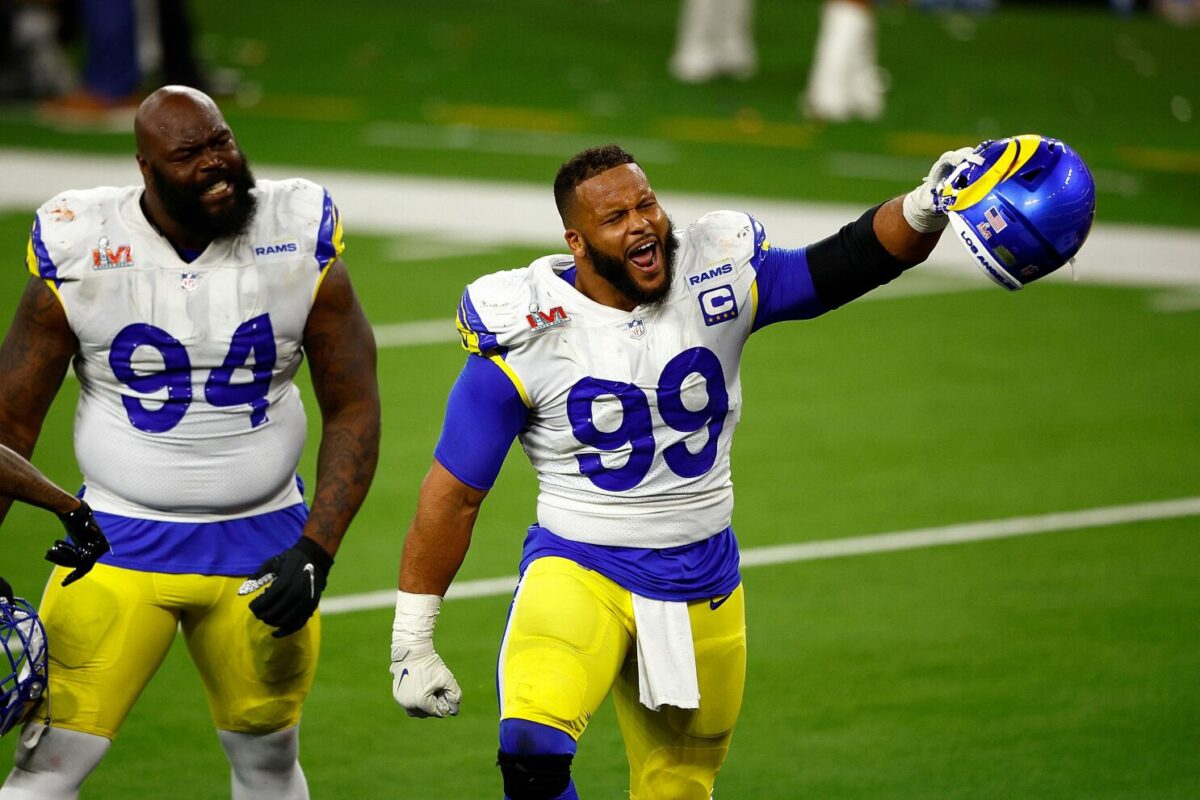 The Rams opened their season on Sunday with an impressive 30-13 statement win against Seattle. As usual, Donald was heavily involved in the contest, making his mark time and time again on LA's defense.
At one point, the Rams star had opposing QB Geno Smith totally spooked. Donald was able to sneak through Seattle's offensive line to catch a clear path toward Smith. As soon as the veteran signal-caller saw Donald rushing toward him, all Smith could do was utter three words:
Geno Smith yelling "OH MY GOD" as Aaron Donald sprints at him (r @Brook_Weber) pic.twitter.com/Azk1XN9FTn

— CJ Fogler account may or may not be notable (@cjzero) September 10, 2023
While most folks might find this hilarious while watching it from the outside, there's absolutely nothing funny about it if you were in Smith's shoes. Imagine a decorated 6-foot-1, 280-pound monster sprinting toward you at full speed. You actually have to give the Seattle quarterback for having the presence of mind to throw that ball away to avoid what would have been a sure sack.
There's no shame for Smith here, and even NFL Twitter agrees completely:
I'd yell the same thing! 😂

— Amit Momaya (@AmitMomayaMD) September 11, 2023
Its like a Freight train charging , all you can do is say OMG

— Gabriela Rios (@GabyRfromPR) September 10, 2023
To be fair, anyone reading this would do exactly the same.

— Miketx95.eth (@miketx95) September 11, 2023
Totally appropriate reaction 😭

— AF (@ndyf) September 11, 2023
The big takeaway here is that much like the rest of us, even NFL quarterbacks are completely terrified of Aaron Donald. I mean, who wouldn't be, right?
Donald was his usually disruptive self against Seattle on Sunday. Apart from having Smith scared for his life on this particular occasion, the LA star also came up with the team's second consecutive sack late in the game to put the contest to bed. Naturally, it just had to be AD.
After this big win, the Rams will be back in action in Week 2 with a highly-anticipated matchup against the San Francisco 49ers. The Niners are coming off a massive win themselves in Week 1, with Brock Purdy leading the charge in their 30-7 blowout win against the Pittsburgh Steelers. Needless to say, San Francisco's new cornerstone quarterback is going to be facing a much tougher defense next week.
For More Of My Content
Follow me on Twitter at @PaoloSongcoNBA. You may also reach out to me personally at pao.songco@gmail.com.