The Las Vegas Raiders have not had the season many fans would have hoped.  While the team has climbed back to a .500 record, it still feels like a long shot for them to compete for a Super Bowl.  Antonio Pierce is making a strong case to keep the head coaching position with the Las Vegas Raiders two games into his interim tenure. Still, there are seven regular-season games left, and there may be a big name interested in the job.
Jim Harbaugh Could Be A Candidate For The Las Vegas Raiders Head Coaching Position
Mike Jones of The Athletic reports that Michigan head coach Jim Harbaugh may be monitoring the Raiders head coaching opening:
"Harbaugh is among those expected to receive consideration in the next hiring cycle, according to a league source who has been briefed on discussions high-ranking NFL officials have had about potential head coach candidates," Jones wrote in a November 16 column.

"And two other league sources who regularly talk with teams about hiring and firing decisions said at least two teams — the Chicago Bears and Las Vegas Raiders — are believed to be among those that would appeal to Harbaugh. The individuals spoke on condition of anonymity to talk freely about the situation."
Would Jim Harbaugh Consider A Return To The NFL?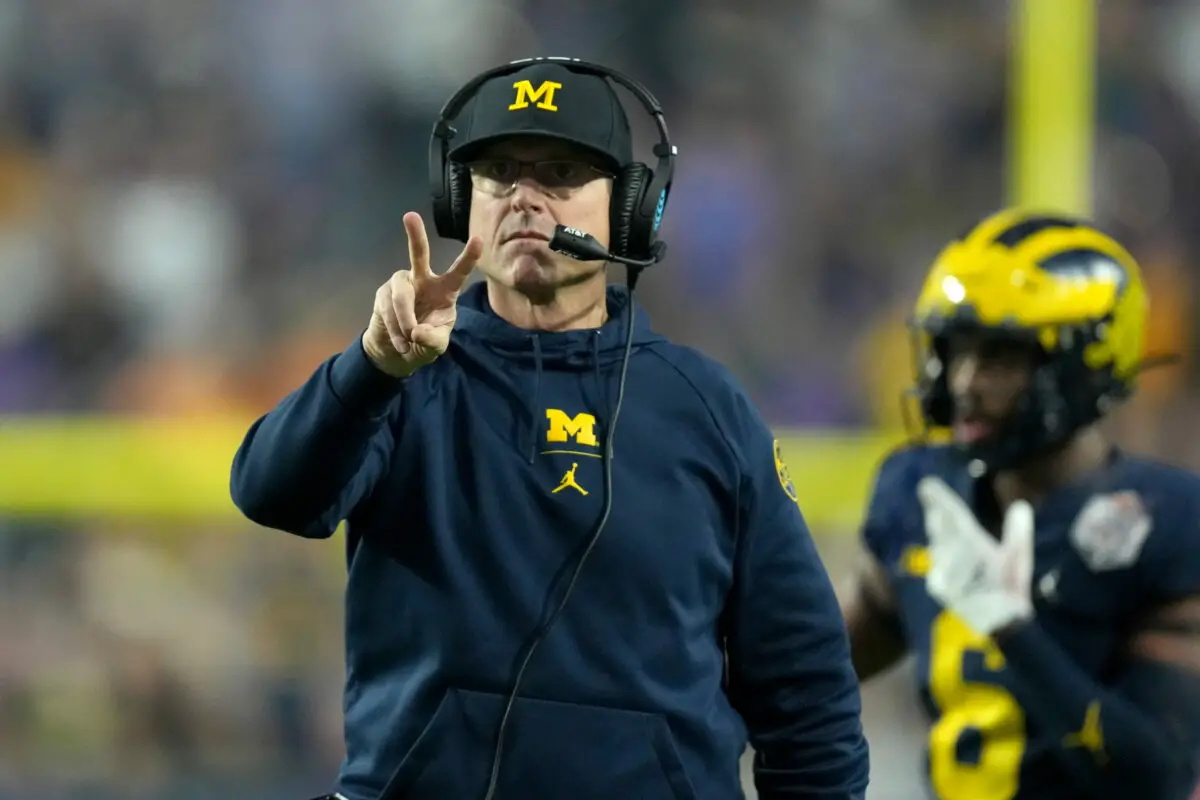 The NFL has been a tempting proposition for Jim Harbaugh for the past few seasons. Back in 2022, he was closely associated with the Raiders' head coaching vacancy before Josh McDaniels won the job. According to Bruce Feldman of The Athletic, Harbaugh was even willing to accept a Las Vegas offer in 2022.
In spite of the Raiders' decision, owner Mark Davis and Harbaugh have maintained a friendly relationship over the years. His coaching career also began with the Raiders in 2002. Considering Harbaugh's track record in the NFL and in college, the team should pursue him if Pierce doesn't get the job.
Harbaugh has a 49-22-1 career head coaching record in the NFL and won the 2011 NFL Coach Of The Year.  Harbaugh also owns a 5-3 head coaching record in the NFL playoffs.  As far as college goes, he owns an impressive 139-52 career head coaching record.
Our Partners

Mayfield Sports Marketing
Call Mayfield Sports Marketing at 262-366-8188 to schedule Green Bay Packers players or alumni for your corporate appearance or product promotion.  Our booking agents will work on your behalf to get you the best price for your desired sports speaker. Mayfield Sports Marketing has earned a reputation of being the one to call for booking top athletes to speak at events and trade shows. To learn more about Packers players or alumni appearance costs and booking fees, please call us today. www.MayfieldSports.com.
Radtke Sports
Wisconsin Sports Heroics is proud to partner with Radtke Sports to offer autographed memorabilia. Brett Favre, Rob Gronkowski, Giannis Antetokounmpo, and MORE Guaranteed Authentic Collectibles and Memorabilia, including signed jerseys, photos, and more at www.RadtkeSports.com USE promo code: WSH for FREE SHIPPING on your purchase. Some restrictions may apply.
For More Of My Content
Follow me on Twitter at @mcquadewarnold.  Reach out to me personally at mcquadewarnold@gmail.com.  To read more of our articles and keep up to date, click here!  –  JOIN OUR FREE FACEBOOK GROUP by CLICKING HERE