Josh Jacobs tells Tashan Reed that he would feel like a "hero turned villain" when asked about the Raiders exercising the option to keep him off the market. While Jacobs isn't obsessing over his contract negotiations, he doesn't want the franchise tag. This was made obvious on Saturday at Allegiant Stadium.
Jacobs led the NFL in rushing with 1,653 yards last season. This career season landed him a spot in the Pro Bowl games, of which he really showed out in the dodgeball game on Thursday. The AFC leads the NFC 9-3, as they won three out of four events on Thursday.
The Raiders didn't pick up the fifth-year option on Jacobs last offseason, so he will hit free agency in March. If the Raiders tag him this season, he will land a salary of $10,091,00.
#Raiders RB Josh Jacobs said he hasn't talked with the team about contract negotiations, but expects them to start next week.

I asked him if he would have an issue with being franchise tagged if they can't come to a multi-year agreement

His response: "Hero turned villain."

— Tashan Reed (@tashanreed) February 4, 2023
Jacobs says that staying with the Raiders is his preference, but he doesn't want to limit himself. He is keeping his options open.  He says:
"I'm chilling, man. I'm not going to lie to you. I haven't really talked to them or had any conversations or anything like that. I feel like I'm in the driver's seat, and I control the ship. So however it goes is how it's going to go. I'm not too much worried about it, but it definitely has to make sense."
What a chill dude. He says that he "hasn't felt disrespected in any type of way … yet." He knows that the conversations with the Raiders will have to happen soon, so it sounds like he is being pretty real about what could come. He says, "It's one thing to be OK taking less money if you're winning, but if you're losing, they have to come correct. That's just what it is for real."
It isn't that Jacobs doesn't have faith in the team's ability to win. He thinks that they can do it, but they need to improve the defense and offensive line. He is also concerned about the Raiders quarterback position since they have moved on from Derek Carr. He says that all of this "plays a big part" in whether he wants to come back or not.
Jacobs says that he has been kept in the loop with the decisions on quarterback. "I kind of know where their head is at on that," he said. "I'm not going to speak on where they're leaning, but I know the three they're looking at, so we'll see." Hmm. Suspenseful.
Jacobs laughed at the mention of Tom Brady being considered before his retirement. "I don't know nothing about nothing," he joked. "I feel like that was a contingency plan. You feel me?"
"The thing about Vegas is everyone wants to come here," he said. "Hopefully we can figure it out and (the Raiders) can put the pieces together." He has been openly communicating with defensive players about joining the Raiders. Likewise, he has been approached by players who say that he should sign with their team.
"I feel like I've left my mark on this organization and with the group of guys in the locker room," he said. "Obviously, it will be shaken up next year, but I feel like this is home. So for me, this is where I want to be. But I'm not going to discredit myself trying to be here, either. So it just has to make sense."
It sounds like decisions will come down to the negotiations between Josh Jacobs and the Raiders and aren't just about the money.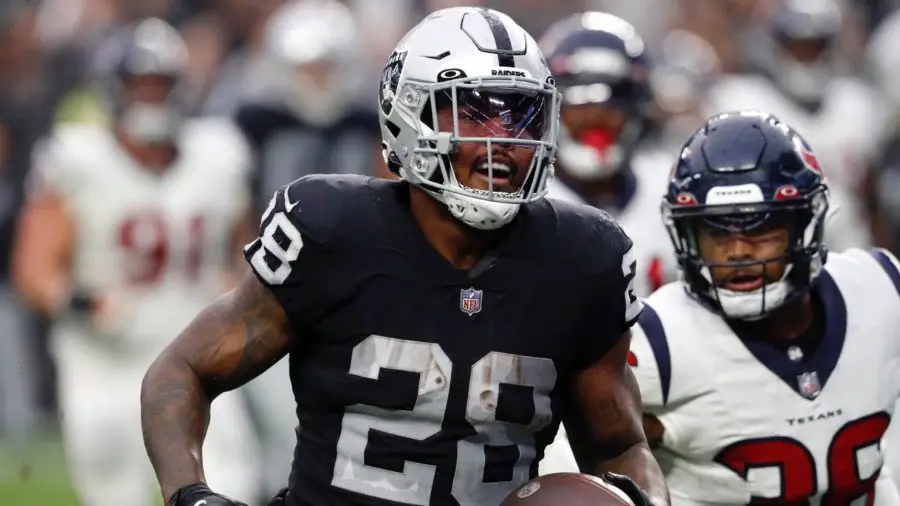 Read more about Josh Jacobs here.
For More Great Football Content
Follow us on Twitter at @GridironHeroics for more great content. We appreciate you taking time to read our articles. To interact more with our community and keep up to date on the latest in Football news, JOIN OUR FREE FACEBOOK GROUP by CLICKING HERE
Checkout our latest podcast!
[powerpress_playlist limit=1]