The Penn State Nittany Lions beat the Maryland Terrapins 30-0. Despite the dominant win, one missing piece was junior cornerback Joey Porter Jr. The cornerback was seen on the sideline not in uniform before the game, though there was no explanation as to why. Despite Joey Porter being out of the game, the defense had their first match where their opponents were not able to score any points.
Joey Porter This Season
Aside from not playing in the game against Maryland, Joey Porter has done exceptionally well. Porter has had a total of 26 tackles, 21 being solo. He also has eleven pass deflections and one fumble return, according to Sports Reference. So far this season, Joey Porter has not caught any interceptions and has only caught one during his time as a Nittany Lion.
Going into the season, Porter was expected to be a big-time player, and despite not having any interceptions, he has done a great job for the Nittany Lions. Which still brings on the question, why was Joey Porter on the sideline vs Maryland?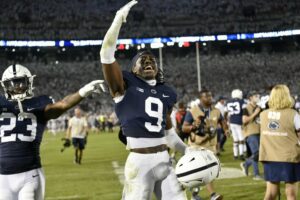 Joey Porter Sidelined
Before the game began, it was reported that Porter was out, but not said why. Not even reporters such as Audrey Snyder from The Athletic knew he would be out, which can be read in a tweet of hers here.
CB Joey Porter Jr. was not available tonight with what James Franklin said was "a non-football injury situation that we're woking through. Hopefully we'll have Joey back soon."

— Audrey Snyder (@audsnyder4) November 13, 2022
There was a lot of hope for Porter going into the season, but now there are questions that are being raised. After the game, head coach, James Franklin stated that Porter was out with a non-football injury situation. What makes it more interesting is that Franklin also said the situation is something they are working through, and hopefully Joey Porter will be back soon. Audrey Snyder tweeted out the full quote here.
This is definitely a situation that should be monitored. Joey Porter is currently a junior and can choose to declare for the 2023 NFL draft if he wishes, or return another year. The worst case for the team is that he enters the transfer portal. Porter was red-shirted his freshman year and can play one more season, but this is highly unlikely. While I do not believe he would enter the transfer portal with only one more year left, and playing well this season, it had to be stated.
More information will come soon as there are only two more games left in the season. Next weekend, the Penn State Nittany Lions will face the Rutgers Scarlet Knights in New Jersey. The Joey Porter Jr. situation will definitely continue to be monitored this week. While not wanting to get an injury is understandable, he will want to play the last two games of the regular season, especially if he does choose to try for the NFL next year instead.
For more NFL and NCAA Football content:
Check out my most recent Penn State article here. Also, check out my most recent Rutgers article here! For my most recent article, read here where I write about the 49ers game as they take on the Chargers for Sunday Night Football.
For More Great Football Content
Follow us on Twitter at @GridironHeroics for more great content. We appreciate you taking time to read our articles. To interact more with our community and keep up to date on the latest in Football news, JOIN OUR FREE FACEBOOK GROUP by CLICKING HERE
Checkout our latest podcast!
[powerpress_playlist limit=1]