Let's get this out of the way early. Jalen Hurts is a fantastic player, by all accounts a phenomenal leader, and has been a bonafide winner at every level. The Philadelphia Eagles are 9-1, while every other team in the NFL has multiple losses. This isn't a slight at Hurts or his team at all.
However, he should not have jumped to the top of the 2023 MVP race as he has at most sportsbooks following Monday night's victory. Not only was it personally an ugly Jalen Hurts performance by the numbers, but it highlighted exactly how valuable his teammates are. D'Andre Swift carried the ball 12 times for 76 yards, and DeVonta Smith made the catch that Kansas City's Marquez Valdes-Scantling couldn't. Despite only 150 passing yards, an interception, taking five sacks, and rushing yards (albeit with two touchdowns), Monday's performance against a strong defense was not MVP-like.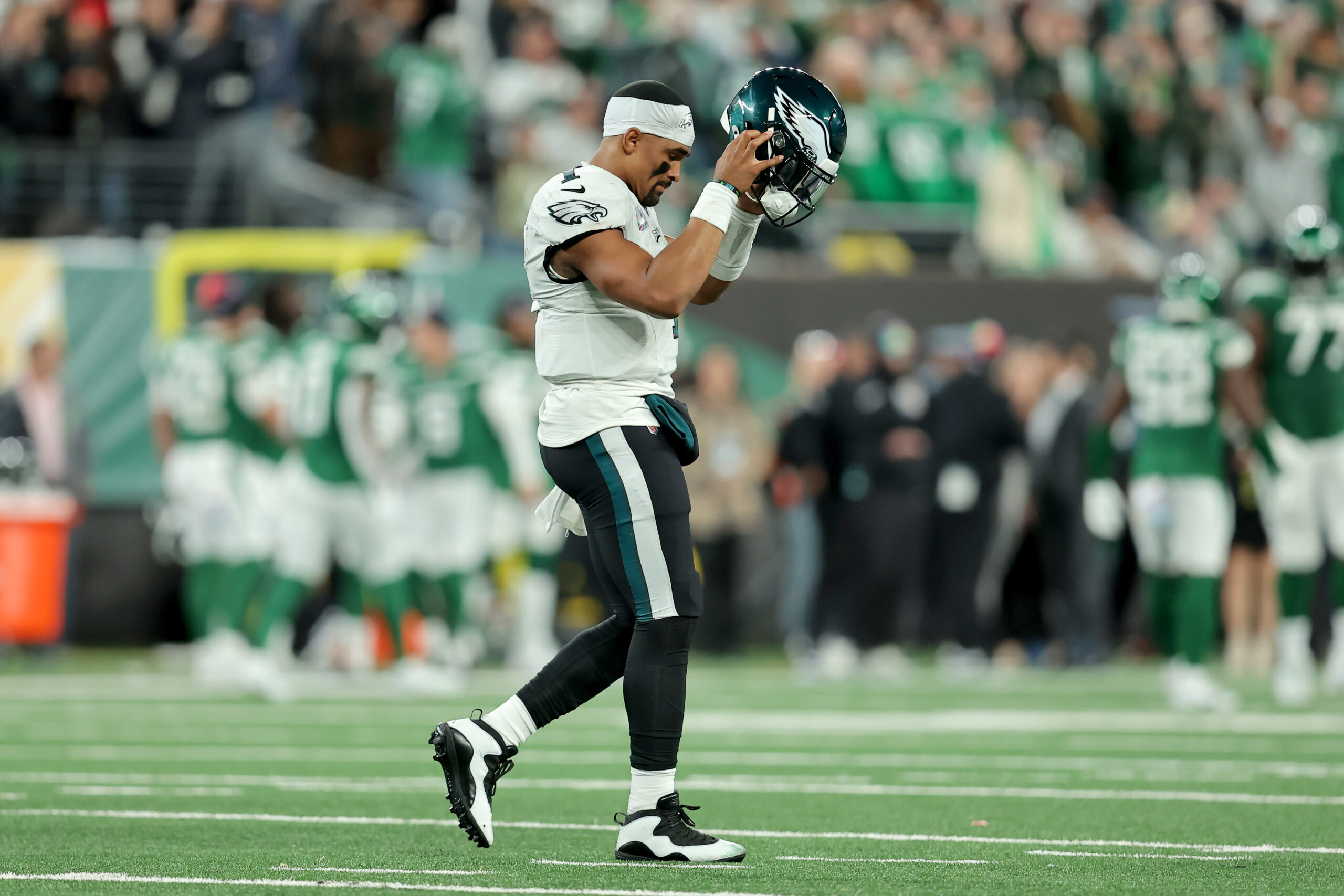 After beating Kansas City, Hurts is 12th in passing yards per game, tied for 13th in passing touchdowns, and only four quarterbacks have fewer interceptions than him. His passer rating is 11th. Sure, he has nine rushing touchdowns, but seven came from one yard out, relying on the offensive line's strength for Philadelphia's signature Brotherly Shove. Jalen Hurts is a good quarterback, but nothing that he is doing this season is statistically eye-popping. Clutch plays (Hurts has plenty) are more difficult to account for, but better execution through the first three quarters would eliminate the need for them while likely correlating with better personal numbers.
So, if this pace continues, Hurts winning MVP would be rewarding the team for their success rather than the individual in the NFL who has been the most valuable for a given season. At that point, the NFL would be better served naming it the Presidents' Trophy (whoops, that's taken and rewards a team, not a player). Other positions besides quarterback have pretty much been eliminated from ever winning MVP again, and it's eerily inching toward valuing team success (and honoring that starting quarterback) over individual performance.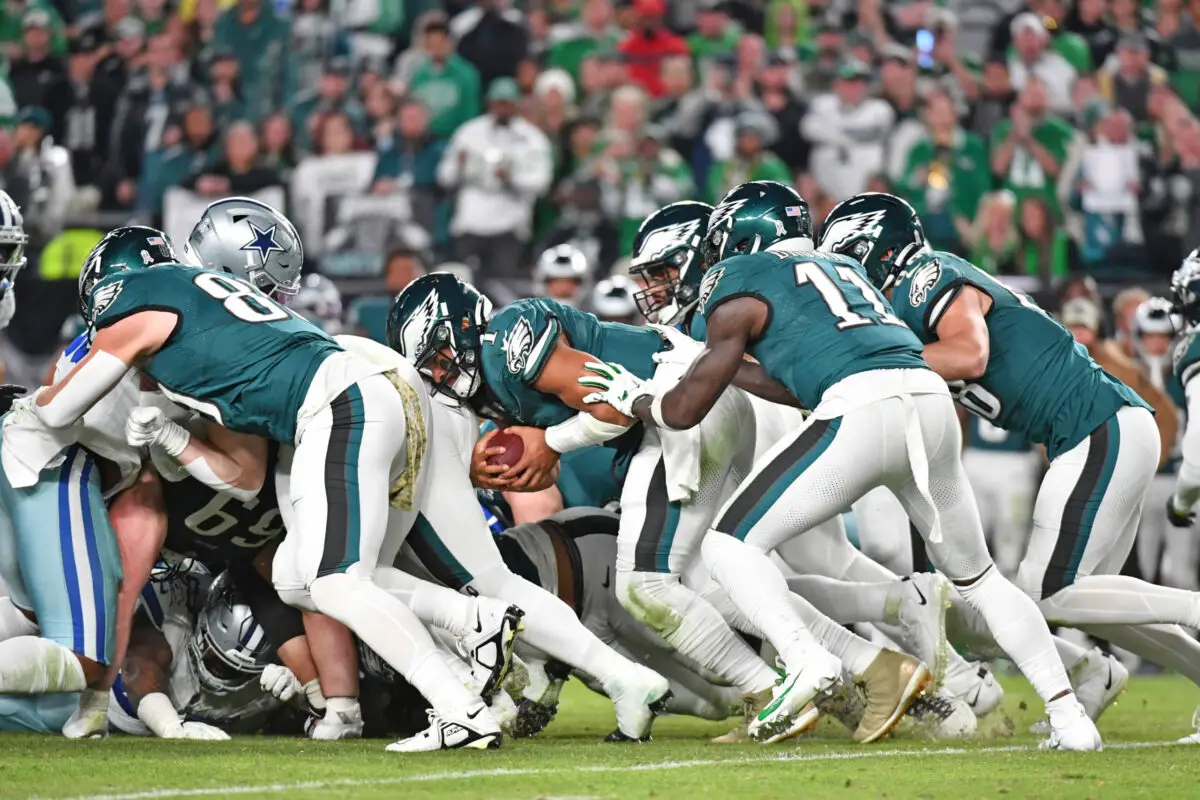 If Not Jalen Hurts, Who Should It Be?
Now, no better candidates existing would be an understandable reason for Jalen Hurts to win his first MVP this year. That's another core issue, as Lamar Jackson already has one MVP trophy and may be getting less consideration because of it. Jackson's Baltimore Ravens are the AFC's top seed, so he can't be knocked for team success. Head-to-head, Lamar Jackson has Hurts beat in passer rating, interception percentage, completion percentage, and rushing yards (by 90 yards on only one more attempt) while leading a higher-scoring offense. Why isn't Lamar Jackson the favorite?
Tua Tagovailoa is second among NFL quarterbacks in passing yards per game, passer rating, passing touchdowns, and yards per attempt while leading the league's highest-scoring offense. He's also third in completion percentage for the AFC East-leading Dolphins. His top pass-catcher, Tyreek Hill, is on pace to break the single-season receiving record and deserves some love. No wide receiver has ever won it, but the league is more pass-happy than ever these days, so why not now?
Myles Garrett may break the single-season sack record and drag the Cleveland Browns to the postseason. Lawrence Taylor's otherworldly 1986 campaign was the last time (one of only two instances) a defensive player won NFL MVP. Christian McCaffrey is on pace for over 2,000 scrimmage yards and 25 touchdowns.
Jalen Hurts is good, but please don't transform this award into recognition of the best quarterback on the best team. There are players in this league that have been more valuable than Jalen Hurts through 11 weeks of football. Hurts can prove everyone wrong down the stretch, but right now he's not the guy for that trophy. He probably cares about another one much more anyway.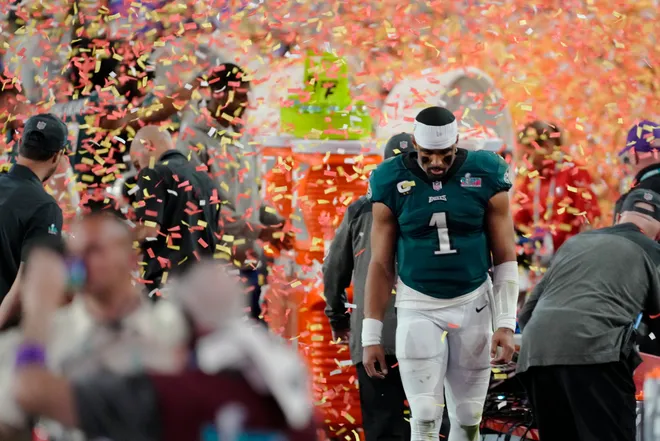 For More Football News:
Follow me on Twitter at @TowerTalkSports. You can also reach out to Andre Ifill via email at andre.ifill.jr@gmail.com. To read more of our articles and keep up to date on the latest in college and NFL news, click here!