Mohamed Ibrahim rushed for 71 yards and a touchdown, while breaking Minnesota's single season rushing record, which was previously set by David Cobb in 2014. In which would be his last game in a Gopher uniform. Along with quarterback Tanner Morgan, who came in for an injured Athan Kaliakmanis in the second quarter. Morgan performed well in his first game back since the Gophers Week 9 win against Nebraska, in Lincoln. Morgan also put his stamp on being Minnesota's winningest quarterback in program history, by tossing a 20-yard touchdown pass to junior wideout Daniel Jackson, during his first drive of the game.
Game Recap
Coming into this game, everyone knew PJ Fleck would use and abuse Mohamed Ibrahim all game, just like what they have done all season. And that's exactly what they did on their first possession, running him 3 times straight, 2 for first downs.
A few Syracuse and Minnesota punts later, Ibrahim would open up the scoring with a 4-yard touchdown rush. With tremendous help from Kaliakmanis, as he connected on 4 passes for 47 yards on the Gophers scoring drive.
Minnesota's defense would come back and make a huge stop for a turnover of downs on the ensuing drive. After a few big runs by running back LeQuint Allen, and quarterback Garett Shrader.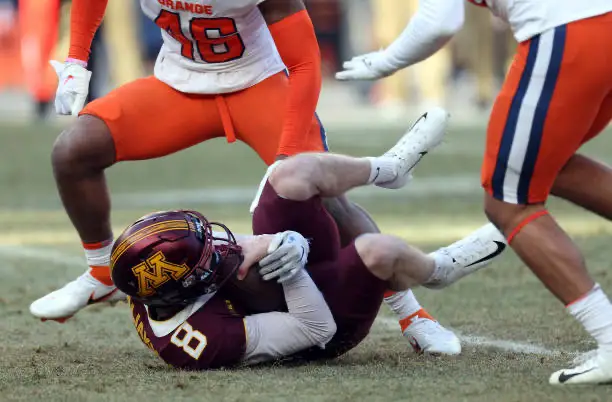 And that's when things took a turn for the Gophers. Freshman quarterback Athan Kaliakmanis went down with an apparent leg injury, after taking a borderline late hit after completing a pass to Le'Meke Brockington for a first down. Luckily for Minnesota, the veteran Tanner Morgan was ready to play, and showed just that by giving the Gophers a 14-point lead just before halftime.
With just 45 seconds left on the clock in the first half, Garett Shrader led the Orange to an amazing last-minute touchdown drive. Headlined by Devaughn Cooper's 2 catches, for 52 yards. Shrader would roll out right and bait the Gophers defense for a 1-yard touchdown run, and cut the Gophers lead to just one score at half.
Syracuse would also open the scoring in the second half, on a 40-yard field goal from kicker Andre Szmyt. But Minnesota would rebound with a pick six from DB Coleman Bryson, as he would return it for 70 yards and the score.
Following another long and excruciating drive from Shrader and Syracuse, The Big Orange would put up another field goal, cutting the Gophers lead to just 8.
Tanner Morgan would then connect to Daniel Jackson again for his second touchdown of the game, putting Minnesota back up by 15. Mariano Sori-Marin would record a huge sack early in the fourth quarter, forcing Syracuse to punt the ball back to the Gophers.
Syracuse would once again get the ball back, and Garett Shrader would release his inner-Lamar Jackson while evading multiple Minnesota defenders and roll into the end zone to cut the Gophers lead back to one score. The Orange defense would actually make a 3rd down stop to force a Minnesota punt, but an unsportsmanlike conduct penalty would overturn that, and finalize the Gopher's bowl victory.
Shrader and Syracuse continued to play some of the best football they've played all season, especially considering they were going against one of the nation's best defenses in Minnesota. Shrader would throw for 330 yards, including rushing for 38 on his own. LeQuint Allen also stepped up and had a great game, rushing for 94 yards and hauling in 11 passes for 60 yards. Meanwhile also filling in the void of the greatly missed Sean Tucker, in the eyes of Syracuse fans.
Ibrahim and some of the other Minnesota seniors will now begin to focus and prepare for the upcoming 2023 NFL Draft, in April. They will also look back and cherish the countless memories and amazing culture PJ Fleck has created in Minnesota. 
For More Great Football Content
Follow us on Twitter at @GridironHeroics for more great content. We appreciate you taking time to read our articles. To interact more with our community and keep up to date on the latest in Football news, JOIN OUR FREE FACEBOOK GROUP by CLICKING HERE
Checkout our latest podcast!
[powerpress_playlist limit=1]