The Houston Texans have made headlines in the last two weeks. Rookie QB C.J. Stroud has had a sensational season and has led the Texans to two straight comeback wins. Now, there is starting to be a real argument that Stroud deserves to be in the NFL MVP conversation.
Can he actually win the NFL MVP as a rookie? Who is his biggest competition? Let's take a look.
C.J. Stroud's Argument
Let's start with the fact that C.J. Stroud is making NFL rookie history. In Week 9, he set a rookie record for most passing yards in a game without an interception. Overall, he has done a great job of protecting the football while putting up numbers.
Stroud is second in the NFL in passing yards while having just two interceptions this season. Plus, he is leading the Houston Texans to success with a 5-4 record. Considering they had the second-worst record in the NFL last season, this is a major step in the right direction. If the Houston Texans make a playoff push and Stroud keeps this performance up, his NFL MVP argument will only get stronger.
NFL MVP Competition
While Stroud is having a fantastic season for the Houston Texans, there are other players in this league putting up equally good numbers. There are a handful of guys that he will have to fight off for this award. Let's take a closer look at who could stand in his way.
Tua Tagovailoa
Statistically, Tagovailoa is putting up some of the best numbers of any quarterback in the league. He leads the NFL in touchdown passes with 19. Plus, he has just 17 fewer passing yards than Stroud. It also helps that the Miami Dolphins are currently leading the AFC East.
However, Tagovailoa definitely has a better supporting cast. He has arguably the best wide receiver in the NFL with Tyreek Hill, who is also a valid NFL MVP candidate. Along with WR Jaylen Waddle and RB Raheem Mostert, you can definitely argue that Tua has more help around him than Stroud.
Tyreek Hill
Speaking of the Miami Dolphins, WR Tyreek Hill has the best argument to win NFL MVP of any non-quarterback this season. He leads the NFL in receiving yards and touchdown receptions. Plus, there is a good chance that Hill could break the single-season receiving yards record (1,964).
Historically, this award does not favor wide receivers. No wide receiver has ever won and Cooper Kupp failed to win the award two years ago when he came up 18 yards shy of Calvin Johnson's receiving yards record. Plus, a non-quarterback has not won the NFL MVP award since 2012 (Adrian Peterson). There may be too many trends working against Hill here.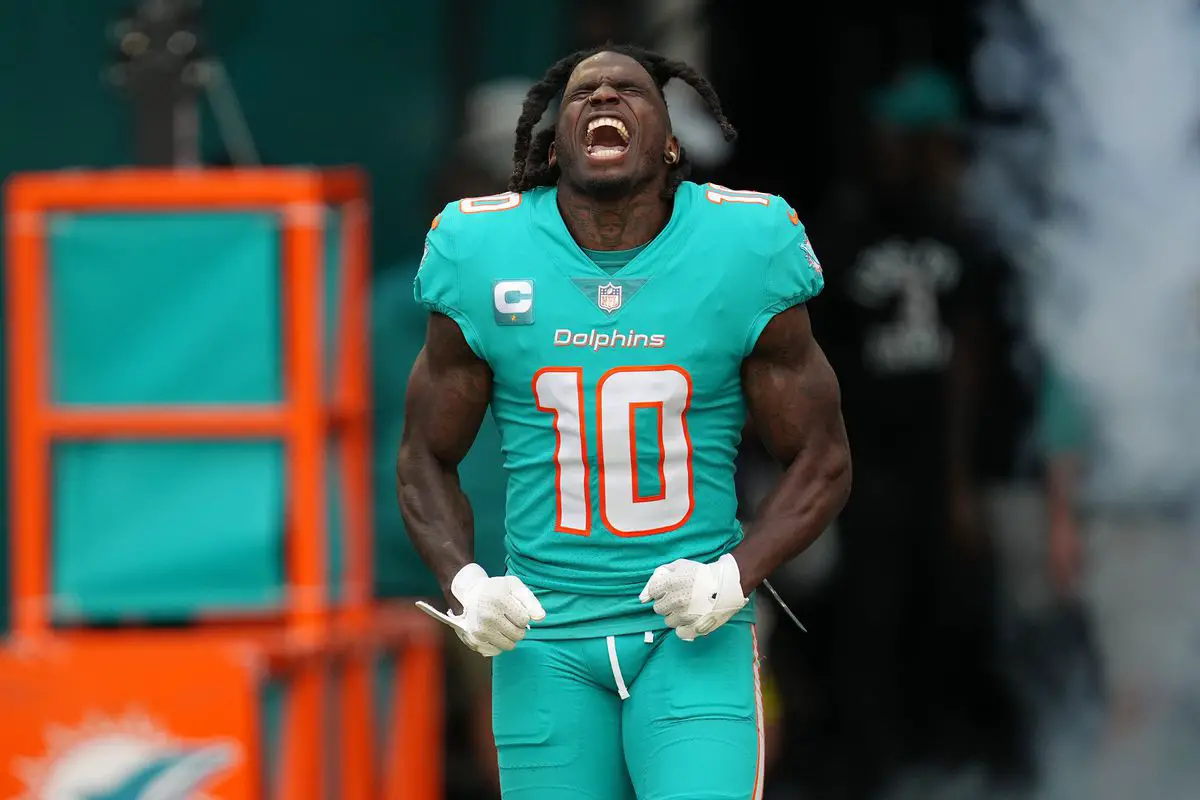 Patrick Mahomes
You know Mahomes will always be in the mix just because of his status and talent. However, considering what wide receivers he has to work with, there is a real argument for him to be NFL MVP. He still has 2,442 passing yards and 17 touchdown passes.
On top of this, the Kansas City Chiefs currently have the top seed in the AFC. The problem is he has eight interceptions and just won the NFL MVP award last year. Could he come out on top this year?
Jared Goff
Finally, Jared Goff deserves real consideration for the NFL MVP award considering the season he is having. Goff does not lead the league in passing yards (2,507) or touchdown passes (14). Plus, he only has five interceptions so far this season and does the best job of finding open receivers in tight spaces.
It helps that Goff can make Detroit Lions history by hosting a rare playoff game. The Lions have not hosted one in 30 years and have not won a playoff game since 1991. If Detroit ends up in this position, do not be surprised if that helps his NFL MVP argument.
Get More Houston Texans Content
For more breaking news and trends around the NFL, click here or follow me on Twitter @JohnGalletley. Also, check out our Fantasy Sports Heroics podcast for sports betting and fantasy sports advice.