C.J. Stroud has already had a magical year for the Houston Texans. He only added to this in Week 9 of the NFL season with a wild 39-37 shootout win over the Tampa Bay Buccaneers. To say Stroud was a hero in this game is an understatement.
For starters, he led the game-winning drive yesterday with just 46 seconds remaining in the game. Not only did he do that, but he broke an NFL record doing it. That record was the most passing yards by a rookie in a game. He had 470 passing yards in yesterday's win.
However, this may not be the only NFL rookie passing record C.J. Stroud may break. Read on to find out what else he has a chance to accomplish.
Records Already Broken
Let's start with the records that Stroud just broke yesterday. The most obvious is the passing yards in a game (470) broken yesterday. Believe it or not, the prior record was held for 24 years before Stroud's performance yesterday.
For older folks reading this, you may remember QB Jeff Garcia. Well, he made his NFL debut in 1999 for the San Francisco 49ers. Garcia set the prior record with 437 passing yards.
However, this is not the only rookie record Stroud broke. He also became the youngest player to throw over 450 passing yards in one game. Plus, he had a passer rating of 147.8 yesterday. That is the highest ever by a rookie with at least 30 passing attempts in one game.
Joining Elite Company
Stroud did not just throw that many passing yards yesterday. He did not throw an interception during that epic 39-37 win over the Buccaneers. Stroud became only the sixth QB ever to throw at least 450 passing yards with at least five touchdown passes while not throwing an interception.
For those who have followed Stroud throughout this exceptional rookie season, you should know that this is nothing new for him. Stroud has just one interception through eight games this season. Plus, he averages around 283 passing yards per game and nearly two touchdown passes per game.
The Houston Texans' Story
The Houston Texans were one of the worst teams in the NFL last season. They were set up to have the #1 overall pick in the 2023 NFL Draft for most of last season. However, QB Davis Mills and head coach Lovie Smith had other plans. They led the Houston Texans to a surprising win in Week 18 over the Indianapolis Colts to end the 2022 NFL season.
That meant the Houston Texans lost the #1 overall pick to the Chicago Bears. They went on to trade that pick to the Carolina Panthers. Both teams needed a quarterback in that draft. However, the Panthers chose to go with Bryce Young from Alabama. That left the Texans with Stroud from Ohio State.
Right now, the Carolina Panthers have a 1-7 record, while the Houston Texans are 4-4. Bryce Young threw three interceptions in yesterday's loss to the Colts and has seven on the season.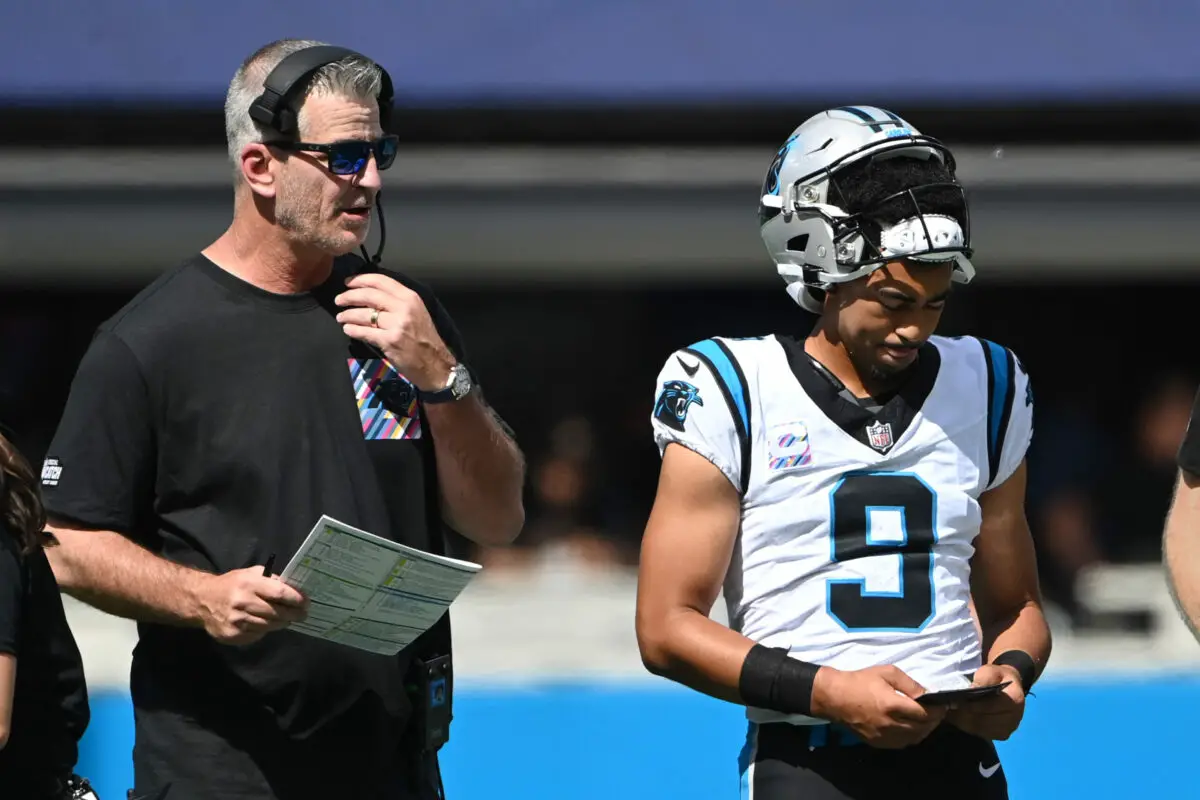 Possible NFL Rookie Passing Records
C.J. Stroud has a chance of breaking some other rookie passing records later this season. Arguably, the most attainable is the rookie passing yards record. That was set by Andrew Luck in 2012 with 4,374 passing yards. Stroud currently has 2,270 passing yards through eight games.
Another rookie passing record that is further away is the rookie touchdown pass record. Justin Herbert of the Los Angeles Chargers separated himself from the rest of the list with 31 touchdown passes in 2020. Right now, Stroud has 14 touchdown passes through eight games.
Get More NFL Content
For more breaking news and trends around the NFL, click here or follow me on Twitter @JohnGalletley. If you need sports betting or fantasy sports advice, check out our Fantasy Sports Heroics podcast.