Carolina Panthers head coach Frank Reich continues to foster a culture of instability in Week 11 as he made another change for the coaching staff. Reich was Panthers play caller to start the season, but he announced last month he was handing them over to offensive coordinator Thomas Brown.
Related: Deshaun Watson Out For Season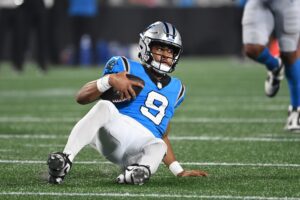 Brown called the Panthers offense for their previous three games. They scored 15, 13, and 13 points in those three games. Rookie quarterback Bryce Young and the offense were dreadful against one of the worst secondaries in the league on Thursday night against the Chicago Bears.
Carol's Panthers switch back offensive play-calling duties
Reich decided to make a change after Brown's play calling didn't help the Panthers offense. According to Ian Rapoport and the NFL Network, Reich said Wednesday he'd take back the play-calling gig from Brown:
"I'm in the position I'm in because of years of being a successful offensive coordinator and play-caller," Reich said on Wednesday. "We have eight games left, and I just want to my attention and everything I can do and everything I can bring to bear to help the offense take the next step.

It'll still be collaborative. Thomas is still running the show as far as the offense and all the install meetings and game plans. He's still at the center. He and I work together like we've been all year.

I trust Thomas more than anybody, and he's helped me become a better coach and better man. This isn't about that. This is about the team. This is about us all playing a role we think can help us these next eight games."
"I'm in the position I'm in because of years of being a successful offensive coordinator and play-caller…"#Panthers coach Frank Reich takes back play-calling duties after giving them to OC Thomas Brown https://t.co/n40fLXFAmj

— Ian Rapoport (@RapSheet) November 15, 2023
Reich is in the position he's in because he was fired from the Indianapolis Colts last season for being a dreadful offensive playcaller there. His offense doesn't seem much better in Carolina.
Reich had better hope the Panthers show progress towards the end of the season. He might be fired if the offense shows no signs of life at the end of Young's first season.
For More Football News:
Follow me on Twitter at @JordanSig. You can also reach out to Jordan Sigler via email at jordanmsigler@gmail.com. To read more of our articles and keep up to date on the latest in college and NFL news, click here!