The Dallas Cowboys enjoyed the advantage of not playing a starting-caliber quarterback in their Week 1 pile-on of the New York Giants. They'll enjoy a similar advantage over the New York Jets in Week 2 after major news was revealed about the status of Aaron Rodgers.
There will be no Rodgers vs. Mike McCarthy 2.0 this season.
The Jets confirmed Tuesday Rodgers suffered an Achilles injury during Monday night's game against the Buffalo Bills. Rodgers played four snaps before falling to the ground and eventually being carted off the field to receive an X-ray. His season is over.
The Dallas Cowboys catch a break before Week 2
According to Mike Gatafolo with the NFL Network, Jets head coach Robert Saleh announced in his press conference Tuesday that Zach Wilson will be the starting quarterback for New York against the Cowboys.
#Jets coach Robert Saleh says they'll "look through some things" at the QB position "but I want to make it very clear Zach (Wilson) is our quarterback. We're rolling with Zach and excited for him and this opportunity he's going to get."

— Mike Garafolo (@MikeGarafolo) September 12, 2023
Saleh said the message for this week is "on to Dallas."
Robert Saleh asked for a message to the #Jets' fan base: "We're on to Dallas."

— Mike Garafolo (@MikeGarafolo) September 12, 2023
The Cowboys caught a major break by not having to play Rodgers in Week 2. The Cowboys will now face Wilson, a 2021 first-round pick. Wilson struggled in his first two seasons, throwing 15 touchdowns to 18 interceptions.
Wilson played somewhat better in relief of Rodgers Monday night and helped lead the team to a come-from-behind win over the Bills. However, much of the playcalling was conservative. And the Jets might not have won if Josh Allen hadn't had an all-time lousy night that might have put Stefon Diggs on edge in the early season.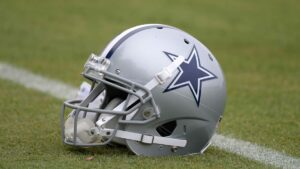 For More Football News:
Follow me on Twitter at @JordanSig. You can also reach out to Jordan Sigler via email at jordanmsigler@gmail.com. To read more of our articles and keep up to date on the latest in college and NFL news, click here!