Deshaun Watson didn't get much time to build chemistry with Amari Cooper last season. He is looking to change that in 2023. Now that Watson is slated to play the full season, the team is bullish on the type of season that they can have. A lot of the offensive starters have been spending time together to build the rapport and it seems to be working. Watson is excited about the chemistry he is developing with Cooper.
Deshaun Watson On Amari Cooper
Watson is excited to have a full season with Cooper. He has been a very productive receiver in his time in the league no matter which team he has played for.
"Amari's going to be good. He's a guy that's a vet, been in the league for a while, so he knows exactly what he needs to do to be ready for the season and training camp and our chemistry is going to be tight. We've been hanging out, we just going to continue to build that chemistry as much as possible."
That "tight" chemistry is going to be important if the Browns' offense is going to be better than last season.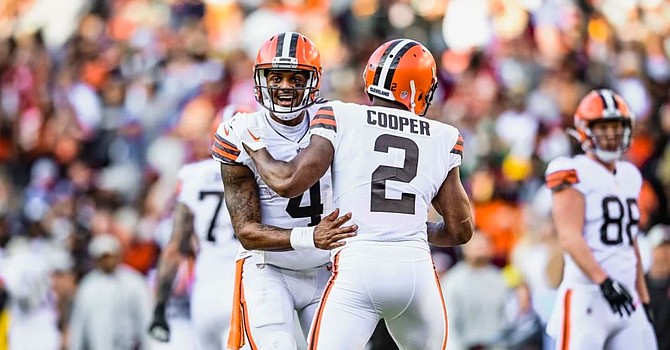 What Can The Browns Do In 2023?
No one is talking about the Browns in the AFC. There are so many other teams that they often get lost in the shuffle. However, they quietly have had a nice offseason. New defensive coordinator Jim Schwartz has been known to elevate defenses and the Browns have no shortage of talent including Myles Garrett. Offensively, the team should also be better than last year with a full year of Watson and new receiver Elijah Moore plus Nick Chubb in the backfield. While I don't think they will win the Super Bowl, they could surprise many people and sneak into the playoffs.
Deshaun Watson to Amari Cooper is a connection that fans will hopefully hear a lot on Sundays in the fall. The offseason has gone smoothly and the team is looking to put a disastrous 2022 behind them.