Pat Freiermuth, the Pittsburgh Steelers tight end, who has over the past two years secured himself as a bona-fide top-10 tight end in the National Football League, has been out since Week 5 with a hamstring injury. However, per news from Underdog NFL, it looks like his injury absence may be coming to an end.
Pat Freiermuth (hamstring) officially activated to 53-man roster.

— Underdog NFL (@Underdog__NFL) November 18, 2023
In a move the other way, the Steelers have also placed veteran safety/occasional linebacker Keanu Neal is moving to injured reserve with a rib injury.
In a corresponding move, the #Steelers are placing safety Keanu Neal on IR. https://t.co/JKTXSuq9UW

— Tom Pelissero (@TomPelissero) November 18, 2023
How Does This Impact The Pittsburgh Steelers Offence?
The Pittsburgh Steelers have somehow navigated their way to a 6-3 record and 2nd in the competitive (and now short two franchise quarterbacks) AFC North. Despite this, Kenny Pickett and the offence in general have looked suspect, having been outgained in every single game this season and having a negative point differential.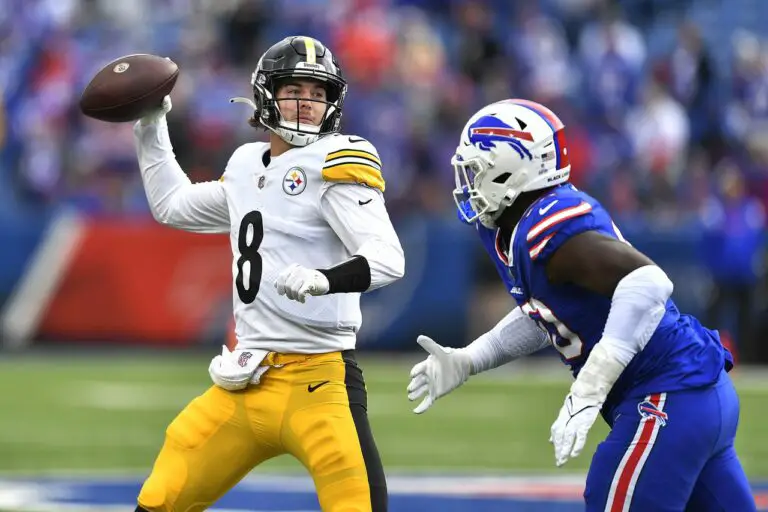 Whilst Freiermuth is no generational, Travis Kelce or Justin Jefferson type receiver, he certainly provides an excellent 'safety blanket' for Pickett, who is still only in his second year of the pros after having been drafted 20th overall in the 2022 NFL Draft.
Even though the Steelers have seen competent play from fellow second year (and brother of star d-lineman) Connor Heyward and rookie behemoth, Darnell Washington. However, neither has developed as anything like the receiving threat that Freiermuth is, with a combined total of only 160 yards on the season. Much of this is due to Heyward's youth and low draft pick status (6th rounder), and the fact that Washington, whilst an excellent talent, is primarily a blocking tight end – almost a 'tackle-plus' type player.
It will certainly be a big boost for this Pittsburgh Steelers team to have their main man at tight end back, as they travel to the Cleveland Browns in what should be a closely fought divisional matchup in Ohio.
For Additional Content
Hello there. If you enjoyed this article (or, really, even if you didn't). Please go and follow me on Twitter @danielarwas for more NFL breaking news, updates, and "special edition" previews. 
Our Partners
Mayfield Sports Marketing
Call Mayfield Sports Marketing at 262-366-8188 to schedule Green Bay Packers players or alumni for your corporate appearance or product promotion.  Our booking agents will work on your behalf to get you the best price for your desired sports speaker. Mayfield Sports Marketing has earned a reputation of being the one to call for booking top athletes to speak at events and trade shows. To learn more about Packers players or alumni appearance costs and booking fees, please call us today. www.MayfieldSports.com.
Radtke Sports
Wisconsin Sports Heroics is proud to partner with Radtke Sports to offer autographed memorabilia. Brett Favre, Rob Gronkowski, Giannis Antetokounmpo, and MORE Guaranteed Authentic Collectibles and Memorabilia, including signed jerseys, photos, and more at www.RadtkeSports.com USE promo code: WSH for FREE SHIPPING on your purchase. Some restrictions may apply.