Day 1 of Auburn football camp is in the books! Here is what defensive coordinator Jeff Schmedding had to say in Thursday's press conference:
ON THE LEADERS ON DEFENSE:
"Derick Hall is one guy that stands out. Consistently. Really from towards the end of the last year, and through January and carried through into the summer. So Hall, Owen Pappoe and Colby Wooden – all those guys in the front seven have stepped up. And Donovan Kaufman and Zion Puckett on the back end have also done a really nice job."
ON WHAT HE EXPECTS FROM THE LINEBACKERS: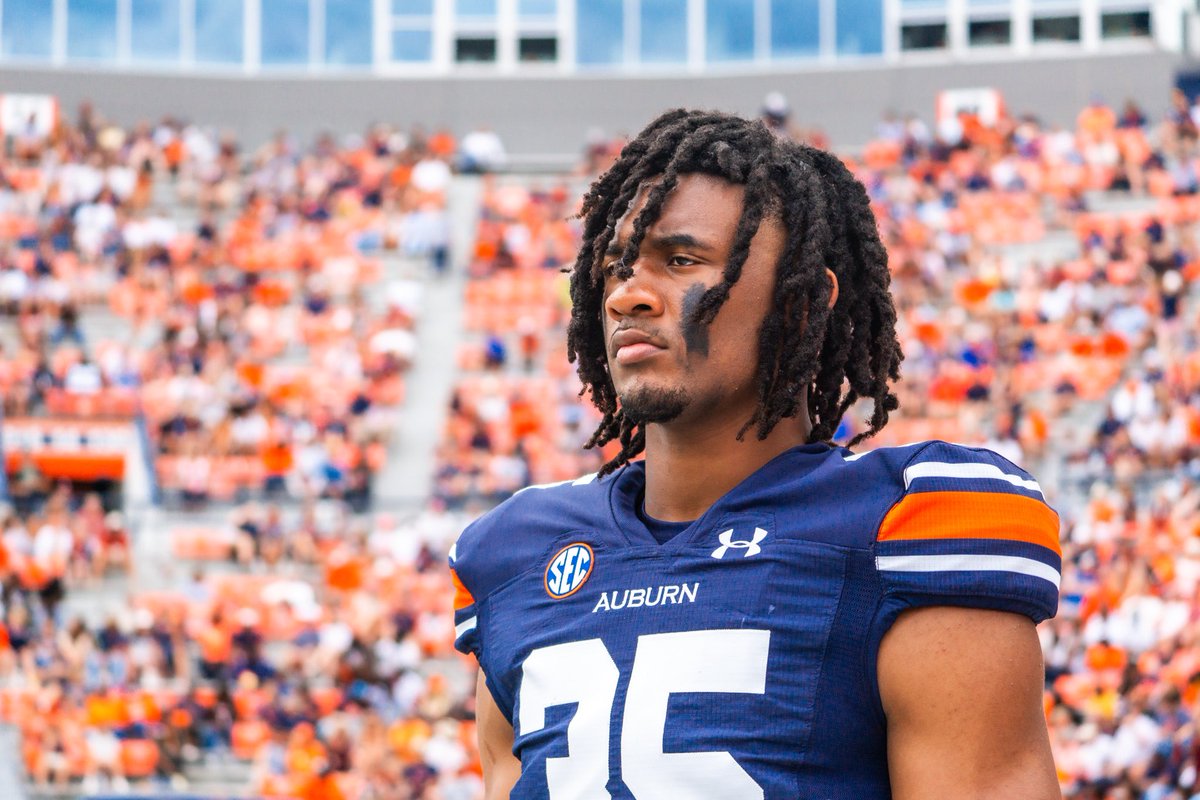 "I thought Christian Robinson has done a really nice job with those guys so far. The central theme for that group, and the defense as a whole, is competition. That's gonna continue through fall camp. Iron sharpens iron and that will help both sides, but then you start to add depth. (Linebacker) Cam Riley has really started to put on some weight. Asante, Steiner, Tisdol – that group is competing every day. And that's the ethos we've been trying to create as a program. We believe the right guys will rise to the top once that competition gets going."
ON SAFETY CRAIG McDONALD:
"First and foremost, he brings a veteran presence. You talk to Craig and it doesn't take long for you to understand that he loves football. There's a lot of other things going on in the world, but if these guys love football it's apparent. It helps him in the film room, in the way he plays. He's got a good physical presence about him, and we're excited to have him back there. He's the quarterback of the defense and he brings that to the unit."
ON HIS LIFE CHANGES THE LAST TWO SEASONS
"Certainly geographically it has changed! It's quite a way away. But really just new experiences – that's what life's all about. It's my family's second big move, first from Eastern Washington to Boise State, and then Boise to Auburn. But rarely does the research match the experience like it has here. It's a great community to be a part of – I love Auburn and I think Auburn loves me back."
"One thing people don't think about when they see coaches moving from spot to spot is our families. They're the most important thing, and we don't just say that – we live it. That's the biggest adjustment overall because the game is the game. It's played at an extremely high level here, no doubt about it. But it's what i've done my whole life. So getting the family settled is probably the toughest adjustment."
ON BUILDING DEPTH ON DEFENSE
"One of our biggest priorities is building dependable depth. Not just being on the depth chart or on the field, but being dependable. That's consistency, communication, doing your job. We talk about focus on 3rd and 1 in the Iron Bowl, that's something that has to be built through August. But there's a lot of guys right now in the secondary, up front, they're bringing that dependability and are going to compete for those spots."
ON HIS CORNERBACKS: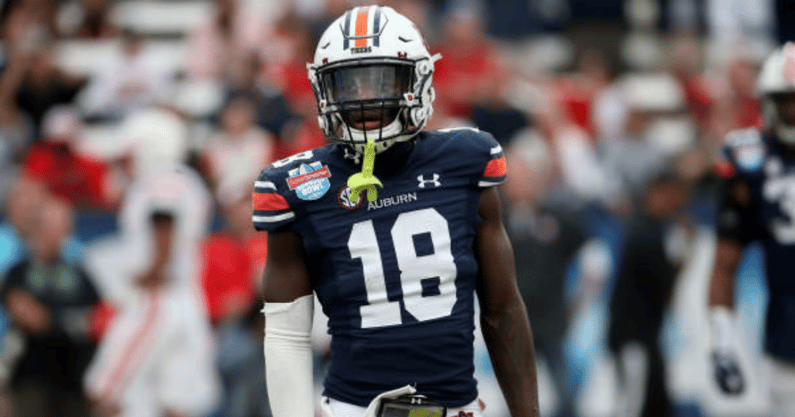 "Those guys (Nehemiah Pritchett, Jaylinn Simpson), they have experience. We do expect a lot from those guys. Those positions, they're out there on an island a lot of times. We're gonna play multiple things, ask them to do different stuff. As a coordinator it's my job to move the stress around somewhat, but at the end of the day they've gotta lock someone down too. And they've done a nice job of that. You talk about JD Rhym, about Keionte Scott and DJ James coming in. There's gonna be a lot of guys behind those two competing for snaps. And once again, it goes back to competition. And Coach Etheridge has done a great job with those guys. He understands the standard, playing here and winning a national title. The mentality required on the back end. So it's about trying to get some consistency through camp."
ON DEFENSIVE LINEMAN JEFFREY M'BA
"You talk about M'Ba man, it brings a smile to your face. His personality, he lights up a room. And that positive energy is contagious, there's just no doubt about it. He loves football, loves his teammates, and knows how to work. I'm excited to see him in pads – this summer I saw him in the workouts. But you see those physical attributes, he can run. But like everyone else he's gotta be developed, get those core fundamentals and techniques. And Coach Brumbaugh has done a great job with hm to this point."
ON THE NICKEL POSITION:
"Yeah, a critical position. Obviously Donovan Kaufman is there, and where we'll start. But then there's Keionte Scott, some other new guys we're gonna get a look at. Zion Puckett's played there. JD Rhym is an option. Even Nehemiah will play there in some situations. But that's a position we want guys to get reps at because that spot does a lot. Number one, you gotta be able to cover. But you also gotta be able to blitz, fit the run, play the post – all those things. It's a critical position on the defense."
"(Kaufman) loves to study football. He's the first one on the decks when we're running those stairs. He's all over everything – if there's something to be done he's communicating with the rest of the position group. I've been really impressed with the steps he's taken physically, mentally, and the leadership qualities he has developed. Discipline, toughness, conviction – he's got all of that. He's one of those guys who's going to help lead this team forward."
"Versatility in that secondary is crucial. We're gonna play some teams that run the ball down your throat, and some teams that are gonna have a snap every thirteen seconds. You have to have thos players that can play from 1st through 4th down. At any level, versatility at that position is needed. You can match personnel in certain situations. But you want guys that have enough positional versatility to adapt to any threat."
ON THE DEFENSIVE INTERIOR:
"You want to be able to rotate as much as possible. How much rotation? Right now it's hard to give you a number. But we feel like we've got six to eight or nine guys that we can use. But obviously we're gonna see how that develops going forward here. A guy's gotta earn it every single day. There's no seeking comfort in the past. It all starts up front, certainly in this league. We think we've got some guys here, but they've gotta go earn it right now."
ON THE RETURN OF OWEN PAPPOE:
"Everybody sees Owen, what he looks like and what he can do. But for him as a person, how he goes about his business, how he prepares; he is one dedicated guy. And to see that injury happen to him last year, it was heartbreaking. It wasn't the season that he wanted, and he really wanted to come back. Going forward, he's shifted gears and it's been full speed ahead. He's had his foot on the gas and it's been exciting to watch him. I'm truly excited for him, to see him take the next step as a player and a leader. He does the right things and brings people along with him. That's all we can ask. Making sure he's prepared, and his teammates are prepared too."
"To be a great defense, you have to have a couple of guys you can lean on. You have to have a guy up front, a guy in the middle and a guy on the back end. If you look at the defenses that have played the game at any level usually they have that. Certainly (Pappoe) is that on level two."
ON THE POSITION OF JOKO WILLIS:
"He'll be working with the edge group, but in a hybrid type of role."
ON EKU LEOTA:
"Man, am I excited for him. He really dedicated himself this offseason to the weight room, worked on his pass rush, worked on his preparation. To say what I expect? I have a high standard for him. Our two edge guys Derick Hall and Eku, we hold them in very high regard. And the challenge for guys like that is to consistently hit those highs. You're a very good player – can you be very good day in and day out? At the end of the day it's about ability. And he has the ability to stop the run and affect the quarterback."
ON CAM RILEY AND WESLEY STEINER:
"They both obviously play in the middle. Wesley is very vocal. Does a great job in his role communicating with the team. Cam, he's put on a ton of weight, looks great. Coach Pittman and the strength staff have done a great job with him. If you looked at Cam Riley from the time I walked in to now, you would barely recognise him. But he had to put in that work. He's very athletic for a guy of his length. We're excited for both of them and they both want to play. They'll both have a role, as well as help out on special teams, and it's all about taking the next step."
For More Great Football Content
Follow us on Twitter at @GridironHeroics for more great content. We appreciate you taking time to read our articles. To interact more with our community and keep up to date on the latest in Football news, JOIN OUR FREE FACEBOOK GROUP by CLICKING HERE
Checkout our latest podcast!
[powerpress_playlist limit=1]