The Atlanta Falcons suffered a disappointing 16-24 loss to the Washington Commanders. Quarterback Desmond Ridder didn't help their chances of winning by throwing three interceptions in the second half. On their last three drives, Ridder threw his second interception at the goal line, had a turnover on downs, and threw his third interception in enemy territory.
Ridder is 3-3 as the starting quarterback. He is 130/203 for 1,380 yards, 64% completion percentage, 6.8 yards per attempt, six touchdowns, and six interceptions. Atlanta might have to rely on Taylor Heinicke if he continues to struggle.
Atlanta is hoping Desmond Ridder will be Matt Ryan's heir apparent.
The Atlanta Falcons drafted Desmond Ridder in 2022.
Atlanta drafted Desmond Ridder in the 3rd round, 74th overall in the 2022 NFL Draft. Ridder served as Marcus Mariota's backup for the first 13 games of his rookie season. Atlanta benched Mariota for the remainder of the season, and Mariota had season-ending knee surgery.
Ridder started the last four games, finishing with a 2-2 record. He was 73/115 for 708 yards, 63.5% completion percentage, 6.2 yards per attempt, and two passing touchdowns.
Atlanta signed a veteran QB.
Atlanta signed Taylor Heinicke to a 2-year, $14 million contract during the offseason. Atlanta signed Heinicke to serve as Ridder's backup. Arthur Smith named Ridder the starting quarterback near the end of March. Atlanta granted Ridder the starting job without competing with Heinicke.
Atlanta needs to utilize their three great skill position players more.
Weapon number one- Kyle Pitts.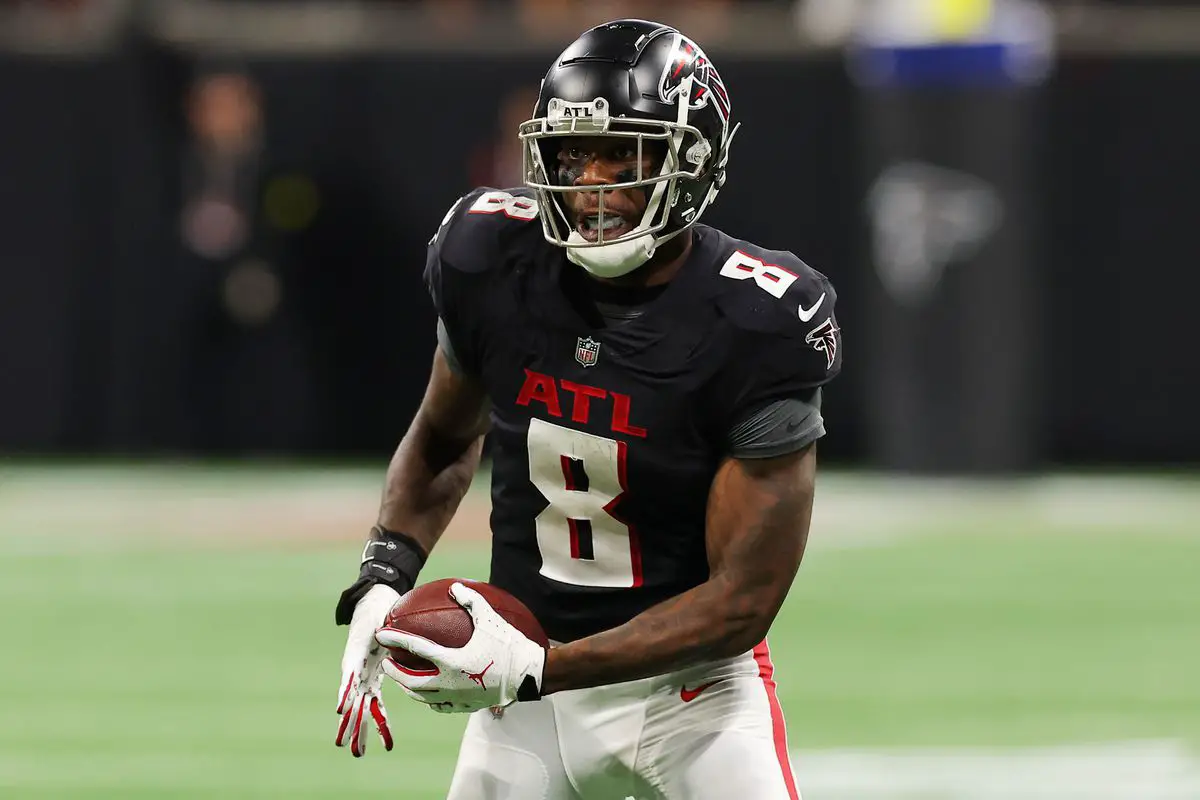 The first offense weapon is tight end Kyle Pitts. Atlanta drafted Pitts 4th overall in the 2021 NFL Draft. Pitts caught 68 passes for 1,026 yards and one touchdown in his rookie season, the most receiving yards for a rookie tight end in NFL history.
Kyle Pitts' stats took a significant decline in his second season. Pitts caught 28 out of 59 targets for 356 yards and two touchdowns. He tore his right MCL in Week 11 against the Chicago Bears.
Ridder is having the same issue that Mariota had, which is inaccuracy. Pitts has been targeted 38 times and caught 22 passes for 251 yards and one touchdown this season.
Weapon number two- Drake London
The second offense weapon is Drake London. Atlanta drafted Drake London 8th overall in the 2022 draft. He caught 72 passes for 866 yards and four touchdowns in his rookie season.
He caught 26 passes for 329 yards and two touchdowns through six games. He is the number one wide receiver on the team. He should be getting the majority of the targets.
Weapon number three- Bijan Robinson
The last offensive weapon is running back Bijan Robinson. Atlanta drafted Bijan 8th overall in the 2023 draft. Bijan has 401 yards on 80 carries. He also has 26 receptions for 189 yards and two receiving touchdowns. Bijan is arguably the most valuable player on offense. The Falcons need to continue to feed him the ball.
Who will be the starting quarterback moving forward?
Atlanta doesn't plan on benching Ridder yet. This is his first season as the full-time starting QB. If he continues to lose games for the Falcons, Heinicke could start. Atlanta is a talented football team and should make the playoffs. It would be a shame if they didn't make the playoffs.
Atlanta is not obligated to Ridder because he wasn't a 1st round pick. If Atlanta doesn't believe in Ridder after the season, they could draft a QB in the 1st round.
For More Great NFL Content
Follow me on Twitter/X @JacksonLoschko. If you have any questions, you can message me on Linkedin. To read more of our articles and be up to date on the latest in the NFL, click here.