Arizona Cardinals fans strongly reacted to the news Friday morning that starting quarterback Kyler Murray would be the starter for the team in Week 10 against the Atlanta Falcons. Murray's starting debut is the same weekend as the release of one of Murray's favorite video game franchises, Call of Duty.
Murray has been medically cleared to play for weeks and has practiced with the team since the middle of October. However, the team just activated him off the injured reserve this week.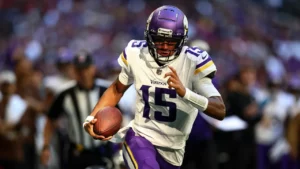 The Cardinals have made several suspicious moves at quarterback in a season they're 1-8. The Cardinals traded a talented quarterback, Joshua Dobbs, to the Minnesota Vikings. They started inexperienced rookie Clayton Tune in Week 9 after the Dobbs trade.
And they made both of those moves last week while Murray was medically cleared and on injured reserve. Many pundits and fans thought the Cardinals were making those decisions because losing or tanking helps their cause for the 2024 draft.
Cut to Week 10. Murray is set to start. But his first start this season will come at a time when Murray could face another distraction. COD's Modern Warfare III was released Friday.
Kyler Murray could face a big distraction
Tyler Sullivan pointed out Murray's fascination with the COD franchise last year when Minnesota Vikings cornerback Patrick Peterson trolled Murray with a "Call of Duty" celebration after picking off the Cardinals quarterback:
"Murray is an avid gamer, and that hobby garnered attention earlier this year when the quarterback inked a $230.5 million extension with the franchise. Initially, there was a clause in that new deal that mandated that Murray complete four hours of independent game study per week, which implied that he was not doing the necessary things to be ready on game day. That clause, however, was eventually taken out of his deal.

Specifically, Murray is a fan of the "Call of Duty" franchise, and a Reddit user discovered this summer that the quarterback's statistical output decreased whenever a new edition of the game was released along with "Double XP" weekend, where you can essentially earn double the amount of points your normally would. "
Arizona Cardinals fans on Murray starting on Call of Duty weekend
Cardinals fans reacted to the news Murray would start during the release of Modern Warfare III. One would think starting Murray would give the Cardinals a better chance to win this season, thus hurting their 2024 draft position in a loaded quarterback draft. But starting Murray this weekend might help the tank.
Some fans think starting Murray will hurt the tank. Whether the Cardinals draft a quarterback to replace Murray or not doesn't matter for tanking. They could trade the first overall pick for many extra pieces to help a Cardinals team in the middle of a rebuild.
Here are the best takes of Cardinals fans reacting to the news Murray would start on COD release weekend.
New COD just came out tho

— Alex Jones (@jonesalex91) November 10, 2023
Kyler Murray returning the same week the new Call of Duty launches is just bad team management.

— Sam Monson (@PFF_Sam) November 10, 2023
Having Kyler start the same weekend the new Call of Duty comes out is a wild move!

— dirk09 (@dirk09420) November 10, 2023
Thoughts and prayers for Kyler Murray.

Nothings wrong but Call of Duty comes out in a hour and he gotta prepare for his 1st start of the season Sunday.

— The Leader of the Group (@VolumeShooter_) November 10, 2023
Kyler Murray coming back the same week Call of duty is released pic.twitter.com/r82rsKbfTd

— J Moyer (@JMoyerFB) November 10, 2023
Kyler Murray pulling up to make his first start after grinding Call of Duty all weekend pic.twitter.com/K6yxKTpK4U

— BetMGM 🦁 (@BetMGM) November 10, 2023
"Kyler Murray pulling up to make his first start after grinding Call of Duty all weekend" pic.twitter.com/aBNaF1gwnw

— Kai (@KAlDALEGEND) November 10, 2023
Hit the early Murray prop unders Call of Duty just came out

— Adrian Soto (@uL7Weenie) November 10, 2023
For More Football News:
Follow me on Twitter at @JordanSig. You can also reach out to Jordan Sigler via email at jordanmsigler@gmail.com. To read more of our articles and keep up to date on the latest in college and NFL news, click here!