A former long-time starter for the Dallas Cowboys signed with a team that has given the Cowboys headaches in the previous two winters.
San Francisco 49ers sign former Dallas Cowboys starter
According to Adam Schefter with ESPN, cornerback Anthony Brown is signing to the San Francisco 49ers 53-man roster. Brown suffered a torn Achilles during the 2022 season.
Former Cowboys' CB Anthony Brown, who tore his Achilles while with Dallas last season and was on Pittsburgh's practice squad until this week, signed today with the 49ers' 53-man roster, per source.

— Adam Schefter (@AdamSchefter) September 19, 2023
The Cowboys drafted Brown in the sixth round of the 2016 NFL Draft. He was with the Cowboys through the 2022 season. He made 69 starts in Dallas.
Brown recorded 324 total tackles, nine interceptions, and five forced fumbles during his time with the Cowboys.
Brown's signing Tuesday comes as the 49ers are dealing with injuries in the secondary. The 49ers placed Samuel Womack on injured reserve before Week 2.
Brown and the 49ers will play the Cowboys Oct. 8th on Sunday Night Football. It's an important game for the Cowboys, as the 49ers have knocked the Cowboys out of the playoffs in the previous two postseasons.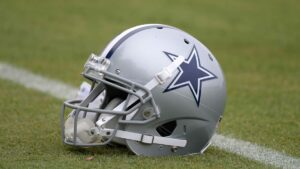 For More Football News:
Follow me on Twitter at @JordanSig. You can also reach out to Jordan Sigler via email at jordanmsigler@gmail.com. To read more of our articles and keep up to date on the latest in college and NFL news, click here!