It is time for my first 2023 NFL mock draft. I love the draft. I love drafting games. Everything about the process excites me. With the draft order starting to take shape, I wanted to try my hand at a mock draft. This will obviously evolve over time. Here is version 1.0 of my 2023 NFL mock draft.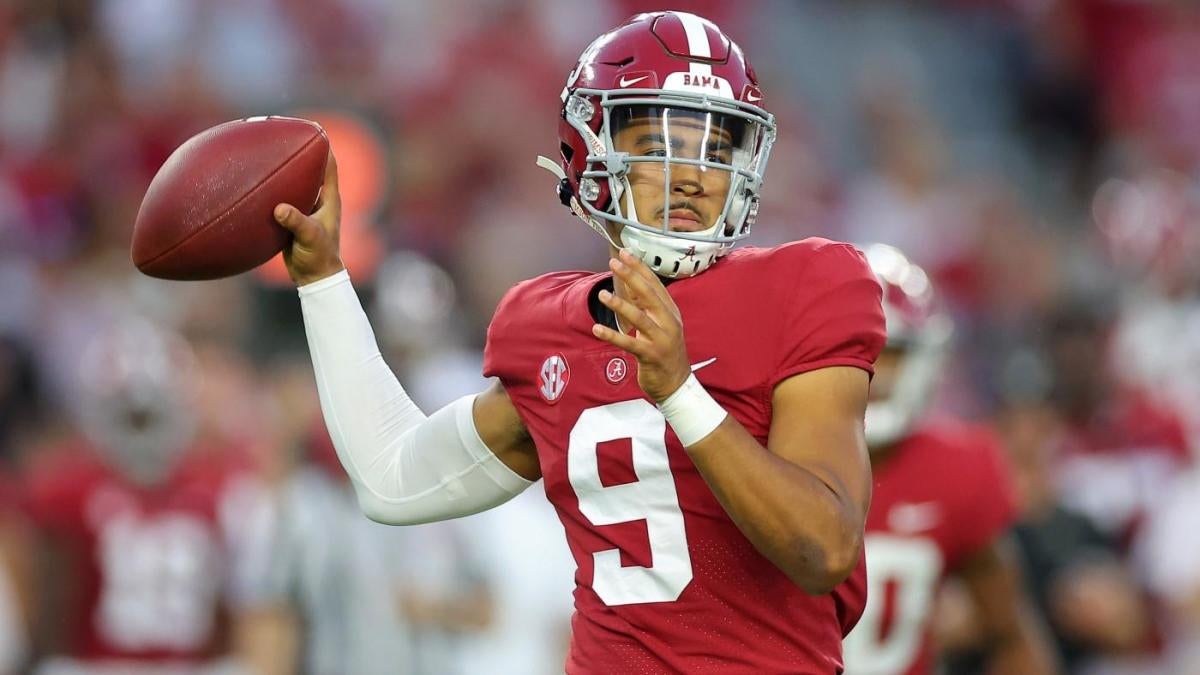 1. Houston Texans: QB Bryce Young Alabama
The Houston Texans need a QB. Davis Mills is not the answer long-term. While there are many holes on the roster, teams go nowhere if the QB position isn't figured out (just ask the Jets). Bryce Young looks the most pro-ready so that is who I think they will take.
Justin Fields proved enough this year that the Bears do not need to think about QB here. The good news for them is they can now take the best player in the draft. Will Anderson immediately makes a huge impact on the Bears' defense which has been lacking some teeth this season. The Bears could also be a trade-out of this spot candidate if a team really wants a certain QB. Ultimately, the Bears can't lose with this pick.
3. Seattle Seahawks (from Denver): DT Jalen Carter Georgia
It is less certain what the Seahawks will do with the third pick. Geno Smith looked like a top-10 QB in the early part of the season but has regressed some. Part of this is the stress that the defense puts on Smith and the offense to score. For this reason, I have the Seahawks thinking defense here with Jalen Carter. They need a run stopper and Carter is just the piece to do that. This is also an unexpected top 5 pick for the Seahawks so I think they go with the best player available.
4. Detroit Lions (from LA Rams): QB CJ Stroud Ohio State
The Lions, like the Seahawks, have been gifted a top 5 pick. I think they take a page out of their NFC North rival's playbook and take a QB to stash. The Packers chained Brett Favre, to Aaron Rodgers, to (possibly) Jordan Love. They have done this by drafting the successor three years prior and developing the QB. Jared Goff has played really well this season and could easily come back as the Lions' QB. Drafting Stroud would allow him to develop behind Goff and start when ready.
5. Arizona Cardinals: CB Joey Porter Jr. Penn State
There are so many directions that the Cardinals can go but I think they have to go defense. Getting Kyler Murray help is also important but the value is simply not there at this high in the draft. Instead, Arizona should look to help a secondary that has struggled to stop opposing offenses. Porter Jr. has great ball skills and can keep up with the faster receivers in the league.
6. Indianapolis Colts: QB Will Levis Kentucky
The Colts must be getting dizzy from the coaching carousel they have been on for the past five years. They finally have a high enough pick to be able to hopefully solve that problem. Will Levis might be a little bit of a project but the Colts cannot keep getting one-year rental QBs forever.
7. Atlanta Falcons: Edge Myles Murphy Clemson
The Falcons are in a tough spot here. They spent a draft pick on Desmond Ridder last year and the early returns are not promising. However, I am a fan of letting a draft pick develop a little before calling them a bust. For this reason, I have the Falcons thinking defense and taking Murphy out of Clemson. Do you know what is always nice? Getting pressure on the QB. Atlanta should look to bolster their defense.
8. Carolina Panthers: QB Anthony Richardson Florida
The Panthers are in a tough spot right now in the draft. They desperately need a QB. With all due respect to Sam Darnold, he is not the long-term answer for this team. They will be very happy if Richardson falls to them in this spot. After starting out slow, Richardson looked really good in the back half of the season. If the team wanted, they could stash him for a year though it is more likely he comes in as the starter in a weaker division.
9. Philadelphia Eagles (from New Orleans): RB Bijan Robinson Texas
No team is more spoiled than the Philadelphia Eagles this year. They currently hold the top record in the league and have a top-10 pick. All other teams are green with envy. Because of how talented their team is, I think the Eagles make a pick that shows how spoiled they are. Normally, taking an RB in the first round is not advisable but for the Eagles, who cares? Robinson is the most talented back in the draft and thinking about him running behind that offensive line should make any Eagles fan jump with joy.
10. Las Vegas Raiders: CB Kelee Ringo Georgia
This pick could change a thousand times depending on what offseason decisions the Raiders make. Derek Carr and Josh Jacobs are both free agents. If neither of them comes back, the Raiders could go offense here. However, the defense seems to be more of the problem. The Raiders have blown some leads late and need a stopper on defense. Georgia has produced many great defensive players in the past couple of drafts so taking Ringo is a good pick for the Raiders.
11. Jacksonville Jaguars: WR Quentin Johnson TCU
Trevor Lawrence is making a leap. The offense is looking good despite Christian Kirk and Zay Jones being the top WRs. No disrespect to them but they are more complementary receivers. While the Jaguars need some help with defense, Johnson is too tantalizing of a talent for them to resist.
12. Houston Texans (from Cleveland): WR Jaxon Smith-Nijba Ohio State
The Texans will look to pair their star QB from their first pick with a young receiver. This has worked out well for teams in the past (see the Cincinnati Bengals) and the Texans will look to duplicate it. I don't think the Texans' defense is awful so they can afford to look to improve the offense. Ohio State has produced some great receivers in recent classes. Pairing Smith-Nijba with Bryce Young will give the Texans' offense stability moving forward.
13. Pittsburgh Steelers: OT Peter Skoronski Northwestern
In the last draft, the Steelers went with Kenny Pickett in the first round. He has shown some promise but now the goal is to get him some help. Oddly enough, his skill positions are very good with Najee Harries, Diontae Johnson, George Pickens, and Pat Friermuth. What he needs is time to throw to these targets. Skoronski is a top lineman in this draft and could be a staple on any line for years to come. This isn't a sexy pick but one the Steelers need.
14. Green Bay Packers: TE Darnell Washington Georgia
It isn't a wide receiver but it is still a pass catcher. The TE position needs a massive upgrade. You could argue Aaron Rodgers hasn't had a top TE since Jermichael Finley. The key with Washington is his run blocking is also elite. The Packers will have AJ Dillon and maybe Aaron Jones in the backfield. Mercedes Lewis will most likely retire and Washington can provide his blocking with more upside in the passing game. In the past two drafts, Brian Gutekunst has gone with Georgia products and I think he makes it three in a row.
15. Seattle Seahawks: Edge Tyree Wilson Texas Tech
The Seahawks are back on the clock and I think they continue to help the defense. They solved the middle of the line which will help the run. Now it is time to help the passing game. While there are many corners available, if you can get to the QB before he can get the ball out, who cares how good your corners are? Wilson brings speed and power off the edge. Seattle will be happy to gain two young defensive studs to the roster.
16. New England Patriots: WR Jordan Addison USC
The Patriots always seem to do weird things in the draft so trying to predict what they will do is a mystery. However, I think this year's decisions should be easy for them. They need a playmaking wide receiver. Evaluating Mac Jones is impossible with the receiving corps that he currently has. Addison immediately becomes the WR1 in New England.
17. New York Jets: OT Broderick Jones Georgia
After Thursday night, the Jets are going to need to figure out their QB situation. The problem is that the top QBs are gone at this point. Most likely, they will have to acquire someone via trade. Whomever they get, they will need to protect that QB. Jones is a quality lineman out of Georgia that can help solidify a spot on the Jets' line.
18. Detroit Lions: DB Brian Branch Alabama
The Lions took a project with their top 5 pick. Now it is time to bring in a difference-maker for this season. Branch is a versatile safety that can come down and stop the run or cut off deep routes. Jeff Okudah has improved this year and pairing him with another defensive playmaker in the secondary would help solidify the Lions' defense. The offense looks like an unstoppable force this season and it looks repeatable for next season. If the floor of the defense can be raised, the Lions might contend for the NFC North.
19. Tampa Bay Buccaneers: CB Cam Smith South Carolina
The Bucs are another team that is hoping for a QB to fall to them. I don't see that happening so instead they turn to the defense. The once dominant Bucs defense has lost some of its gusto the past couple of seasons. CB Cam Smith can help add some punch to a defense that looks to get back to one of the tops in the league under Todd Bowles (if he is still there after this season). His long arms and speed are just what the Bucs need for their defense.
20. Tenessee Titans: Edge Jared Verse Florida State
The Titans need so much help on the offensive side of the ball. Derrick Henry isn't getting any younger. The receivers are a bottom-five group. However, at this point in the draft, the value simply isn't there. The Titans will be happy to pick up another pass rusher at 20. Verse is a top-10 talent who has a great motor and nice athleticism. While the Titans hope for a receiver to fall, they are happy to pick up this kind of talent here.
21. Washington Commanders: CB Christian Gonzalez Oregon
Similar to the Jets, the Commanders have some QB questions going into the offseason. That problem will have to be solved through free agency or trade. The rest of the offense looks really good. Terry McClaurin is a top receiver in the league. Brian Robinson looks great in the backfield. The Commanders can now look to bolster their defense. Gonzalez is a big, fast corner which is needed to shut down today's NFL receivers.
22. Los Angeles Chargers: WR Jalin Hyatt Tennessee
Justin Herbert is a generational talent. The Chargers need to surround him with as much talent as possible. Keenan Allen and Mike Willaims constantly have injuries and aren't getting any younger. Hyatt gives an explosive receiver for Herbert. He is a great talent who does not shy away from the moment. Putting more weapons on the field is what the Chargers need to prioritize.
23. New York Giants: CB Max Melton Rutgers
Getting rid of James Bradberry hurt the Giants' secondary. It was necessary for the salary cap but the Giants need to find some talent in the secondary. WR could be another position the Giants give a look at here but I think they prioritize the defense. The offense could look very different depending on who is quarterbacking the team next season. They go for the safe pick and help the defense.
24. Baltimore Ravens: RB Jahmyr Gibbs Alabama
At this point, I might as well not even give a pick for the Ravens. Everything the Ravens do in the offseason hinges on whether Lamar Jackson is under center for them next season. I have a hard time believing they let him walk but you never know in this league. Regardless, my pick is Gibbs out of Alabama. The RB group has not performed well for the Ravens and they are a run-first team.
25. Denver Broncos (from SF via MIA): OT Paris Johnson Jr. Ohio State
Having this pick softens the blow of giving up a top-5 pick for the Broncos. They badly need offensive line help and will spend in the draft hoping a top lineman falls to them. In my first mock draft, they get their wish. Johnson Jr. could be the best tackle in the draft and Denver is getting him at 25. When the Broncos like it or not, Russell Wilson is under center for them. They need to protect him better this season if there is going to be any kind of success.
26. Dallas Cowboys: WR Rashee Rice SMU
The Cowboys love to make splashy picks in the first round. This either works out really well or it goes south quickly. The past couple of games for the Cowboys have proven one thing. They need another receiver behind CeeDee Lamb. Rice is a great route runner that could slot in well to an offense that already has a lot of talent. I could also see the Cowboys going linebacker here but for now, I think they take a receiver.
27. Cincinnati Bengals: TE Michael Mayer Notre Dame
The Cincinnati offense is already full of studs. The Bengals add another weapon to an already-loaded offense late in the draft. Mayer would be a great pickup for the Bengals. Mayer's pass-catching would make him a perfect fit for an offense that features Ja'Marr Chase and Tee Higgins. With all of the outside the numbers talent, Mayer would give some production over the middle of the field.
28. Kansas City Chiefs: Edge Isaiah Foskey Notre Dame
The Chiefs' offense has not missed a beat. After Tyreek Hill left, many wondered whether Patrick Mahomes would be able to continue producing at a high level. The answer is a resounding yes. Kansas City takes this opportunity to work on the defense. Edge rushers are always valuable and Foskey is another top talent in the draft.
29. Minnesota Vikings: CB Devon Witherspoon Illinois
Trying to figure out how the Vikings are winning all of these games is an enigma. One thing is for certain. The Vikings have trouble stopping their opponent's passing games. Harrison Smith and Patrick Peterson are in the twilight of their careers. Witherspoon is a player I personally really like. His improvement over the season earns him a first-round nod. Hopefully, he can help shore up a weak Vikings secondary.
30. Buffalo Bills: LB Trenton Simpson Clemson
The Bills looked really great on defense until the injuries started. One key injury was Von Miller. Once he went out, the pass rush started falling flat. While it is impossible to replace someone like Miller, Simpson is a great talent to get at this point in the draft. The beauty of these playoff teams is they do not need their rookies to come in and become star players right away. Simpson can learn from the best and develop.
31. Philadelphia Eagles: CB Clark Phillips III Utah
If you are going to poke holes in any part of the Eagles team it is their secondary. Darius Slay and James Bradberry will both be over 30 entering next season. With their second first-round pick, the Eagles will look to replace one of them. Again, he doesn't need to come in and make a difference immediately which is the beauty of the situation. The Eagles can have him learn from Slay and Bradberry and come in when it is needed.
That is version 1.0 of my 2023 NFL mock draft. I'll continue to update this week to week and after the season ends up until draft night. Follow Gridiron Heroics for all your draft coverage!
For More Great Football Content
Follow us on Twitter at @GridironHeroics for more great content. We appreciate you taking time to read our articles. To interact more with our community and keep up to date on the latest in Football news, JOIN OUR FREE FACEBOOK GROUP by CLICKING HERE
Checkout our latest podcast!
[powerpress_playlist limit=1]