The New York Giants added two running backs to their roster Tuesday with a week to go until the trade deadline. The Giants have decided to be aggressive in adding to their backfield in Week 8, an interesting time for the Giants considering all of the trade rumors floating around star running back Saquon Barkley.
Barkley has said he wants to remain in New York. However, he told reporters last week that he understands being traded from the Giants is a real possibility that head coach Brian Dabol and general manager Joe Schoen discussed with Barkley last week. Per the New York Post:
"I wouldn't say it's a sigh of relief because [a trade] doesn't cross my mind," Barkley said. "There was a conversation during the week from Dabes and Joe, who pulled me aside. I can't control that if it does happen or it doesn't happen.

What I can control is how I compete, my mindset and my work ethic — and that's what I'm going to continue to do: Go back to the drawing board and find a way to hold onto the ball."
The 2-5 Giants are fresh off their Week 7 upset of the Washington Commanders, with backup quarterback Tyrod Taylor as New York's starting quarter. The Week 7 win should be no reason for the Giants to give up the idea of being a trade seller at the Oct. 31st deadline, especially considering they plan to start Daniel Jones shortly.
The New York Giants sign two running backs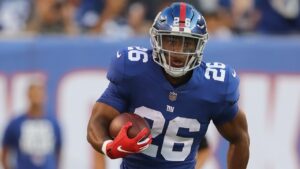 And the Giants made two moves Tuesday that could foreshadow a trade by the Giants. The Giants signed running back Deon Jackson off waivers. Per Aaron Wilson with KPRC, the Giants also signed Jashaun Corbin of the Panthers practice squad.
#Giants signed Jashaun Corbin off #Panthers practice squad

— Aaron Wilson (@AaronWilson_NFL) October 24, 2023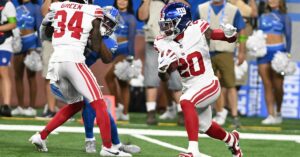 The Giants needed to replace one running back, as the team sent Eric Gray to injured reserve.
#Giants placed Eric Gray and Matt Peart on IR

— Aaron Wilson (@AaronWilson_NFL) October 24, 2023
However, the team has the option to trade Barkley after signing two running backs Tuesday. The trade rumors in the next few days should pile up after the signings.
NFL Week 8 Top 10 Power Rankings:
For More Football News:
Follow me on Twitter at @JordanSig. You can also reach out to Jordan Sigler via email at jordanmsigler@gmail.com. To read more of our articles and keep up to date on the latest in college and NFL news, click here!