This is the first of a two-part series chronicling the journey of Shyrone Stith Virginia Tech running back from 1996-1999.  The link to Part II is at the bottom of this article.
If you are a Virginia Tech football fan and you engage in a debate about the best running backs in school history, then Shyrone Stith must be in your conversation.
Stith was part of an incredible stable of running backs during Frank Beamer's years, the "Stallions" as they liked to call themselves.  He should long be remembered for what he did in Blacksburg, especially during that magical 1999 undefeated regular season when he ran for 1119 yards and 13 touchdowns despite coming out of games early when Tech had big second-half leads that year.
A blend of explosiveness, power, agility, and vision, Stith is often included in lists of the top-ten all-time Hokie running backs.  With a similar build and running style to NFL legend Barry Sanders, Stith was great at making the first defender miss the tackle then bursting for extra yardage.  He also had a great work ethic, and he is remembered by peers as a great teammate.
While his NFL career was cut short by injury, Stith was still an accomplished back at Virginia Tech who possessed a world of talent.  Who knows what could have been had he not suffered the same injury to the same knee twice in his first few professional years?
But the challenges in life shape us, and Shyrone Stith has been able to overcome challenges and setbacks to become a great athlete and an even better person, now serving as a role model to the young adults in his area.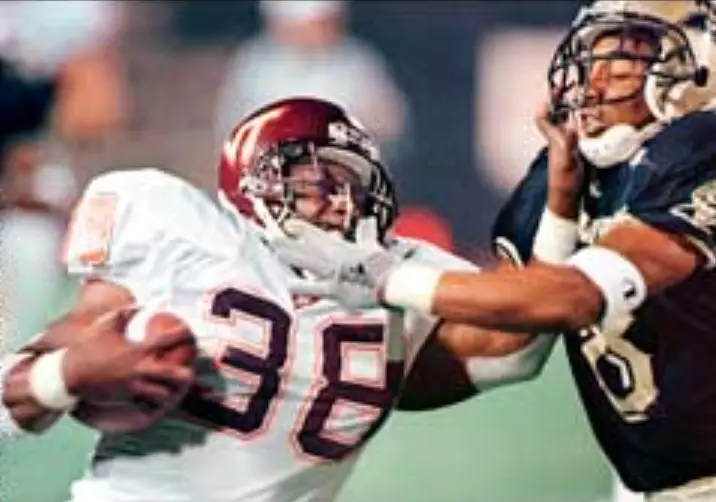 Growing up in the 757
Stith was born in Portsmouth, Virginia, and several years later his family moved to the neighboring town of Smithfield before settling in Chesapeake.  However, since his mother and step-father still worked in Portsmouth, he spent most of the after-school time of his youth at his aunt's house in town.  Stith and his cousin basically roamed the projects daily, playing football with neighborhood kids and other family members who lived nearby.
"We'd find a field, or a yard, or shoot, even in the street.  We used to play football in the street," he remembered.  "We didn't play tackle, but we played football in the street as well."
Stith recalls those games fondly, as it was there where he met guys who would be his future high school opponents.
Not all the memories are warm and fuzzy though.  Being unsupervised on the streets of the projects, Stith witnessed a lot of trouble.
"We saw a lot of things, robberies, people getting shot, basketball court fights, guys going back to their cars to get their gun," he recounted.  Then he shared the lesson learned in those situations:
"That's when you knew it was time to go, when somebody left the court mad.  You don't want to be there if they come back.  You don't know if they're coming back, but if they leave the basketball court mad, it's not gonna end well."
While these experiences may have been harsh, and looking back at them through adult eyes they certainly were, Stith knows that at the time he was young and naïve and didn't think much about it.  That was life, that was his normal. "It's not like it was dangerous to us, it was just what it was," he said.  "You knew right from wrong early."
It was also a time of family.  Stith warmly remembers how the extended family gathered at his grandmother's house every weekend and he spent a lot of time with his cousins.  "We played football, basketball, baseball, rode our bikes, and at nighttime we came together and ate," he remembered. "I miss things like that."
Looking back, he sees the value in those experiences and the lessons that he learned from them.  They helped shape him into a tough, determined kid who would go on to be successful as a teen and as an adult.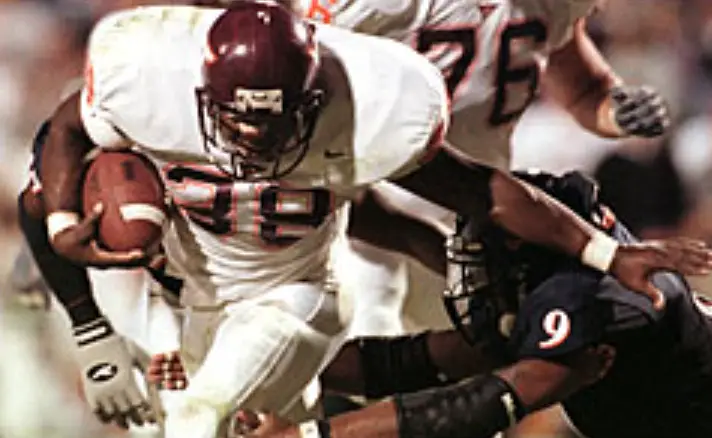 Athletic Success in High School
As a student-athlete at Western Branch High School in Chesapeake, Virginia, Stith excelled on the gridiron and on the track.  In addition to playing football, he also ran winter and spring track for the Bruins.  Taking advantage of his speed, Stith ran the 200 and 400 meter sprints, and he also was part of the 4×100, 4×200, and 4×400 relays.
Football was his best sport, however.  He played for long-time football coach and local legend Lew Johnston, who, after his retirement, identified Stith as the best running back he ever had at Western Branch.
As an All-District and All-Region running back, Stith drew notice from colleges across the nation.  Letters came in from Washington, Oregon, Alabama, and Arkansas.  All of the ACC teams, including Florida State, expressed interest, as did Miami and many of the Big East schools.
With so much interest from all over the country, Stith was going to have a big decision to make in terms of where he would play his college football.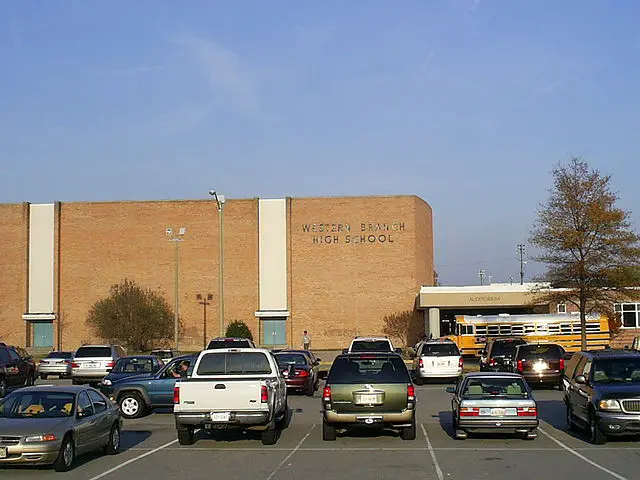 Choosing a College
The one school that Stith wanted to attend was Notre Dame, but they did not recruit him.  Without any interest from the Fighting Irish, Stith then turned his attention to the Commonwealth schools.
His older cousin Bryant Stith was a standout on the University of Virginia basketball team, so the younger Stith was always a Cavalier fan as a kid ("until I hit middle school, then I became a Duke fan for some reason," he remembered with a laugh).
At the time, he had never heard of Virginia Tech, so he was a little surprised to receive their letter of interest in the mail.
"I got a letter from this school called Virginia Polytechnic Institute and State University," he laughed, and of all things, the color scheme caught his eye.
"I like fashion.  So I was like, these are the ugliest colors I've ever seen in my life!  Who would put burgundy and orange together?!"
This letter came during the summer after his freshman year of high school.  Until that time, he was still all-in on UVa.  However, things changed that fall.
"I started seeing Maurice DeShazo and Virginia Tech on TV," Stith confessed.  "I had never seen this school, and now all of a sudden they're on TV."
He started watching, and he took a liking to their brand of football.  "I loved how they ran the ball, I loved the defense, I loved the enthusiasm they had, and I said, 'OK, I'm gonna start checking this college out'."
The next season, Stith was drawn to the success of Tech running backs Dwayne Thomas and Ken Oxendine.  He liked that they went to the Gator Bowl, then they followed that with their unforgettable Big East title season and Sugar Bowl victory.
Time to Commit
In the spring of 1995, during his junior year, Stith and high school teammate (and future Virginia Tech teammate) Lorenzo Ferguson went to Blacksburg to see the spring game.
"That's when me and Lorenzo fell in love with the team," Stith said. "They were so welcoming.  It felt like we were already on the team.  Guys were down to earth, there were no egos…The coaches were cool."
This school with the odd color scheme had made quite an impression and Stith saw something special in the program.  "The environment was set for success."
The following fall, Stith and Ferguson returned to campus for the Miami game.  Yes, that Miami game.  He was there for the program's first ever victory over the Hurricanes and the first victory in a soon-to-be ten game winning streak.  It was a memorable weekend for sure.
Then came the closer.  Tony Morrison, who was also from the Chesapeake Public Schools, was a linebacker for the Hokies.  Stith had forgotten that Morrison went to Tech, so it was a pleasant surprise to see him at the Miami game.
"That kind of sold me too," Stith admitted.  "He was the best player in our region.  If he's going here, I'm definitely gonna follow his lead there."
Within a few weeks, Shyrone Stith, who was previously still leaning toward UVa, committed to Virginia Tech.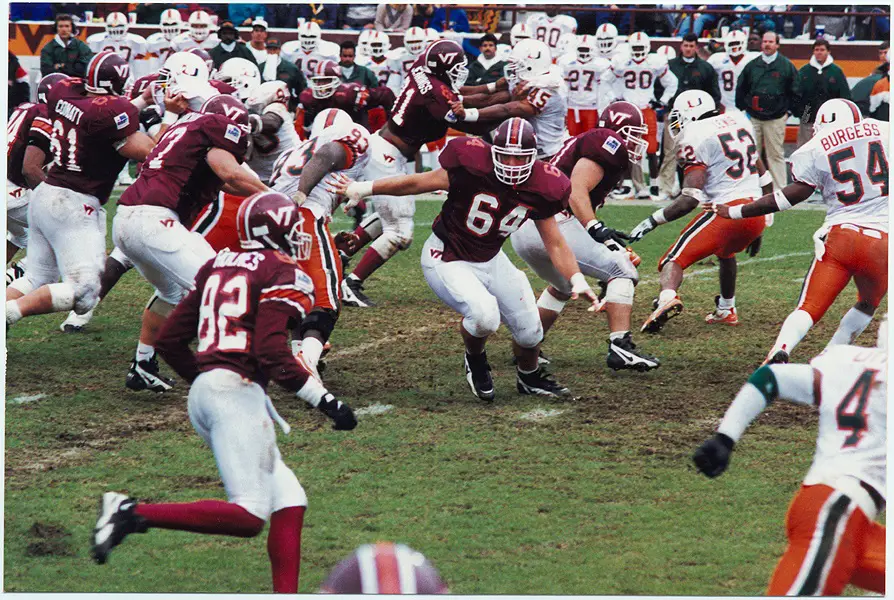 Pressed into Action as a True Freshman
When Shyrone Stith enrolled at Virginia Tech in the fall of 1996, the Hokies were coming off that special Big East and Sugar Bowl championship season.  The roster was loaded, especially at running back with talented juniors Ken Oxendine and Marcus Parker leading the way and senior Brian Edmonds in the mix.
Oxendine would go on to finish his Tech career with 2653 rushing yards, a number that currently has him ninth all-time, only nine yards shy of David Wilson.  Parker did not amass the same kind of numbers, but Stith considers him in the same class as Oxendine.  When asked who was the best back at Tech during his time there, Stith said Marcus Parker. "He had speed, vision, agility, and power. By far it was him."
Stith would end his career in the same conversation as Ox and Parker for all-time great Hokie running backs, but he began his college career buried on the depth chart. However, the coaches saw the potential in him, and so he travelled to the first game at Akron.
During the walk-through the day before the game, running backs coach Billy Hite told Stith that he wasn't going to play and that they were probably going to redshirt him.  The coach said that they brought Stith along to get acclimated to the environment and the game speed, because they knew he would play sooner in his career rather than later.
I don't think anyone on that staff realized just how accurate their assessment was!  Oxendine started this game but was hurt midway through the first half.  Marcus Parker was suspended for the game, so Tech was digging deep into its running back room, and it was not working.  Stith lamented the struggles: "The tailbacks that were playing were fumbling left and right."
Down 8-0 to the Zips midway through the second quarter, Coach Hite was frustrated with the turnovers, so he turned to the true freshman.  "Get the (expletive) in the game!"  Hite yelled to Stith, who remembers just standing by the fuming coach, holding his helmet. "Once you get in there, know your (expletive), hold on to the damned ball, and go make some big plays!"
Stith was caught off guard, thinking,  "You just told me yesterday that I was redshirting, that I wasn't playing today!"
Luckily, the young running back knew his plays, and he did exactly what Hite told him to do.  He ran for 119 yards in two and a half quarters and scored two touchdowns, leading Tech to a 21-18 victory.  It was a game-saving performance, maybe even a season-saver as the Hokies won ten games again and went to the Orange Bowl.
One has to wonder what trajectory the team would have taken had Stith not played and instead Akron upset the Hokies in the 1996 opener!
Today in 1996: Shyrone Stith scores first 2 career @HokiesFB TDs as No.15 VT wins at Akron 21-18. #HokieHistory #Hokies pic.twitter.com/PIHYvoEcF1

— Clark Ruhland (@Hokie20) September 7, 2023
The Decision to Redshirt as a Sophomore
After that incredible debut at Akron, Stith started the next two games, rushing for 80 yards and two touchdowns at Boston College, and following that with 75 yards and one touchdown against Rutgers.  After three games, Stith had 274 yards rushing and four touchdowns.
However, Oxendine returned from injury and Parker's suspension ended, and despite Stith's success, he was competing with two studs who were older than him.  Still, the freshman continued to see action, finishing the year second on the team in both carries (89) and rushing yards (474).
Heading into spring ball, the situation only became more competitive.  Oxendine and Parker were returning for their senior seasons, and Stith was going to be a sophomore.  Andre Kendrick was coming off a redshirt, and Clemson transfer Lamont Pegues was eligible to play.  The running back room was crowded.
Fate intervened when Stith broke his thumb badly in spring practice.  He needed surgery and missed the remainder of the spring.  The injury combined with the deep roster made the decision easy.
"I was already thinking of redshirting before the coaches brought it to my attention," Stith admitted.  It was the right decision for him after being forced into action as a true freshman.  "I got stronger and got a better feel."  The growth in physical and mental toughness was invaluable during that redshirt year.
The 1998 Springboard Season
Although the 1998 season saw Virginia Tech end with a 9-3 record, Stith feels that the team should have been undefeated.
In all three losses, Tech squandered at least a 17-point lead, including that home loss to Temple and the infamous Donovan McNabb sideline-vomit walk-off win.  The Hokies could have easily won all of their games that year as well.
Virginia Tech earned a bid to the inaugural Music City bowl to face Alabama.  Stith recalled the team's motivation that night: "We wanted to win that game for the seniors, because we knew deep down that we should have been 11-0."
Tech came through, smothering the Crimson Tide and rolling to a 38-7 win, its biggest margin of victory in bowl history.  They had a lot of talented players eligible to return the next year, including Stith, their entire offensive line, and a dominant defense.
They also had some younger guys ready to break out.  One kid in particular was a dynamic quarterback who redshirted that year.
Michael Vick and the 1999 Spring Practice
In the spring of 1999, Michael Vick was primed to take over the quarterback position after Al Clark used up his eligibility.  Vick, who already showed his brilliance on the practice squad during his redshirt season in 1998, was creating a lot of excitement.  "We were already telling our friends back at home," Stith confessed, "wait 'til you see this quarterback we got.  He's a monster."
After a strong 1998 season and a beatdown of Alabama in the bowl game, many fans point to that Music City Bowl as the springboard to the success of the '99 campaign.  After talking to Stith, it is clear that this is only part of the equation.
The 1999 spring practice was just as important for launching the team to new heights.  "I knew '99 was going to be special during spring football," said Stith.  "We had a little depth at key positions."  They also had a chip on their shoulders.
"We knew we should've been undefeated the year before," Stith said.  "We didn't take anything for granted."  The Hokies were motivated to do better.  "We had to work hard.  We didn't want to look at the success from last season and live off of that.  We wanted to keep raising the bar."
It was a special culture, from the coaches down to the players.  "We had people that held us accountable."  They also had a loaded roster.  Michael Vick highlighted a potent offense, and All-American defensive end Corey Moore, whom Stith and offensive tackle Anthony Lambo both called "the Michael Vick of the defense," led a dominant shut-down defense.
And they emerged from spring ball ready to take the college football world by storm.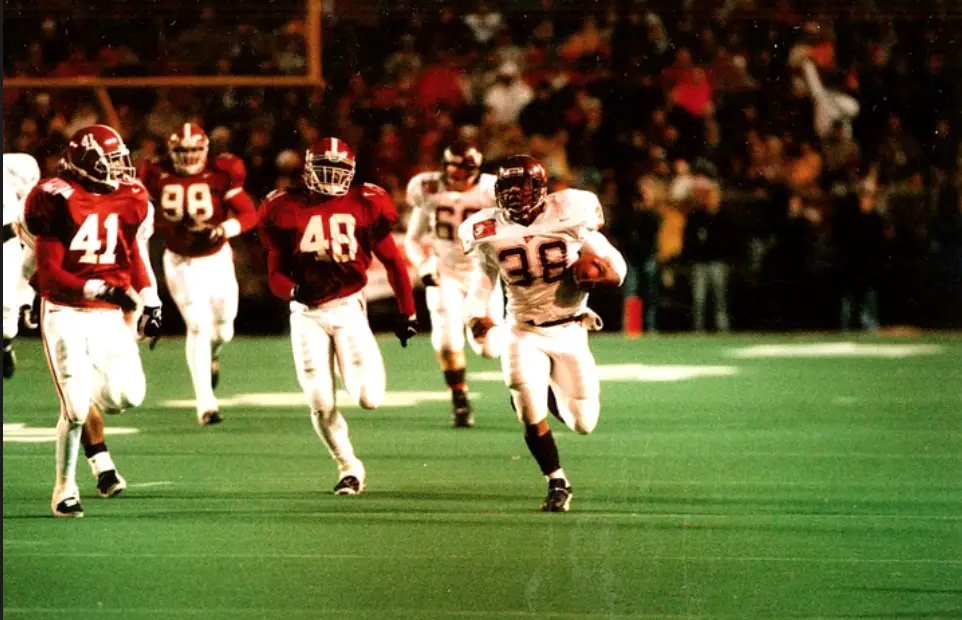 Where are They Now? Shyrone Stith Virginia Tech Running Back – Part II
This story is continued in Part II.  Click this link to read the second part of this series.
To read more of my articles on Virginia Tech football, click here.
To read more of my "Where are They Now" series of former Virginia Tech football players, click here.