What a blast!  Watching the Virginia Tech Syracuse game on Thursday night was such a throwback, a total beatdown from the start, a flashback to Hokie dominance of old, the kind of game Hokie fans were used to seeing but have not witnessed for much of the last decade.
It was so much fun!
For the first time in a looooong time, Lane Stadium looked like the Thursday night Terrordome that it used to be when the Hokies won 11 straight Thursday night games.  Social media is still buzzing about how great it feels to win like that, but that is because it the Hokies have been mired in mediocrity for most of the past decade.
Some people might not enjoy a blowout.  Not this guy!  I'd rather watch a dominant Hokie performance like this one than a white-knuckler-win any day of the week!
And this time, it started on the first series, as the defense was swarming from the start.  The Hokie offense continued the pressure, scoring on its first six drives with brilliant play-calling and execution.  It was so unusual to this season that I even had a friend text me during the first half saying, "Who is this team?!"
It is a resurgent group, that's who. It is one that seems to have found its identity and is rolling with confidence.  And their play has Hokie Nation loving life right now!
A Run-First Identity
Head Coach Brent Pry has been saying it since he arrived in Blacksburg – he wants to be able to establish the run.  Well, the Hokies did just that against Syracuse to the tune of 318 total rushing yards, the most since gashing UVa for 320 in November of 2021.  They did this on 53 attempts, second most this year behind the 59 rushes against Pitt.
In their last three wins, Virginia Tech has out-gained their opponents on the ground, 658 to 73 yards.
Is there any question lately that the Hokies have been dedicated to establishing the run?
Bhayshul Tuten ran for 118 yards, his best rushing performance in a Virginia Tech uniform and his second time eclipsing the century mark this year.  Malachi Thomas meanwhile picked up 87 yards.  And quarterback Kyron Drones ran only 8 times but he went for 56 yards.  (That's what we want to see from him!)
Tech was so effective on the ground that their first-down rushes averaged eight yards per carry!
Hats off to the team for that kind of productivity, and special props to the offensive line for opening the holes.  There is no way a team can run for 300 yards without the line doing their job well.  This O-line has received its fair share of criticism this year, so let's take a moment to give them some credit and celebrate that kind of rushing success.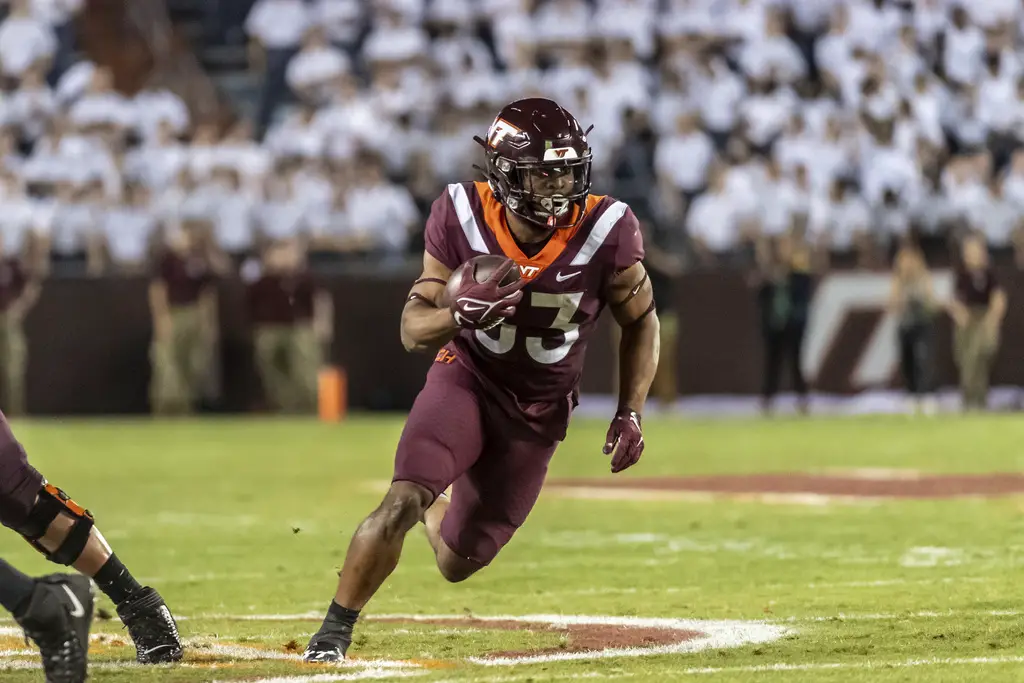 An Offensive Explosion
Our society is quick to condemn, but we are not so apt to compliment.  It is (beyond) time to praise Tech's offensive coordinator Tyler Bowen for what he has done with this offense.  In the month of October, this team has been churning out yards and scoring points, and it is the result of the changes Bowen has made to the offensive scheme.
The Hokies scored 30 points in the first half against Syracuse and have now scored 30 or more points in their last three home games (since September 30).  Remember, this team did not score 30 at all last year, and they didn't top 17 points in their four losses this year.  Now they have eclipsed the 30-point mark in all four of their wins!
Tech also amassed 341 yards in the first half, en route to 528 total yards by game's end.  This was their highest mark since November of 2021 when the Hokies gained 573 yards in rolling Duke. In their last three wins, they have now totaled 528, 462, and 427 yards per game.  The offense is getting it done and it is fun to watch!
There are numerous eye-popping stats from the Virginia Tech Syracuse game (listed below), but one that really jumps is the lopsided time of possession battle.  Virginia Tech possessed the ball for over 41 minutes… that's twice as long as Syracuse had the ball!
After the Wake Forest game, Chris Coleman of Techsideline.com wrote a good piece analyzing some of the specifics of the changes, and two of his focal points are motion and deception. What stood out to me in his article, other than the exceptional analysis, was this line:
"It's all about slowing down reads, getting the defense moving in the wrong direction, etc. You can call it deception, you can call it trickeration. Whatever you want to call it, it's a lot more effective than what Virginia Tech was doing in the first 15 games of the Tyler Bowen era."
What is that phrase, hitting the nail on the head?
The other aspect of the offense that stands out to me is how frequently Tech is getting the ball to its playmakers in space.  As opposed to last season, when Tech seemed to run its 185-pound running back between the tackles repeatedly, this Hokie offense is getting to the edge and putting their runners and receivers in open spaces with the ball.
That has resulted in a lot of chunk plays and quite a few explosive plays (over twenty yards).  Again, kudos to Bowen and the offensive staff for putting these players in position to be successful.  And from a fan's perspective, I say "thank you," because this team has been very exciting to watch lately!
A Swarming Defense
The Hokies stymied 'Cuse and their ability to run in this game.  The Orange literally had no rushing attack.  Only two players actually ran the ball for Syracuse, running back LaQuint Allen and quarterback Garrett Shrader.  Allen ran for 42 yards, but Shrader was sacked so many times that he netted -42 yards, giving the visitors a net of ZERO rushing yards on the day!
I said to my friends before the game, "Whoever can stop the run will win the game."  318 rushing yards for Tech and zero for 'Cuse?  Yeah, the Hokies won that battle handily, and thus it comes as no surprise that they won going away.
Watching that defense was fun and exciting.  They registered eight sacks and twelve tackles for loss on the night.  Take a look at this tweet that compiles all eight sacks:
8️⃣ SACKS FOR THE HOKIES DEFENSE 😤 @HokiesFB pic.twitter.com/SvXiHbXkw0

— ACC Network (@accnetwork) October 27, 2023
Prior to this game, I still wasn't completely confident in the Tech D.  Yes, they held Wake and Pitt to 35 and 38 yards rushing respectively, but they gave up very long touchdown runs to Florida State, Marshall, and Rutgers.  This time around, just like in the previous two wins, defensive coordinator Chris Marve's unit again played more disciplined and kept most of the game in front of them.
The other question mark for me was the pass rush.  Sure, the Hokies were tied for the ACC lead in total sacks, but seven of those came last game against Wake Forest.  In that one, five sacks were in the last quarter when everyone knew Wake was throwing the ball.  The Hokies just pinned their ears back and got to the passer.
However, against Syracuse, defensive line coach J.C. Price's "yard dogs" came out barking, pressuring Shrader on the first possession and forcing an intentional grounding call.  They sacked him three times in the first half, then forced a safety with a sack in the endzone on the first possession of the second half.  The disruption by the front seven was constant all night long.
This was one of those jump-out-of-my-seat-in-celebration kind of defensive performances.  And that's part of what made it so much fun to watch!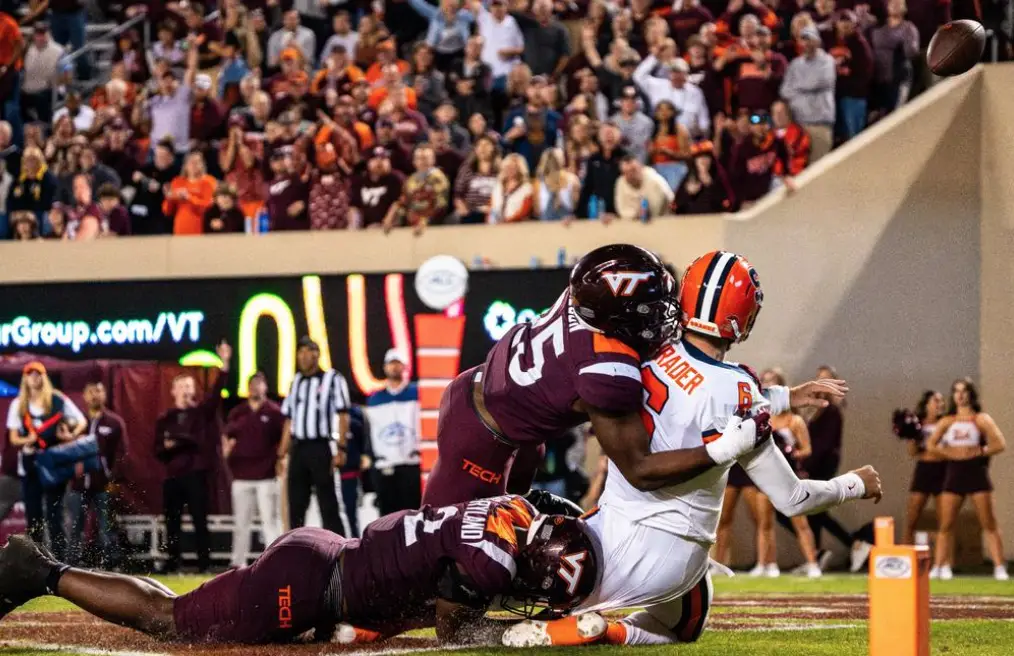 Special Teams are Becoming "Special" Again
For decades, Virginia Tech football was synonymous with "Beamerball,"  the brand of football made popular by Frank Beamer's aggressive defenses and opportunistic special teams.  Against Syracuse, both were on display.
As mentioned above, the defense was flying to the ball and although they did not create any turnovers, they did force a sack and a backwards pass out of the end zone for a safety.  That is better than a turnover because the Hokies got points AND the ball.
Special teams were solid all night.  Kicker John Love had a perfect evening, making all five field goals and all three extra points.  And punt returner Tucker Holloway fielded four punts for 96 yards, an even 24 yards per return.  Peter Moore only had to punt three times, and he averaged 45 yards per punt.  Those are great numbers from these special teamers!
Beamerball has been dormant for quite a while.  It was nice to see some resurgence in the Virginia Tech Syracuse game.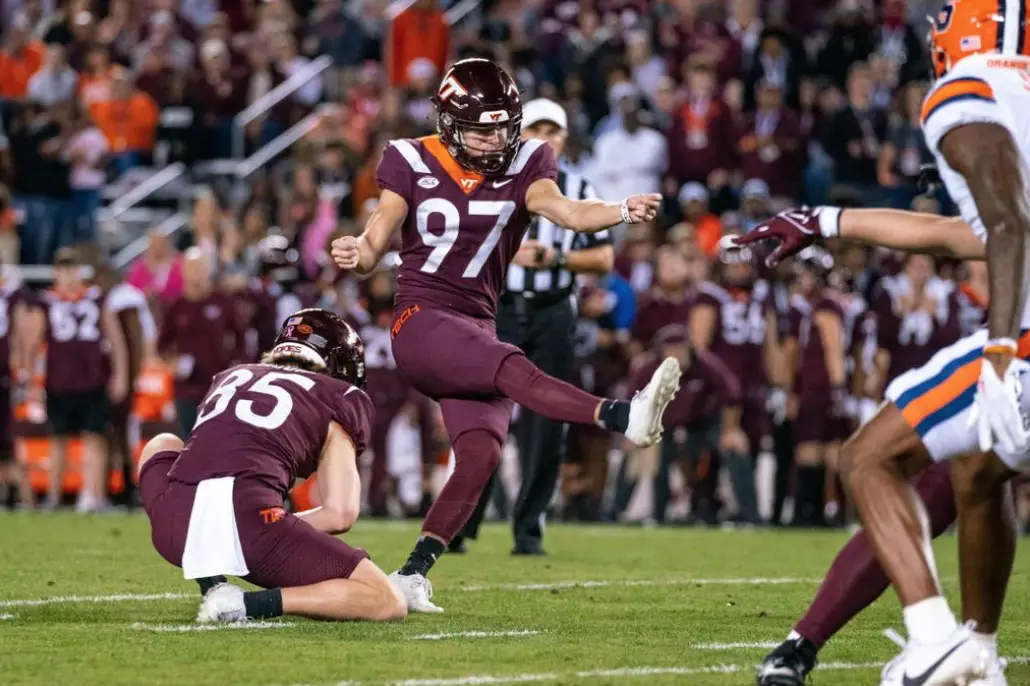 Total Domination
As mentioned above, there are a few eye-popping statistics from this game:
First downs – VT 28 / Syracuse 9.   Wow.  Just wow.
Third down conversions – VT 8/16 vs Syracuse 0/9.  Zero.  Zilch.  Nada.
Rushing Yards – 318 to 0.  As Big Virginia Tech Guy tweeted, "If you took literally one step today, you had more rush yards than the Syracuse offense."
Total Yards – VT 528 / Syracuse 137.  This is just a crazy statistic.
Punts – VT 3 / Syracuse 8.  It was an efficient day for the Hokies.
Time of possession – VT 41:42 to Syracuse 18:18.  That is the most possession time in 37 years for Virginia Tech!
Total plays – VT 79 / Syracuse 43.  That's the second fewest allowed by Tech since 1987 (and Pitt's 46 a few weeks ago is fifth on this list!)
Syracuse ran 43 offensive plays tonight, in Virginia Tech's 38-10 victory.

That's the second-fewest since 1987. (Wake Forest ran 42 in 2010.)

Re-read that. That's a truly remarkable stat. pic.twitter.com/n9Tqh3wwuK

— Will Stewart (@WillStewartTSL) October 27, 2023
Final Thoughts on the Virginia Tech Syracuse Game
I still cannot believe this is the same team that I watched lose to Rutgers in person.  Nor can I figure out why this offense was not implemented back in spring practice.
But you know what?  I don't really care right now, because Virginia Tech is on a roll and they are playing great football right now.  They are playing fast, they are playing aggressive, and they are playing with swagger.  And they are winning.
And that is what matters most to fans.
I am not ready to pencil Virginia Tech in for the ACC title game in Charlotte.  No, I've been around football too long to be that naïve.  However, if the Hokies can pull off the road victory in Louisville next weekend, then I think a Hokies ACC title game conversation is legit.
Louisville will be a tough opponent at their stadium.  Sure they lost to Pitt, but they did beat Notre Dame and they are currently 6-1 and ranked 18th in the nation.  The Hokies will have to continue to play this exciting brand of football, and if they do, they will have a shot to walk out of the bourbon state with a victory.
If they win, oh what fun it will be in Blacksburg!  Maybe we will celebrate with some of that bourbon!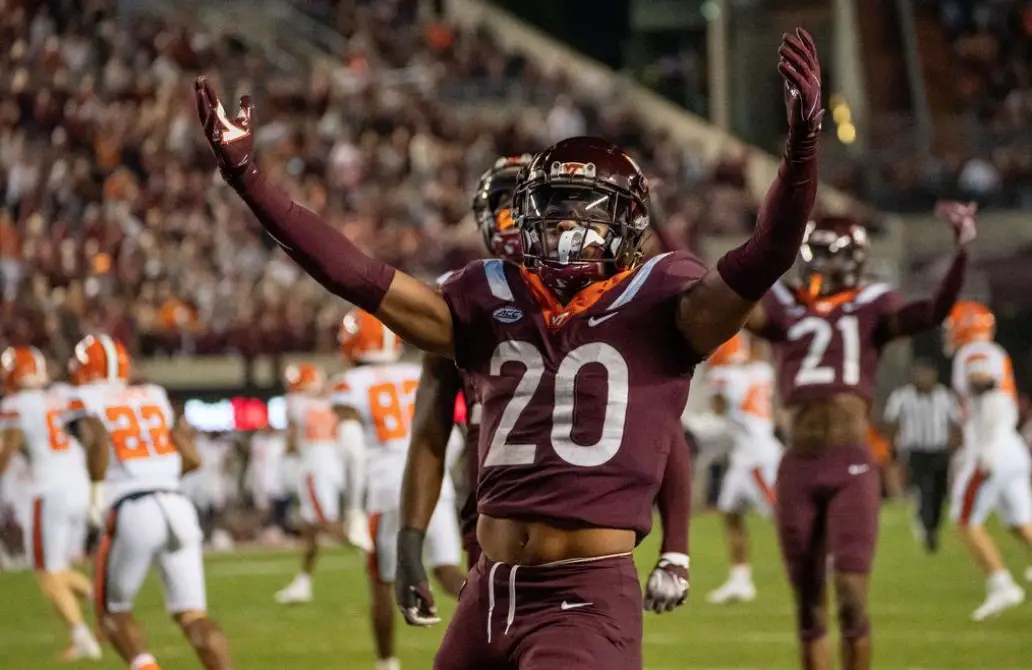 Afterthoughts
If you are as old as me (hint, I graduated Tech when Beamer started the bowl streak), then you have not seen much offensive creativity in Blacksburg.  That is why it is so exciting to see so many trick plays already!  I think I have seen more in eight games of this season than I have in my previous three decades as a Hokie!
In the Virginia Tech Syracuse game, we saw a double pass AND a halfback option pass!  We saw two flea flickers earlier in the year, and let us not forget that fake punt against Wake Forest.  And Tech already has 18 fourth-downs where they decided to go for it (which ranks 40th in the nation in total fourth-down conversion attempts).  This staff has hutzpah!
Trick or Treat? We chose Trick 😉#ThisIsHome | @Dfeltonn pic.twitter.com/j77htm6dRS

— Virginia Tech Football (@HokiesFB) October 27, 2023
It was nice to see Hokie legends on the sideline.  Ken Oxendine did the pregame "Let's Go Hokies" cheer, then later there was a nice TV shot of two GOATS talking, Michael Vick and Bud Foster.  For pretty much all of 2016-2021, there was no football alumni involvement.  So now, as a Hokie, it is a great feeling to see our Tech Legends come home!
Next week at Louisville is a huge test for the Hokies.  Virginia Tech has not scored more than 17 points in any road game this year, so it will be very interesting to see how this new offense can operate at the venue formerly known as Papa John's Stadium.  It is also a big game because if the Hokies win, the conversations about getting to the ACC championship game in Charlotte become real.
The Hokies are 4-4, which is exactly where I thought they would be at this point.  In August, I predicted them to lose at Louisville – let's hope I'm wrong!
The Hokies head into November playing meaningful football for the first time in a very long time.  If you listen to the Sons of Saturday podcast, then you hear host Billy Ray Mitchell talk about this all the time.  Well, next week is November, and the Hokies have a chance to compete for that second ACC conference championship seed.  Billy Ray, you got your wish, and that is what the fans wish as well – the Hokies have something on the line in November!
The Louisville game will be played at 3:30 on Saturday, November 4th, and it will be broadcast on the ACC Network.  Don't miss it!
To read more of my articles on Virginia Tech football, click here.