Drafting one's fantasy football team can be an incredibly fun experience. It can also be very stressful, trying to determine what player to take and when. To help readers in the planning of their rosters, we came up with a list of the top 10 fantasy football players in PPR leagues.
1. RB Jonathon Taylor
Don't overthink the first pick too much. Taylor is the safest pick in fantasy football this season. He finished as the RB1 last season after putting up 2,171 total yards and 20 total touchdowns. In his first two seasons in the NFL he is averaging 16 touchdowns per season and 5.3 yards per carry. He averaged 22.0 fantasy points per game last season and it's likely he'll average 20+ fantasy points again this year. 
2. RB Christian McCaffery
Is it a risk to take McCaffery? Yes, because he has only played in 10 games the last two seasons combined. When he is on the field though he is usually the best running back in football. He is averaging 22.47 fantasy points per game in his NFL career. In 2019 he put up the 2nd most PPR fantasy points ever in a season with 471.20. In his 2018 (385.50) and 2019 (471.20) fantasy seasons, he scored more points than Jonathon Taylor in 2021 (373.10). He is the best receiving running back the NFL has ever seen. He has the 1st and 2nd most receptions in a season for a running back in NFL history. The only question is, can we count on him to stay healthy?
3. WR Cooper Kupp
This is the year where we will see more wide receivers go early in drafts and Kupp is the best of the bunch. Cooper Kupp had the most PPR fantasy points ever for a wide receiver last season with 439.5. He also scored by far the most fantasy points out of any player last season (37 more than anyone else). He also led all wide receivers in snap percentage by playing 94% of the Rams snaps last season. It may seem crazy to take a wideout this early, but Cooper Kupp is worth it. Ask fantasy owners who had him last year.
4. RB Austin Ekeler
Austin Ekekler had an amazing season last year finishing with 1,558 total yards and 20 total touchdowns. He finished as the RB2 last year right behind Jonathon Taylor. Ekeler is a reception machine and phenomenal in PPR leagues. He is averaging 5.14 receptions per game over his last three seasons. He is in a great Chargers offense and star QB Justin Herbert will continue to find him on check downs this season. Ekeler is a great early first round pick this year.
5. RB Derrick Henry
This may seem low for Derrick Henry but he is getting up there in age for a running back at 28 now. He has a lot of miles on those legs and I'm worried that it can catch up to him again like it did last year. There also could be nothing to worry about and we could see him easily rush for 2000+ yards and close to 20 touchdowns again. He doesn't have much reception upside though, having never had 20 receptions in a season before. I like those three running backs I have ahead of him a bit more due to being younger and having more receiving upside.
6. RB Najee Harris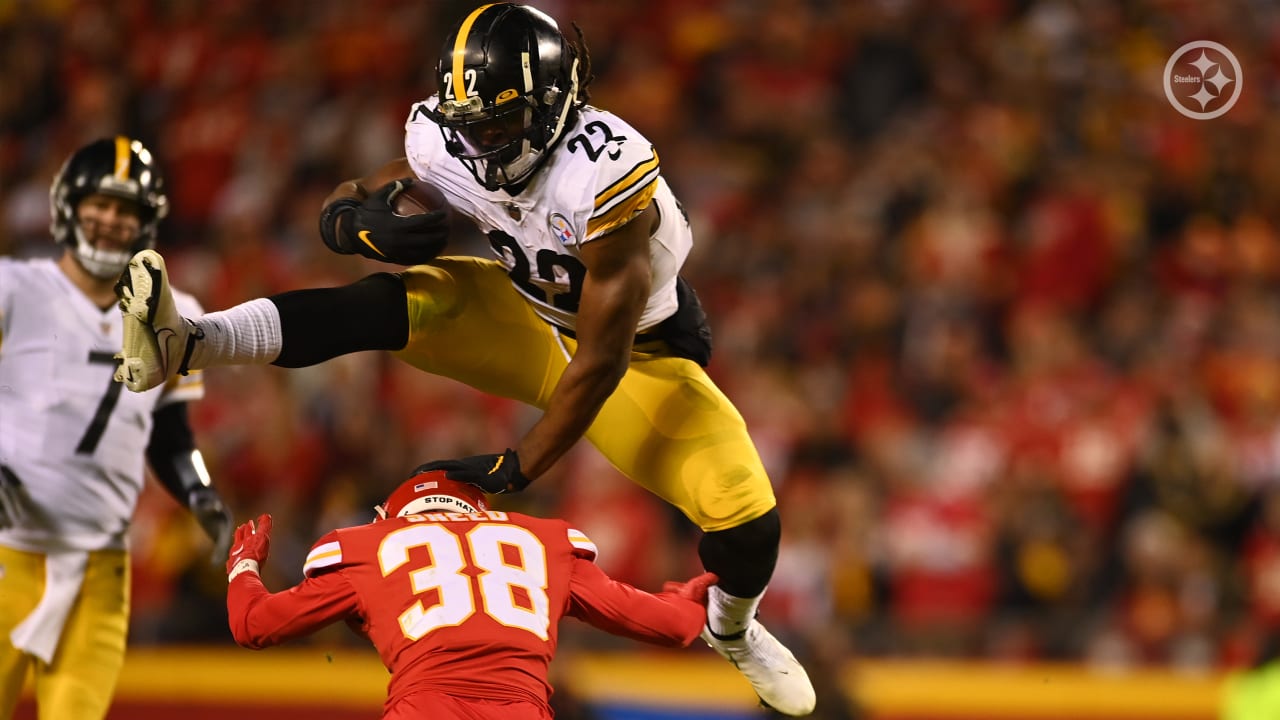 Najee Harris is the definition of a workhorse. He led all running backs in snap percentage last season playing 86% of snaps for the Steelers (10% more than any other running back). The Steelers have a new QB this season with Mitch Trubisky most likely starting. I don't think that'll change too much for Najee. We should still see the Steelers rely heavily on him. He finished as the RB3 last year while only scoring 10 total touchdowns. I think we see him score more touchdowns this year while having another top 5 finish. He also brings heavy receiving upside after going for 74 receptions and 467 receiving yards in his rookie season.
7. WR Justin Jefferson
Justin Jefferson has been an absolute monster in his first two NFL seasons finishing as a top six WR both years. Last year he had 108 receptions for 1,616 yards and 10 touchdowns finishing as the WR4. This is such a safe pick at seven and a great way to start your fantasy team. He is only 23 years old and still getting better. I think we are going to see more touchdowns out of him this year as well. Has a very good chance to be the WR1 this season in year three.
8. RB Dalvin Cook
This is another running back who is injury prone but is always outstanding when on the field. Dalvin Cook has finished with three straight 1,000 rushing seasons while missing eight games in that span. He finished as a top six RB in 2019 and 2020 while missing four games in both years combined. Cook had 30 total touchdowns combined in 2019 and 2020 before only having 6 touchdowns last season in 13 games. If he can stay on the field for a full season, we should see him put up more touchdowns this season and finish as a top six RB again.
9. WR Ja 'Marr Chase
Chase had an amazing rookie year in 2021. He had 81 catches for 1,455 yards and 13 touchdowns finishing as the WR5. Chase is a big play wide receiver so he is going to have some off weeks but there will be some games where he wins you a week by himself. For example, in week 17 (championship week in most fantasy leagues) he had 11 receptions for 266 yards and three touchdowns resulting in 55.60 fantasy points. He is also only 22 years old and should keep getting better especially playing with his college teammate Joe Burrow. Chase is a safe bet to finish as a top five WR again this season.
10. Davante Adams
Davante Adams is the only player in the top 10 that has switched teams this year. He will no longer be playing with the 2X reigning MVP Aaron Rodgers. He will now be playing with his college QB Derrick Carr. This could worry some people. Don't be worried, Adams will now have the luxury of playing with other receiving threats such as Darren Waller and Hunter Renfrow. Adams has finished as a top two WR the last two seasons scoring 29 touchdowns in that span. He has scored double digit touchdowns in five out of his last six seasons. Even with Adams switching teams he should be a safe bet to finish as a top five WR and be a huge red zone threat for the Raiders this season. Adams also has had 115+ receptions each in the last two seasons and we should continue to see that with Carr relying heavily on him in the passing game.  If he is there still in the second round, I would recommend snagging Adams. 
For More Great Football Content
Follow us on Twitter at @GridironHeroics for more great content. We appreciate you taking time to read our articles. To interact more with our community and keep up to date on the latest in Football news, JOIN OUR FREE FACEBOOK GROUP by CLICKING HERE
Checkout our latest podcast!
[powerpress_playlist limit=1]