Dallas Cowboys fans reacted to the news the team was releasing a running back Monday afternoon. The Cowboys have a potent running back roster, even after releasing Ezekiel Elliott in the offseason.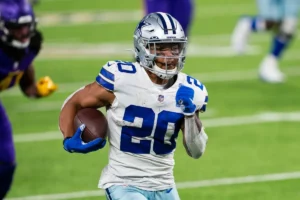 The trio of Tony Pollard, Rico Dowdle, and Deuce Vaughn have been formidable to start the season. The Cowboys also signed two-time Super Bowl Champion running back Ronald Jones in March. He was suspended for the first two games of the season.
According to Aaron Wilson with KPRC, the Cowboys released Jones on Monday.
#Cowboys released Ronald Jones

— Aaron Wilson (@AaronWilson_NFL) September 18, 2023
Dallas Cowboys release Ronald Jones
Cowboys fans had their opinions on the release. Here are the best takes of the Cowboys releasing a two-time Super Bowl winner.
A lazy 26 year old who's already resorting to steroids doesn't deserve a roster spot over the younger and hungrier backs we currently have. Ronald is not committed to football, he's committed to Dallas Blonde just like Zeke was

— DC4L (@My69thAccount) September 18, 2023
Forgot he was on the team

— Sean Ferguson (@wowimscene) September 18, 2023
— Bo Knows (@mo_scott00) September 18, 2023
In a twist of irony, this is how I found out they'd even signed him

— Brandon Warne (@Brandon_Warne) September 18, 2023
The Dallas Cowboys already have Pollard, Dowdle, Deuce, Luepke (FB), Turpin (WR) and Davis (practice squad). I guess they tried to see who would give a seventh round pick, no one did, so they cut him. He should be picked up.

— Barry Popik (@barrypopik) September 18, 2023
Wow, the Cowboys wasted no time making moves!

— StatistiX (@XStatistiX) September 18, 2023
Vaughn better

— Auger96 (parody) (@auger96sports) September 18, 2023
For More Football News:
Follow me on Twitter at @JordanSig. You can also reach out to Jordan Sigler via email at jordanmsigler@gmail.com. To read more of our articles and keep up to date on the latest in college and NFL news, click here!