It didn't take long after his official visit to Blacksburg for him to make the announcement that he is now "Aidan Lynch Virginia Tech commit for the class of 2024."
The New Jersey native stands 6'7", is up to 290 pounds, and has a wingspan of 81 3/8".  He is an offensive tackle who projects at that position on the next level.  This bodes well for both him and the Hokies, as the current roster is in need of depth at the tackle position.
The roster situation is only part of the reason Lynch committed to Virginia Tech, but he does recognize the opportunity that stares him in the face.  "I would like to believe that I have a strong chance of playing, and pretty early as well," he believes.
Stability in Northwest New Jersey
Lynch hails from Budd Lake, New Jersey, a relatively small community within Mount Olive Township, located about 45 miles west of New York City.  He has grown up in the same house his entire life, with his parents and older sister, and he appreciates having all four grandparents in his life as well.
"The upbringing I've had is probably one of the things that I'm most thankful for because it let me have a stable and steady life," Lynch admitted.  Having such a loving support system at home, knowing where he was going to school, and developing good friendships over a long period of time have made his childhood in Mount Olive special to him.
When not on the gridiron, Lynch enjoys fishing and hanging out with his friends.  However, he really loves playing football.  "Playing is fun," he says, "the games, and winning games, and the Friday night lights is amazing."  He especially values the relationships he has developed with his teammates.
Like so many other football players, Lynch considers it a brotherhood, and he knows to make the most of it because "You don't really get that time again that you spent day in and day out, working together."  He should fit in very well with the culture that head coach Brent Pry is establishing at Virginia Tech!
Lynch's Recruitment
The Hokies have to be very happy with this commitment.  Lynch's 247Sports composite rating is a high three-star (0.8739).  They rank him as the  62nd best offensive tackle prospect in the nation and the 14th best prospect in New Jersey.
Lynch also has a very impressive offer list – he says 26 schools have offered him scholarships so far.   Georgia, Penn State, Nebraska, Pitt, Boston College, West Virginia, and Michigan State, just to name a few, have all come calling.
What is even more impressive is that his suitors include Penn, Princeton, Yale, Stanford, and Vanderbilt.  The academic prowess of these universities lets Hokie Nation know that they are getting a good football player AND a good student.   "I probably get that from my mom," Lynch  admits, crediting his mother, an elementary school principal, for really emphasizing the importance of education.
What is Virginia Tech Getting?
With this commitment, the Hokies are getting an offensive tackle with length, someone they see with the ability to set the edge.  At 6' 7", he possesses the size and reach to do this.
Lynch is also a hard worker.  Brian O'Connor, the head football coach at Mount Olive high school, sees this in his rising senior.  "He wants to be great," O'Connor said of Lynch.  "He really dedicated himself in this offseason."  Lynch's recruiting profile lists him at 275 pounds, but he has bulked up to 290 since the season ended.  O'Connor complimented him on this body improvement, noting that "he's a lean 290. Which is not something you say a lot, someone being lean and 290."
He is also a good athlete.  He is not sprint-fast, but for a big guy, he can move.  O'Connor – a three-year letter winner and starter at center for Boston College in the mid 1990's – praises Lynch's potential.  "He has tremendous flexibility and athleticism for a big kid.  He has great body control," O'Connor shared.  " The upside is tremendous. They have high expectations of him."
Lynch attributes this athleticism to playing three sports all his life.  In addition to flag football as a child and tackle football since grade school, the future Hokie also played lacrosse and basketball right up to his junior year in high school, when he stopped those others to focus on football.  "People have attributed those to sports to my ability to bend and to quickly move," he confessed.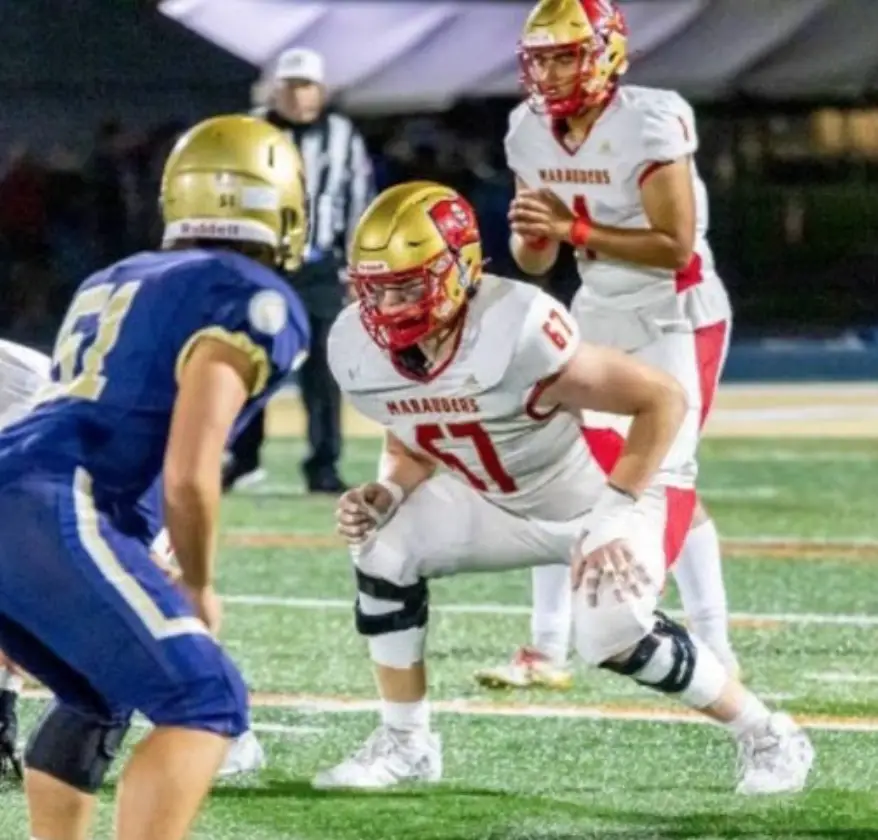 The football abilities are only part of the package.  O'Connor also likes the character of Lynch.  "He's a great leader, he's got a great attitude, a great work ethic," the coach said.  "He's a kid who likes to be coached hard because he wants to get better."  O'Connor sees him as an asset and a future leader.   "I think he's someone that's gonna come up there and do everything the coaches ask and then some."
So the Hokies are getting a big lineman with a lot of potential, not just on the field, but also in the locker room.  "I like to be the teammate that everybody can approach easily," Lynch says.  He wants to be a person with whom his teammates will feel comfortable.  For a program that calls itself "Home" and prides itself on its "family atmosphere," this bodes well!
Why Choose the Hokies?
Lynch took his official visit to Virginia Tech over the weekend of June 10-11.  He immediately committed Monday, June 12.  In reflecting on his official visit, Lynch is quick to point out how much he liked the staff and the environment.  "It really was just the people of the staff and overall just the environment built within the players and the coaches" that stood out to him.
Jim Lynch, Aidan's father, also came away from the process feeling very good about the coaching staff.  As a parent, he feels comfortable with the notion of leaving his son in their hands.  "Coach Pry, Coach Crook, Coach Fields and the rest of the staff view all players as 'sons' and are the embodiment of 'This is Home'," the elder Lynch said.
The younger Lynch added to this, saying that his father put it best when he told his son, "If I lived in a neighborhood with Pry and Crook, they would be the guys you would sit on the porch with at 7 o'clock at night, watching Saturday night College Gameday."  He added that the elder Lynch referred to the coaches as the types of guys that he could appreciate his time with because "they truly are great people and people that you want to be around."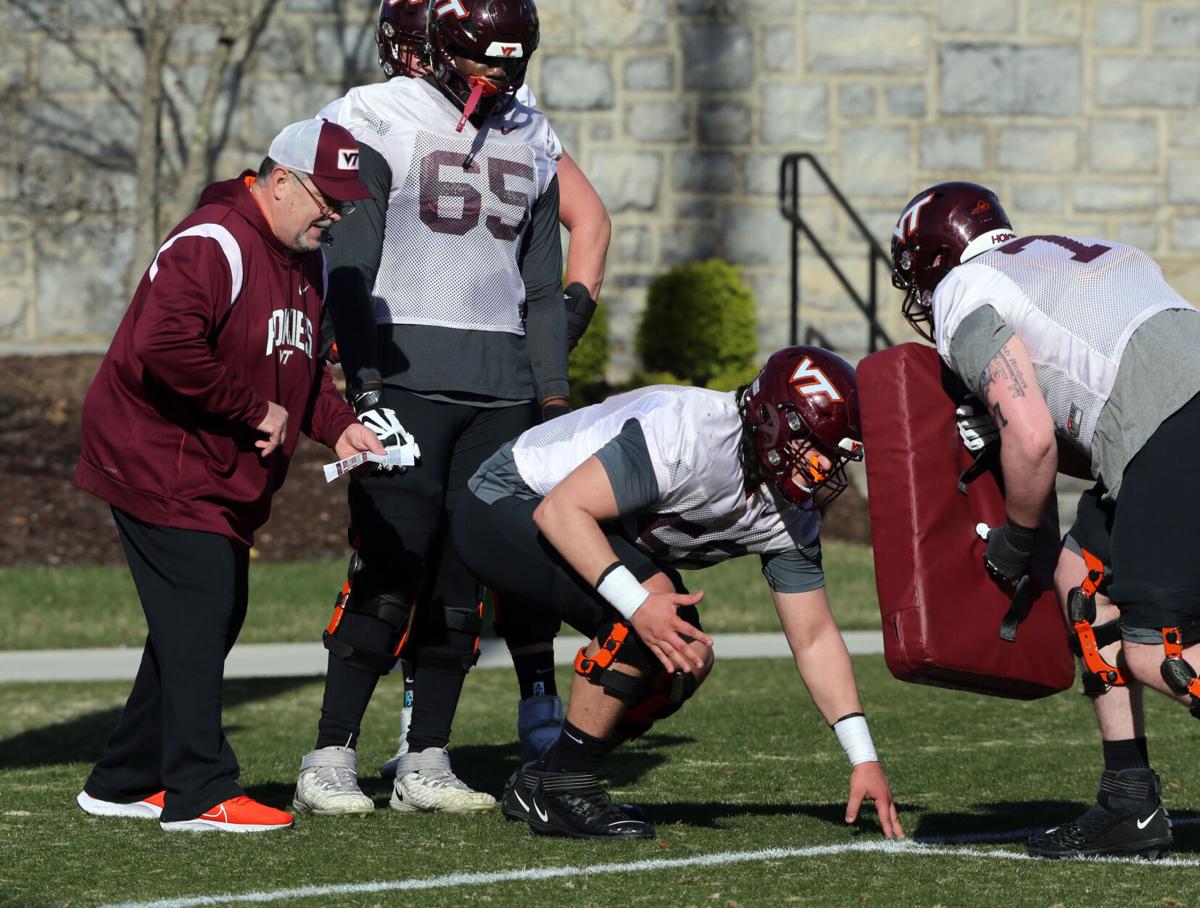 Current offensive lineman Johnny Garrett helped Lynch get to this point.  Garrett was Lynch's host over the official visit weekend, helping the New Jersey native feel comfortable and meet other players and recruits.  "He really gave me a great experience," Lynch said of his host.
Lynch's father also felt the good vibes from the players.  He noted, "The current players were welcoming, helpful and they understand where the program is on path to get back to."
Garrett also gave the younger Lynch a good idea of what it is like to play for Coach Crook, saying that he feels comfortable playing for his O-line coach and enjoys playing for him.  A big takeaway for Lynch is that Crook is good at giving individualized instruction to his linemen that allows them to focus on their own development.  "He understands the fact that different people take on things differently," Lynch shared, "so he coaches people differently based on what he feels they need."
Final Thoughts
This is an excellent commitment for both Virginia Tech and Aidan Lynch.  The Hokies are getting a big tackle with great potential, and he checks a lot of boxes for both on-field and off-field attributes.
And Lynch is getting an opportunity to contribute to a team early while joining a program with much support and studying at a school with a great academic reputation.
"The academic and athlete support network – tutoring, mentoring, internships available as well as medical and mental health support – is all in place and of high caliber," Lynch's father observes.  It provides a great opportunity; "the value of a degree and education are critical since football will someday end."
Virginia Tech is also "close enough to allow us to be at games and support our son and yet know he has accessible and ample support that is critical to him as a student and as an athlete," Mr. Lynch said.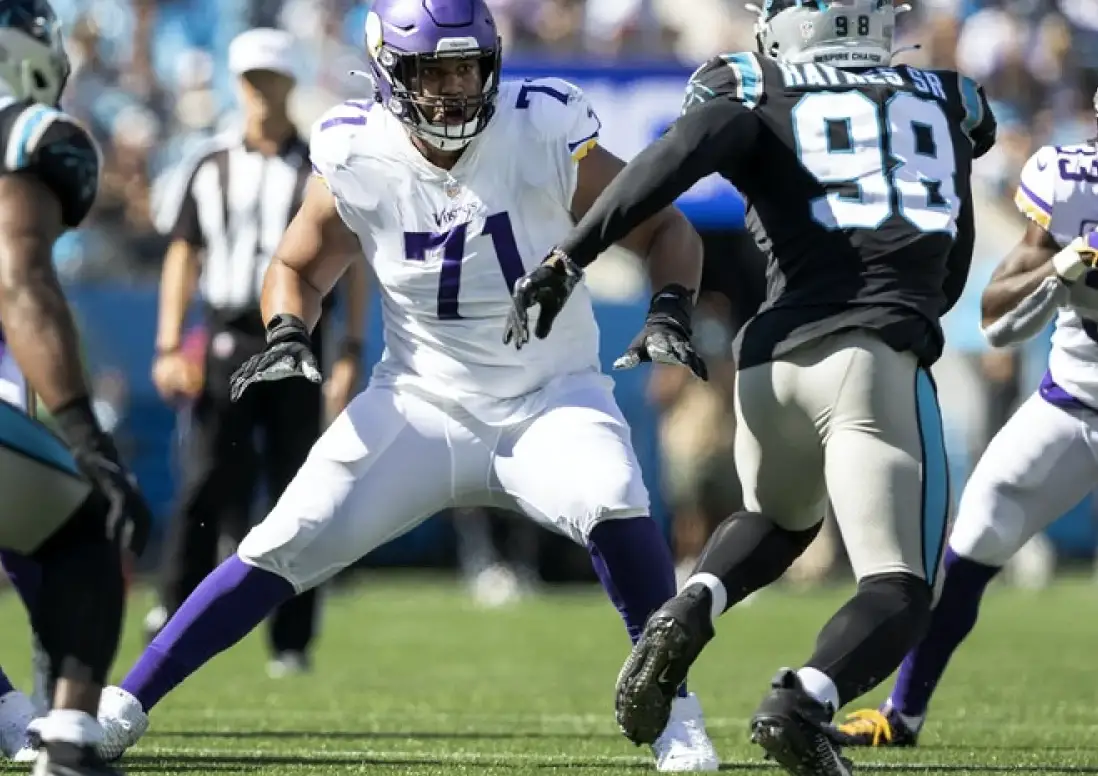 While Pry and the Virginia Tech are creating an environment that is obviously appealing to recruits and their families, fans ultimately want to see this translate to success on the field.  Perhaps Aidan Lynch can be the next great Hokie lineman like Christian Darrisaw or Wyatt Teller, two players that the future Hokie has noticed in the NFL.  And Lynch himself hopes to one day follow their footsteps into The League.
But for now, he's just looking forward to playing in Lane Stadium and coming onto the field for the greatest entry in college football. "I can't wait for that," he admits.
"Running out to 'Enter Sandman'," he says gleefully, "I hear the earth shakes."  It actually does, measuring on local Richter Scales.  "What else can you dream of as a kid?"
Lynch can dream of running out of that tunnel, and Hokie Nation can dream of returning to glory.  Aidan Lynch now has the opportunity to be one piece of the puzzle that does just that.
To read more of my articles on Virginia Tech football, click here.