It was a dominant game on the ground for the Philadelphia Eagles, as they beat the Minnesota Vikings 34-28 on Thursday Night Football. The Vikings' defense looked lost on the field, as they allowed the Eagles' offense to rush for a combined 259 yards and three touchdowns. Let's take a look at the recap for both teams and where they can go from here on out.
Eagles' O-Line Paves the Way for D'Andre Swift
The player of the game, hands down, goes to Eagles' running back D'Andre Swift. Swift alone rushed for 175 yards against Minnesota's defense, averaging 6.3 yards per carry. The offensive line was executing their blocks the entire night, which opened up many holes for Swift to attack throughout the game. Swift and the Eagles' offense was able to seal the game for Philly, running in for a touchdown late in the fourth quarter.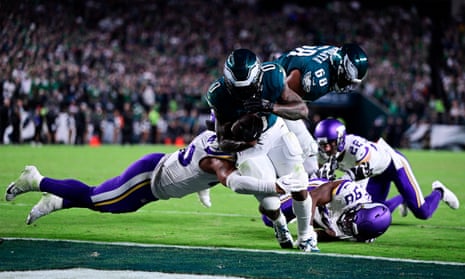 Eagles' wideout DeVonta Smith had the game of his life, going for 131 receiving yards and a touchdown. Smith was able to achieve the longest touchdown of his career, a 63-yarder, while running away from the Vikings' defense. His 131 yards generated 67% of the Eagles' passing yards! To put that in perspective, the receiver for Philadelphia with the second most receiving yards was A.J. Brown with 29! It's safe to say that the Eagles' speedster had one of the best games of his young career.
Long Night for Cousins
This Minnesota offensive line is atrocious! It seems like quarterback Kirk Cousins expects to get hit on nearly every single play. The Vikings allowed the Eagle's defense to amount to two sacks and 10 QB pressures, keeping Cousins on high alert the entire night. If the Vikings want to pull through in clutch moments, the offensive line needs to learn to protect their quarterback.
Vikings' Turnover Woes Continue
These players need to practice ball security! Minnesota fumbled four times, losing possession on all four occurrences. Turnovers can be the deciding factor in these types of games, and boy oh boy was it crucial in this one. Star receiver Justin Jefferson was reaching for the end-zone, when all of a sudden, he lost control of the ball, fumbling over the goal line, which secured a touchback for the Eagles. If Minnesota wants to have a chance to win a game at all this season, they need to address this problem ASAP!
WOW. Did Justin Jefferson really fumble here? #vikings #eagles #nfl pic.twitter.com/TU9dkOz4tm

— Last Take™ (@TheRealLastTake) September 15, 2023
Overall Recap
Both teams put on an entertaining performance, to say the least; however, there is still a lot that they can improve. While the Eagles' offense was nearly exceptional, the defense still allowed Minnesota to score 28 points. They should be better once they get back their star cornerback, James Bradberry, taking off a massive workload for Darius Slay.
As for the Vikings, they are now 0-2. The offensive line needs to protect Cousins at all costs, which is something they haven't done so far this season. Turnovers need to be eliminated, especially in key moments in the game. Defensively, they need to learn how to stop the run, or else every running back on teams they face will look like a modern-day Barry Sanders.