Texas A&M runs a pro-option offense which includes aspects of triple option and speed option, as well as run-pass option concepts. Today we're looking at an adaptation on speed option, the load option play. During A&M's 31-0 win over Sam Houston, their struggles in the run game were due to miscommunications and missed blocks. A&M's attempt at running load option was stopped because of missed blocks in this game.
Load Option Play Concept
A&M runs load option from a shotgun split backs alignment in 21 personnel. Sam Houston was aligned in a 3-4 defensive front with a Cover 2 shell.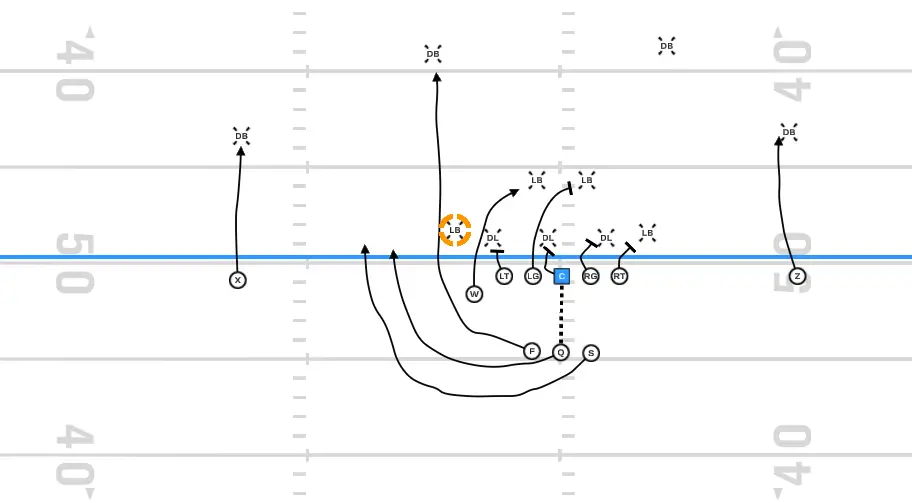 The wide receivers go vertical and stalk block. Key blocks are the TE on the playside ILB and the LT on the strongside defensive end. LG goes second level and blocks the backside ILB. C blocks the strongside 1-tech. RG and RT hook inside and blocks the backside 3-tech and weakside DE. Read man is the strongside OLB who is highlighted. Left halfback may check him but he is not to block him, his target is the strong safety. At the snap, QB runs strongside and right halfback gets in a pitch relationship. QB reads the OLB for the keep-pitch read.
On a speed option, the EMLOS is left unblocked to be the read player. On load option, however, there is a lead blocker (the left HB in this case) who either blocks the EMLOS or check-releases for another defender.
Executing Load Option
Here is an example of A&M running load option from split backs in their season opener against Kent State in 2021. Kent State was in a 4-2 alignment on this play which made blocking easier. TE Jalen Wydermyer blocked the strongside DE. Kent State's defensive line slants weakside, so LT Jahmir Johnson should take the backside LB while LG Aki Ogunbiyi blocks the playside LB. Johnson tries to helps Ogunbiyi and doesn't come off fast enough to block the backside linebacker. The read man is the strong safety aligned outside the PSLB. Since the SS widens to play the pitch, Haynes King keeps inside. If Johnson makes the block on the BSLB or Isaiah Spiller seals him inside, King keeps running. As it is, the LB makes the tackle for only a three yard gain.
Missed Blocks Wreck Execution
A&M's attempt at load option on 2nd and 7 is wrecked by multiple missed blocks. TE Dametrius Crownover briefly hits the playside ILB but does not stay on him or seal him inside. LT Trey Zuhn III completely whiffs on the strongside DE, allowing him to run free into the backfield. Of the two key blocks needed to make this play a success, A&M is 0-2 here. Sam Houston OL Sincere Jackson is the read man here. Jackson plays off Devon Achane's chip blocks, forcing him to widen and take pitch man Ainias Smith as his read. King makes the keep read off Jackson but is cut can't cut inside because DE Toby Ndukwe is unblocked and pursuing him from behind. Ndukwe makes the tackle for a 2 yard loss.
Because Crownover doesn't stay on his block and seal the PSLB inside (mental error) and Zuhn whiffs on his block (physical error), A&M loses yards on this play.
For More Great Football Content
Follow us on Twitter at @GridironHeroics for more great content. We appreciate you taking time to read our articles. To interact more with our community and keep up to date on the latest in Football news, JOIN OUR FREE FACEBOOK GROUP by CLICKING HERE
Checkout our latest podcast!
[powerpress_playlist limit=1]