Gridiron Heroics partners with Draft Scout to give each school's Top 5 NFL Draft prospects in the Pac 12. Welcome to a list of the Oregon State Top 5 NFL Draft prospects for 2023, as seen by Draft Scout.
Each week brings us closer and closer to one of the most anticipated days on the sports calendar — the NFL Draft. This year's draft will be held in Kansas City, Mo. from April 27-29. Starting today? We take a look at the Oregon State seniors, the class of 2023. Since we don't know yet which underclassmen will declare, we'll reconfigure the rankings when it's all official, so be sure to revisit us.
Our PAC12 Draft prospect series will run soon and will run for the next week, with three schools running per day in alphabetical order. A master conference list of the Big 12's Top 20 NFL draft prospects will wrap things up afterward. Please check the team links below frequently so you can check out the other schools' top prospects as the week progresses.
PAC12 TOP 20 PROSPECTS: Overall PAC12 Top Prospect List
PAC12 PROSPECTS: Arizona | Arizona State | California | Colorado | | Oregon | Oregon State | Stanford | UCLA | USC | Utah | Washington | Washington State
---
RELATED STORY: The Top ESPN 30 for 30 Shows in College Football — We Rank Them
So, we all know that not every team in the country has five surefire draft picks on it. Some programs do, especially in some of the more elite conferences, but the vast majority don't have that many top-flight prospects. But, we also know that the definition "top-flight" doesn't always pan out, and at the same time that strong undrafted free agent everybody forgot? He ends up making an NFL and flourishing.
Below is a look at the Oregon State Top 5 Draft Prospects, and how they project in the eyes of Draft Scout. Again, for now, we'll go strictly with seniors (c/o 2023), as no underclassmen have been allowed to officially clear the declaration deadline yet, though when they do? We'll update the lists below.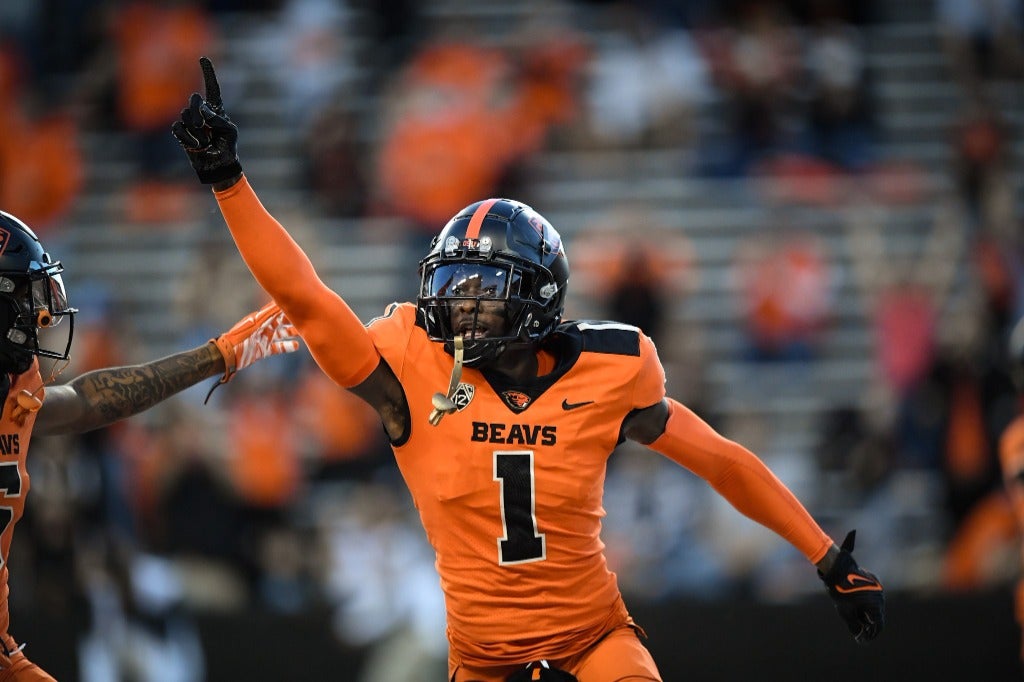 Oregon State TOP 5 NFL DRAFT PROSPECTS
NO. 1 PROSPECT
NAME: Rejzohn Wright (CB)
DRAFTSCOUT PROJECTION: Round 3-4
CAREER STATISTICS: Wright has been a solid corner in his time at Oregon State. He has 91 total tackles and 4 interceptions in his career. He also has 17 passes deflected.
THE TRUTH: Wright has been a model of consistency in his time at Oregon State. While his stats will not jump off the page, the consistency he brings has been valuable. He has quick feet and gets his head around to the ball which limits his pass interference calls. For teams that play press coverage, he could be a valuable pick in the 3rd round. The big knock on his game is that he is susceptible to double moves and can get beat when trying to jump a route. Wright has the potential to be a solid mid-round pick for a team.
---
NO. 2 PROSPECT
NAME: Jack Colletto (FB/LB)
DRAFTSCOUT PROJECTION: 7th round
CAREER STATISTICS: Standing at 6′ 3″ and 239 pounds, Colletto has been an offensive and defensive threat. In his five years at Oregon State, he has rushed for 22 touchdowns on just 109 touches. On the defensive side of the ball, he has totaled 46 tackles and one interception in his time as a Beaver.
THE TRUTH: Coaches are starting to get more creative in using their players. Colletto is a true two-way player that could intrigue some teams in the 7th round. A couple of teams still use the fullback position and his knack for finding the endzone on goal-line rushes makes him valuable. The big question is whether a team will take a risk on him. A lot of teams would rather have you do one thing really well rather than everything simply okay.
---
NO. 3 PROSPECT
NAME: Brandon Kipper (OG)
DRAFTSCOUT PROJECTION: 7th round
CAREER STATISTICS: Standing at 6′ 6″ and 310 pounds, Kipper has raw physical skills. Being an offensive lineman does not lend him too many stats.
THE TRUTH: The raw physical stats are there. His speed is ordinary but he is a solid run blocker in a zone-blocking scheme. The dependency on the scheme is what makes Kipper a 7th-round pick. Not every team runs the zone-blocking scheme which limits his value. He is a classic high-upside pick that general managers love in the 7th round.
---
NO. 4 PROSPECT
NAME: TreShaun Harrison (WR)
DRAFTSCOUT PROJECTION: High Priority Free Agent
CAREER STATISTICS: In his three years at Oregon State, Harrison has caught 90 passes for 1147 yards. He has found the endzone 8 times throughout his career. He had his best year this year catching 52 balls for 604 yards and 4 scores.
THE TRUTH: Harrison has performed well during his time at Oregon State. The biggest weakness that he has is drops. Dropping passes is the quickest way for teams to sour on a prospect. This is not to say that these problems cannot be fixed. The knock on Ja'Marr Chase coming out of LSU was his drops and look how many people are talking about that now. I doubt someone will spend a draft pick on him but he will most likely get signed post-draft.
---
NO. 5 PROSPECT
NAME: Tyjon Lindsey (WR)
DRAFTSCOUT PROJECTION: High Priority Free Agent
CAREER STATISTICS: In his time as a Beaver, Lindsey has caught 73 passes for 910 yards and 9 touchdowns. He has also added 176 yards rushing and 2 touchdowns on the ground giving him over 1,000 yards from scrimmage for his career.
THE TRUTH: Similar to Harrison, I don't expect teams to spend a pick on Lindsey but he should make his way on a squad for the preseason. At 5′ 9″ and 182 pounds, he is a slot receiver that is a threat out of the backfield as well. However, his size is not what a lot of teams are looking for in a receiver. His speed and agility will cause teams to give him a look.
For More Great Football Content
Follow us on Twitter at @GridironHeroics for more great content. We appreciate you taking time to read our articles. To interact more with our community and keep up to date on the latest in Football news, JOIN OUR FREE FACEBOOK GROUP by CLICKING HERE
Checkout our latest podcast!
[powerpress_playlist limit=1]