The Oklahoma State Cowboys took down the Oklahoma Sooners 27-24 in one of the most surprising results of the Week 10 college football slate. However, it was more than just another win for the Cowboys. This potentially closed the books on one of the most historical rivalries in college football.
Bedlam
Oklahoma State Cowboys and Oklahoma Sooners fans named this rivalry "Bedlam" for their annual meeting. Believe it or not, this is one of the oldest rivalries in college football. This year was the 118th time that these schools met in a rivalry that dates back to 1904. What is crazy is that the Oklahoma Sooners have won 91 of these meetings.
Why was this one different? Because it was the last scheduled meeting between these schools. With Oklahoma heading to the SEC next season, there is no conference game guarantee that these two schools will play each other again.
This year's game may have been last but it was certainly not the least. It was decided by a mere field goal. However, there was a costly turnover that arguably put Oklahoma State over the top.
Oklahoma QB Dillon Gabriel fumbled the ball due to a bad snap in the fourth quarter. This allowed the Cowboys to get an extra field goal that put them up 27-21. The final score ended up being 27-24.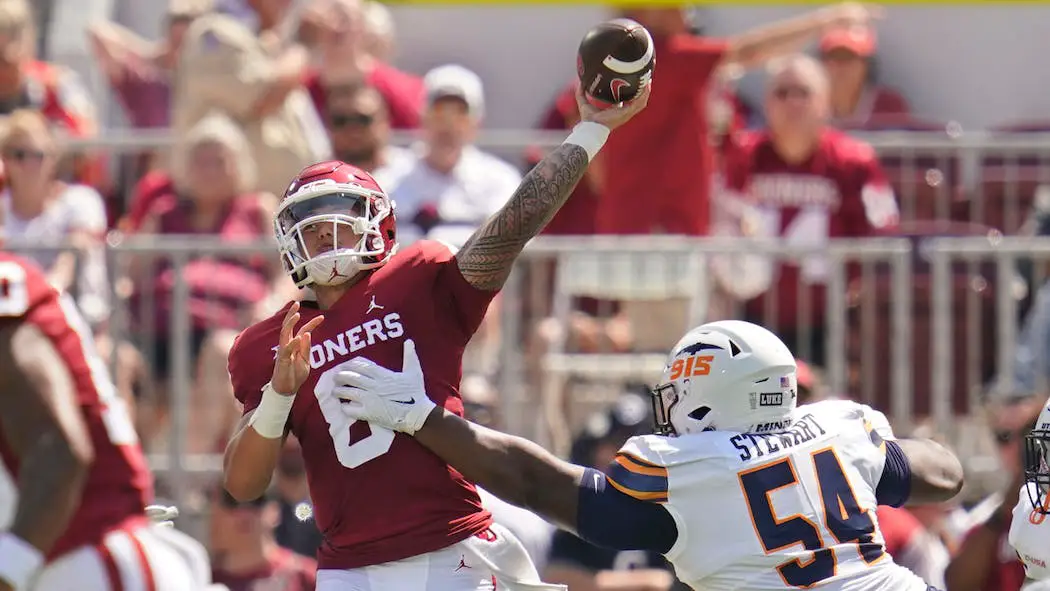 There was no love lost here for Oklahoma State. The university played the "We Are Never Getting Back Together" song to sum up how they felt about their annual meetings coming to an end once the game went final.
Oklahoma State head coach Mike Gundy was emotional about the win in his 33rd Bedlam appearance:
"It's a big deal. I mean, this is the last Bedlam. All the Oklahoma State people have put up with a lot of crap for 100 years. They've had their butt kicked a bunch. Now they're going to walk around and say we won the last game."
How Does This Impact College Football?
College football is about to lose one of its most historic rivalries. Bedlam has had the second-most meetings in the history of the sport. Now, it is up to the air as to when these teams will play next, if ever.
If this is the last meeting, it was a memorable one for Oklahoma State. Oklahoma was ranked ninth in the country going into this game. Many thought they could make the playoffs if they won every game remaining on their schedule. Now, this Bedlam loss has all but knocked Oklahoma out of College Football Playoff contention.
As for the Cowboys, they were ranked 22nd going into this game and will likely move up. However, that is not all. This win put them in a great position to make the Big 12 Championship. They and Texas currently sit at the top of the Big 12 with 5-1 conference records.
Why Is This The Perfect Ending?
Oklahoma broke the hearts of every fan of a Big 12 team. More importantly, it put the conference in jeopardy of dissolving completely. It took impressive work by Big 12 leadership to salvage this conference and survive realignment.
Now, the Oklahoma State Cowboys just rewarded Big 12 leadership for that effort. They get to leave this rivalry going out on top with a rare Bedlam win that Cowboys fans will remember for many years to come. Gundy echoed this sentiment to his players:
"The one thing that they can take with them for the rest of their life is the thrill that they gave the fans. There's been a lot of years and a lot of history and a lot of tradition with Bedlam… what they did is they gave them (the fans) a once-in-a-lifetime experience."
Get More Oklahoma State Cowboys Content
For more college football news and trends, click here or follow me on Twitter @JohnGalletley. If you want sports betting or fantasy sports advice, check out our Fantasy Sports Heroics podcast.