Let me make this clear. This is not an Audric Estimae hate post. This is an outcry to the Notre Dame Coaching Staff (*clears throat* Tommy Rees) to give Chris Tyree the damn ball. Nor is this a "fire Marcus Freeman" article – I'm actually trying my best to give him at least a full season to show us what he's got. But there's a glaring, obvious issue that's going unaccounted for. You know the old saying, "if it ain't broke, then don't fix it"? Well, what about if it is "broke"? Then you'd fix it, right? Apparently, the Fighting Irish Coaching Staff can't put this one together. And it's things like these that make it increasingly clear why we're 0-2.
Audric & the Notre Dame Offense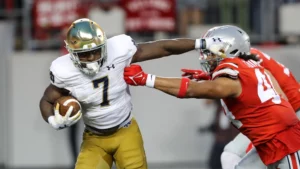 He's a solid back. There's talent there, I can't deny it. He's got strength. He's got some burst. Audric Estimae is a pro-style, 3-down running back that can run through the tackles. Only thing is, he's not even averaging 3 yards a carry! Furthermore, his long has been 15 yards. Given, after the OSU game, I was quite impressed with him. Sure, the Offensive Line is largely to blame here – I think 10/10 Notre Dame fans would vent on their respective struggles. Are we trying to be a pro-style Offense? Ha, that's funny. Because we've looked everything but professional…
The Seemingly-Obvious Evidence
Meanwhile, Chris Tyree is lightning in a bottle. He's the most explosive player on our offense. While he isn't incredibly experienced, he's also not a freshman. The guy is a junior. I admit, while he hasn't been (dare I say) Reggie Bush-like, he has averaged 5 yards per carry. If the Offensive Line was the problem, why has he run the ball effectively? He also hasn't gotten the opportunities. Which begs the biggest question of all – why has he only gotten 9 carries? In fact, this disparity is such an obvious switch that even Sports Illustrated pointed it out. He was a 4-star recruit and the 70th best player in the nation. But as the late Rodney Dangerfield would say – "he don't get no respect!"
An Even Bigger Problem for Notre Dame
Clearly, Tommy Rees doesn't care what everyone else thinks – including one of the most popular and rational media outlets. He recently came out saying, "I will take every ounce of fricking blame because I am in charge of it". Well, that's nice and all – but that doesn't change anything. If he did want to change things, he'd feature Tyree, and here's what would happen. A) You get a home run threat. Our Offense has been… well… bad. If you give it to Tyree, you at least have a chance for a big play. Not only that, but B) he opens up the Offense. Let's say Tyree gets 1-2 touches per possession. Even if he doesn't average the 5 he has thus far, the Defense still has to respect his big-play ability. 
Furthermore, if you feature Tyree – then it also brings more value and effectiveness to Estimae. Look at what our rivals did during their dynasty. There was Reggie Bush, and LenDale White. The "thunder & lightning" approach is one that has proven effective. And yet, we've moved away from it. To be honest, I have absolutely no idea what we are trying to do on Offense. And since you wanted all of the "fricking blame", Tommy, well you're getting it. Hey, for all I know – maybe there's a bigger issue we're not seeing with Tyree. Maybe I'm blind, but I sure as hell don't see it.
Moving Forward
But now, as the door is opened for changes (at least, should be) – especially given that jobs depend on it – now's the time to make the change. When confronted with the subject, Head Coach Marcus Freeman remarked, "We have to find ways to get the ball in his hands."
It's simple, Coach. Hand him the ball…
For More Great Football Content
Follow us on Twitter at @GridironHeroics for more great content. We appreciate you taking time to read our articles. To interact more with our community and keep up to date on the latest in Football news, JOIN OUR FREE FACEBOOK GROUP by CLICKING HERE
Checkout our latest podcast!
[powerpress_playlist limit=1]