We are only two days until the 2023 NFL season begins! The season begins with the Detroit Lions traveling to Kansas City to take on the defending Super Bowl Champion Chiefs.
Out of the 17 weeks in the NFL season, there are usually a few that stick out. This could be potential playoff teams, playoff implications, rivalries, etc. Here are three games I have my eye on in week one that you should too.
Top Week 1 NFL Game: Buffalo Bills at New York Jets (MNF)
This seems like an obvious top game in the NFL this week. The Aaron Rodgers era begins for the Jets. they are no seen by many as not only playoff contenders, but possible Super Bowl contenders. The Jets also loaded up on offense by adding players like Dalvin Cook and Allan Lazard to beef up their offensive weapons. Anytime you have Aaron Rodgers, you always have a chance.
It feels like the Super Bowl window might be getting a little smaller for the Buffalo Bills. Josh Allen is a top three quarterback and Stefon Diggs is still an elite receiver. And while the defense is always solid, they haven't been able to get over the hump that is the Kansas City Chiefs and the Cincinnati Bengals. Make no mistake about it:The Bills are one of the best teams in the NFL and definitely a Super Bowl contender this season.
Top Week 1 NFL Game: Green Bay Packers at Chicago Bears
What a game this will be as the FOX Game Of The Week. The Jordan Love era begins in Green Bay after 18 seasons with Aaron Rodgers. Its feels as if the Packers are seen as a team who can still win the division or take last. There doesn't seem to be a middle ground. This is the youngest team int he NFL and they have a ton of young play-makers on offense. The question will be can the defense, who has underachieved despite a ton of talent, step up and lead this team especially early on in the season.
There's no doubt fans are expecting a year three jump from Justin Fields. He's such a talented quarterback with the arm strength and the speed to make any defensive coordinator stay up all night. If he can make that jump, the Bears can contend in a wide open NFC North. I still think the Bears as a roster are still a year or two away, but they could surprise some this NFL season.
Top Week 1 NFL Game: Dallas Cowboys at New York Giants (SNF)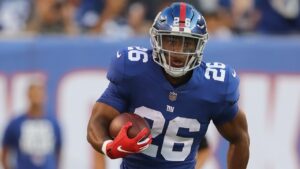 This has felt like a popular Sunday Night Football game at least once in the NFL season. All eyes will be on Dak Prescott and Mike McCarthy. Is this finally the year the Cowboys march their way to the NFC Championship? Dallas has the offense to do it, but Prescott has to rebound after throwing a league high 15 interceptions last season.
Was last year a fluke for the New York Giants? After not picking up the fifth year option on quarterback Daniel Jones, New York paid him and got back running back Saquon Barkley after a career year last season. Dallas and Philadelphia steal the attention in the division, but can the Giants make a stand on prime time and say last year wasn't a one year dance? We will find out on Sunday night.