After a drama-filled summer, Aaron Rodgers finally made his highly-anticipated debut for the New York Jets on Saturday night. It was a mere cameo from the four-time NFL MVP, but it was enough for Jets fans everywhere to believe that this could finally be their year.
Aaron Rodgers Has Solid Jets Debut
As expected, it was a brief cameo from the four-time All-Pro quarterback in his first game for his new team. Rodgers went 5-of-8 for 47 yards, while also dropping an eye-opening touchdown pass to Garrett Wilson:
AARON RODGERS TO GARRETT WILSON FOR THE TD 🔥

(via @NFL)
pic.twitter.com/w5ZzQx5qxc

— Bleacher Report (@BleacherReport) August 26, 2023
For what it's worth, Rodgers also got sacked once in the game while also throwing one interception. Nevertheless, it was a solid debut from the 39-year-old who has now started a new chapter in his decorated career.
NFL Twitter Reacts to Aaron Rodgers' Debut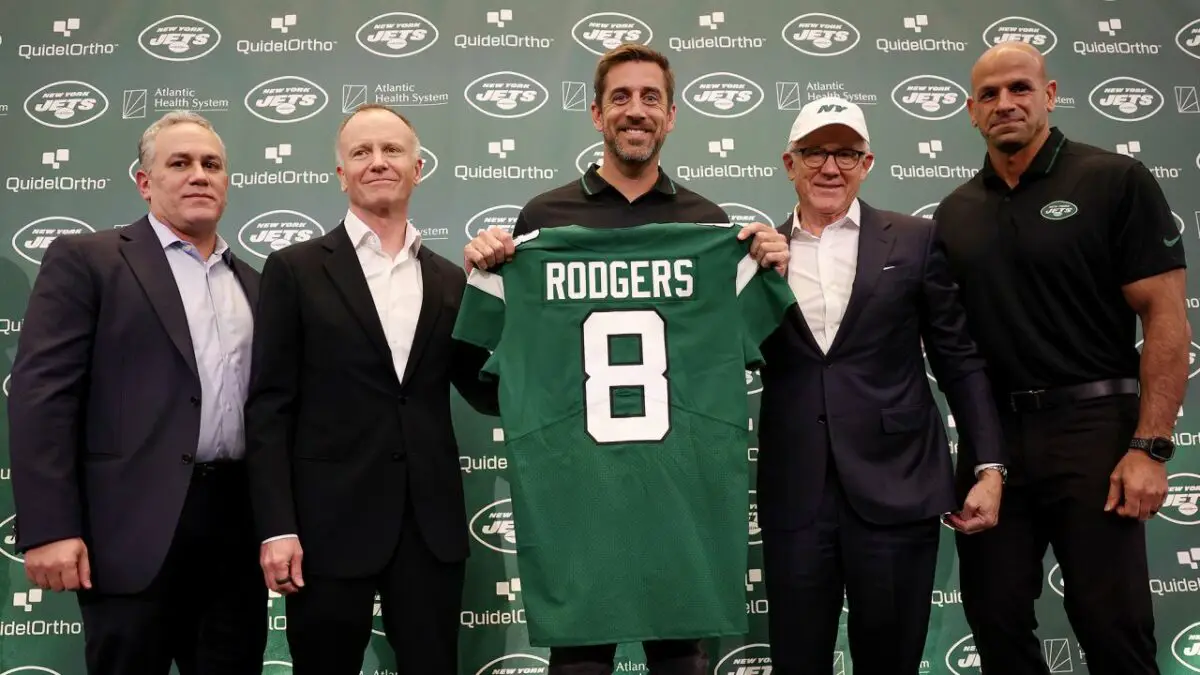 Rodgers got a standing ovation from the home crowd at the Metlife Stadium, and Jets fans clearly felt the same way on the mean streets of Twitter:
Standing ovation at Metlife stadium for Rodgers preseason debut 👏

(via @NFL)pic.twitter.com/Hwl0kQdymu

— B/R Gridiron (@brgridiron) August 26, 2023
Aaron Rodgers' first TD pass as a Jet is a BEAUTY 👌🏻pic.twitter.com/bJeaOtrUXk

— PFF (@PFF) August 26, 2023
— SaucedArod (@SaucedArod) August 26, 2023
HE IS STILL HIM

— phil (@rxhabszn) August 26, 2023
Rodgers to Wilson is going to be a problem! 🔥

— richardboomin (@richardboomin) August 26, 2023
Naturally, the naysayers were loud and proud as well and they did all they could to rain on Aaron Rodgers' parade:
Aaron Rodgers is washed stop posting him

— ⁸ (@8forMVP) August 26, 2023
Aaron Rodgers to Garrett Wilson for the TD over Giants UDFA rookie CB Gemon Green, who is not expected to make the 53.

— CantGuardBook (@CGBBURNER) August 26, 2023
Getting bailed out by the refs already

— JAY 🪺 backed by eth (@jaypeggerz) August 26, 2023
Jordan love >>>>

— Greenbeezy (@Greenbeezy1) August 26, 2023
Dak Prescott does this sleeping

— Dom (@DomDavii) August 26, 2023
The Jets managed to secure a win on Rodgers' debut, taking down their cross-town rivals, 32-24.
For Aaron Rodgers, though, what will matter the most is how he performs in his first regular-season game for New York. This will be on September 11th against Josh Allen and the Buffalo Bills. That's going to be a good one, obviously.
Our Partners
Mayfield Sports Marketing
Call Mayfield Sports Marketing at 262-366-8188 to schedule Green Bay Packers players or alumni for your corporate appearance or product promotion.  Our booking agents will work on your behalf to get you the best price for your desired sports speaker.
Mayfield Sports Marketing has earned a reputation of being the one to call for booking top athletes to speak at events and trade shows. To learn more about Packers players or alumni appearance cost and booking fee, please call us today. www.MayfieldSports.com.
Radtke Sports
Wisconsin Sports Heroics is proud partner with Radtke Sports to offer autographed memorabilia. Brett Favre, Rob Gronkowski, Giannis Antetokounmpo, and MORE Guaranteed Authentic Collectibles and Memorabilia including signed jerseys, photos, and more at www.RadtkeSports.com USE promo code: WSH for FREE SHIPPING on your purchase. Some restrictions may apply.
For More Of My Content
Follow me on Twitter at @PaoloSongcoNBA. You may also reach out to me personally at pao.songco@gmail.com.