The moment news dropped that Trey Lance had been relegated as the San Francisco 49ers' third-string quarterback behind Brock Purdy and Sam Darnold, some fans were quick to assume that Lance's time with the Niners had come to an end. Trade rumors immediately began circling especially after Lance was absent from practice on Wednesday after learning about his shocking demotion.
John Lynch Addresses Trey Lance Trade Rumors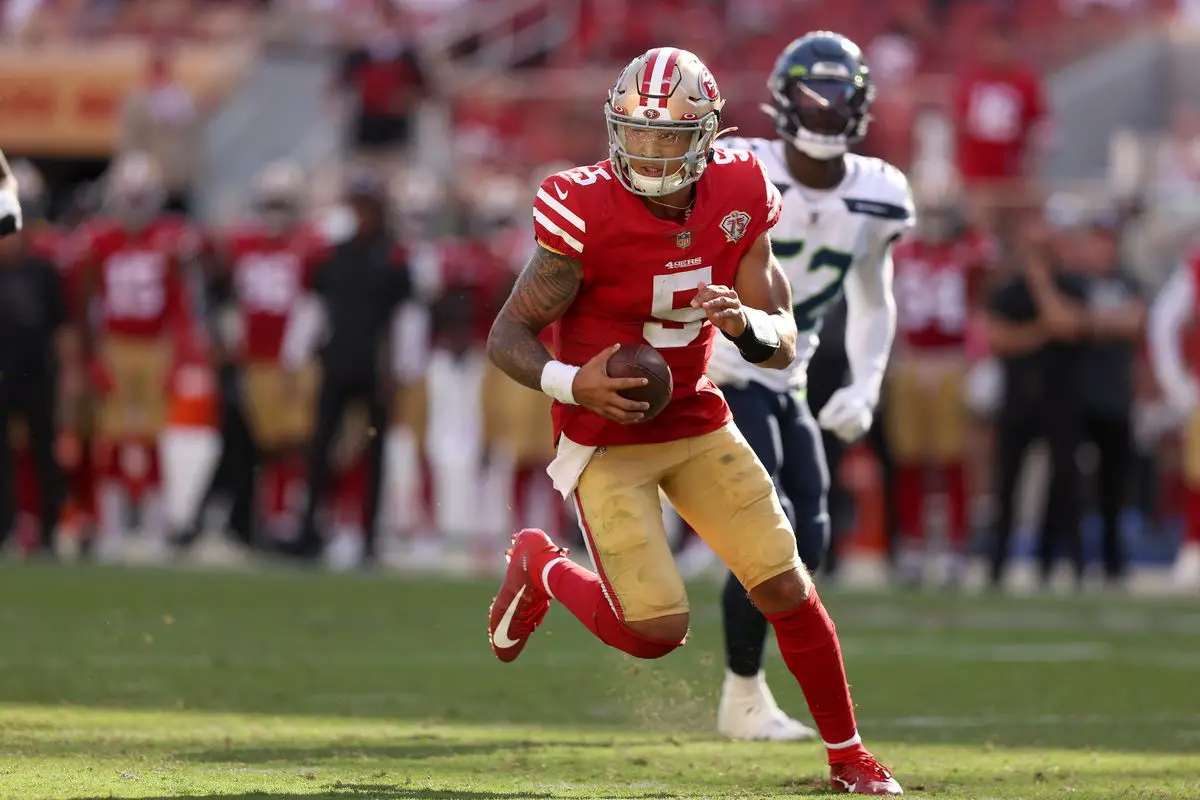 49ers general manager John Lynch has now broken his silence on this captivating saga. Speaking in an interview on KNBR, the high-ranking Niners executive revealed that he believes there's a big chance Lance ends up staying in San Francisco:
"The most likely option is that he's here," Lynch said, via 49ers beat reporter Cam Inman of the San Jose Mercury and the East Bay Times.
As you may have gathered, Lynch is clearly not a hundred percent confident that Trey Lance isn't going to be leaving. After all, you would understand the 23-year-old if he were to ask out to try and resurrect his career elsewhere.
Moreover, Inman also reports that Lynch indicated that the team "won't turn a blind eye to a trade that works for all." This is a clear indication that the front office is indeed willing to part ways with Lance if he actually asks for a trade, and of course, if the right offer comes along. This statement falls in line with head coach Kyle Shanahan saying on Wednesday that they intend to "do right for Trey."
Lynch made it clear, though, that rumors regarding the 49ers attempting to trade Lance throughout the offseason are "not accurate." The general manager also noted that the former No. 3 overall pick is in the team's HQ on Thursday and that the intention is that he will resume his role as the squad's QB3 for Friday's preseason game against the Los Angeles Chargers.
Our Partners
Mayfield Sports Marketing
Call Mayfield Sports Marketing at 262-366-8188 to schedule Green Bay Packers players or alumni for your corporate appearance or product promotion.  Our booking agents will work on your behalf to get you the best price for your desired sports speaker.
Mayfield Sports Marketing has earned a reputation of being the one to call for booking top athletes to speak at events and trade shows. To learn more about Packers players or alumni appearance cost and booking fee, please call us today. www.MayfieldSports.com.
Radtke Sports
Wisconsin Sports Heroics is proud partner with Radtke Sports to offer autographed memorabilia. Brett Favre, Rob Gronkowski, Giannis Antetokounmpo, and MORE Guaranteed Authentic Collectibles and Memorabilia including signed jerseys, photos, and more at www.RadtkeSports.com USE promo code: WSH for FREE SHIPPING on your purchase. Some restrictions may apply.
For More Of My Content
Follow me on Twitter at @PaoloSongcoNBA. You may also reach out to me personally at pao.songco@gmail.com.