The Kansas City Chiefs could make major NFL news by replacing their legendary backup quarterback from last season with a former Super Bowl-winning champion. The addition would give the Chiefs, who are blessed with 2022 NFL MVP Patrick Mahomes, an embarrassing of riches at the quarterback position.
The Chiefs benefited from having one of the best QB1 and QB2 situations during the Andy Reid era since Alex Smith was the starter and Patrick Mahomes was his backup during the 2017 season. Chad Henne served as Mahomes' backup from 2018 until retiring after winning his second Super Bowl this February.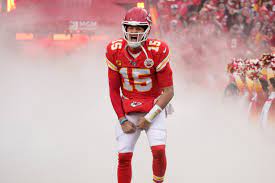 The Chiefs signed Blaine Gabbert in free agency this season to compete for the QB2 spot this season. But the Chiefs have reportedly been in communication with another veteran with several years of starting experience.
NFL News: The Kansas City Chiefs are interested in Carson Wentz
According to Jeremy Fowler with ESPN, free agent quarterback Carson Wentz and the Chiefs have had an ongoing dialogue about Wentz signing with the Chiefs this offseason. Wentz, who would prefer a starting job, is open to the idea of trying to win a Super Bowl in Kansas City this year and learning how to play the quarterback position from Mahomes. Here's a transcription of Fowler's comments per Sports Illustrated:
"Carson Wentz and the Chiefs did talk this offseason. There was some dialogue about Wentz potentially joining the Chiefs maybe down the road, or at least, you know, keeping that communication open," Fowler said.

"And I was told the Chiefs were fairly receptive to that idea. Certainly they respect the talent. And I was told Wentz is open to getting to a championship-type team, getting into a new winning culture, where he can learn, you know, sit behind a Patrick Mahomes."
Wentz was taken by the Philadelphia Eagles as the second overall pick in the 2016 NFL Draft, one year before Mahomes would be drafted. Wentz had a successful run with the Eagles until he suffered an ACL injury during Week 14 of the 2017 season. Backup quarterback Nick Foles would lead the Eagles to a Super Bowl victory with Wentz out.
Wentz dealt with other injuries and inconsistent play with the Eagles after 2017. He's had limited success as a starter for the Indianapolis Colts and Washington Commanders during the previous two NFL seasons.
The Chiefs could use Wentz as a backup to Mahomes
Wentz to the Chiefs might be a benefit for both parties. Wentz would benefit from working in head coach Andy Reid's system. Wentz would be an upgrade at QB2 over Gabbert.
Wentz doesn't have to rush to sign with the Chiefs too early. If he really wants to be a starter, Wentz could wait until starting quarterbacks start getting injured. But the Chiefs seem to be Wentz's best bet to restart his professional career and win a second championship along the way.
For More Football News:
Follow me on Twitter at @JordanSig. You can also reach out to Jordan Sigler via email at jordanmsigler@gmail.com. To read more of our articles and keep up to date on the latest in college and NFL news, click here! 
Our Partners
Mayfield Sports Marketing
Call Mayfield Sports Marketing at 262-366-8188 to schedule Green Bay Packers players or alumni for your corporate appearance or product promotion.  Our booking agents will work on your behalf to get you the best price for your desired sports speaker.
Mayfield Sports Marketing has earned a reputation of being the one to call for booking top athletes to speak at events and trade shows. To learn more about Packers players or alumni appearance costs and booking fees, please call us today. www.MayfieldSports.com.
Radtke Sports
Wisconsin Sports Heroics is proud to partner with Radtke Sports to offer autographed memorabilia. Brett Favre, Rob Gronkowski, Giannis Antetokounmpo, and MORE Guaranteed Authentic Collectibles and Memorabilia, including signed jerseys, photos, and more at www.RadtkeSports.com USE promo code: WSH for FREE SHIPPING on your purchase. Some restrictions may apply.