The Houston Texans are feeling good about the CJ Stroud pick. While the team only sits at 1-2, Stroud has been a bright spot on the team. With most of the offensive line being out with injuries, Stroud has shown good command of the offense. A 37-17 upset over the division rival Jaguars is good to add to the resume but Stroud's first three weeks have been historic.
Houston Texans CJ Stroud Makes NFL History
Stroud threw for 280 yards and two touchdowns. More importantly, he had no interceptions for the third straight game. He becomes the first quarterback in NFL history to have at least 900 passing yards, four pass touchdowns, and zero interceptions in his first three career starts, according to ESPN Stats & Information research. Tight end Brevin Jordan is excited for Stroud.
"The best thing that happened to the Houston Texans' franchise was us beating the Indianapolis Colts last game, last year. We drafted the right guy. Man, he's a leader. He's a phenomenal player and a phenomenal guy with God-given talent. Dude, he's unbelievable."
One of the hardest things to do in the NFL is find a quarterback and the Texans seemed to have found one.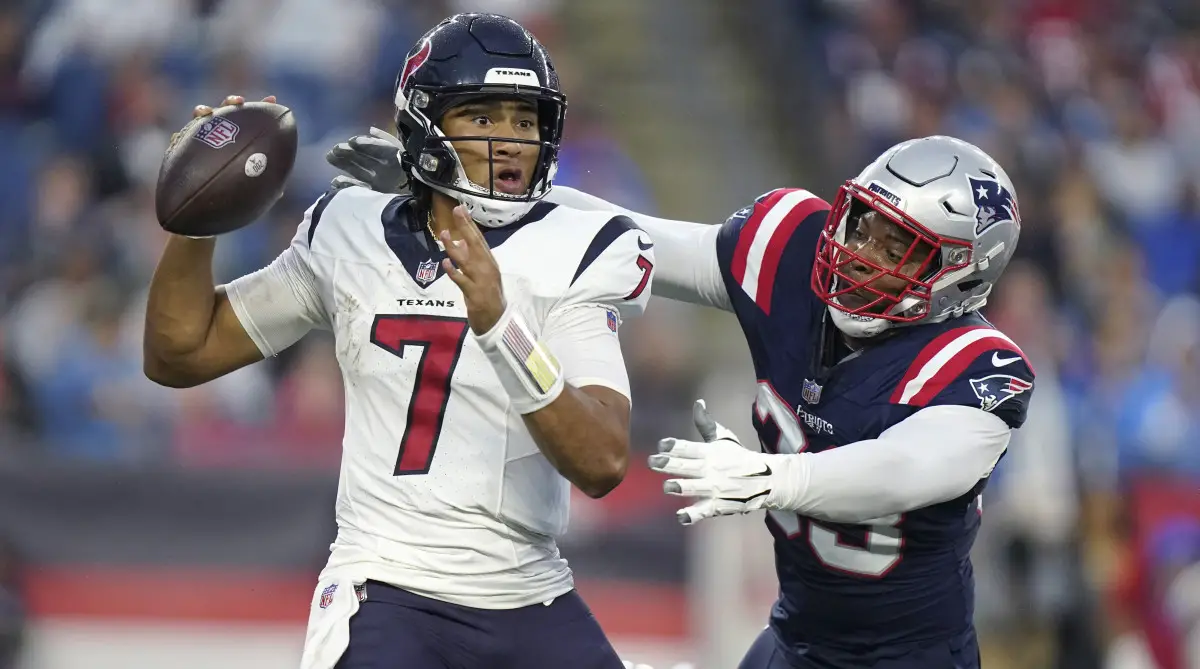 Compete In The Division?
The Colts sit atop the division at 2-1 but they are far from a juggernaut. The Titans, Jaguars, and Texans all sit at 1-2. If the Texans can get some of their injured players back, could they compete for the division? With Stroud's performance, it isn't out of the question. It doesn't seem like it will take a lot of wins to take the AFC South and they already have a key division win over the Jaguars. Nico Collins has looked great and the defense looks like they are taking after DeMeco Ryans. They do not own their first-round pick so any wins are important.
The Houston Texans have to love what they are seeing out of CJ Stroud. For a quarterback who came out of college with many questions, he seems to be the most pro-ready of any of the prospects.