The NFL has entered a new era at the quarterback position. While Tom Brady continues to pile onto his GOAT status, the younger guys are slowly taking over. The Core Four is composed of Patrick Mahomes, Josh Allen, Joe Burrow and Justin Herbert. All four of the previously mentioned quarterbacks finished in the top 10 for passing yards last season. There are individual chips on the shoulders of each of these guys heading into the 2022 season. It's undeniable though: each one of them can throw a football.
Breaking Down Cincinnati Bengals NFL QB Joe Burrow:
Joe Burrow in just his second NFL season led the Cincinnati Bengals to a Super Bowl appearance. Burrow took what was once a non-serious Bengals organization over the top and shocked the NFL world. It may appear that Burrow has arrived in full force already, but this upcoming season in a tough AFC North will push the young star to his limits.
Last season Burrow threw for 4611 yards, 34 touchdowns with 14 interceptions. Burrow standing at a stout 6-4, 221 has all the swag and on-field intangibles to be one of the best this upcoming season at the QB position. The young quarterback will have his right hand man Ja' Maar Chase once again to terrorize the league as well. The main improvement for Burrow comes in the form of decision making. Sometimes the spectacular throws aren't always the wisest for Burrow, hence his 14 interceptions.
Breaking Down Buffalo Bills NFL QB Josh Allen:
In the current NFL meta mobility at the quarterback position is crucial.  Josh Allen has an instinct that is almost unmatched in the NFL. Combined with a knowledge of the game, Allen is able to make quick decisions on the field. Although the Bills fell short to the Chiefs in the AFC Divisional round, Allen still has MVP expectations heading into this season.
Josh Allen completed 63.3% of his passes last season, as well as 36 touchdowns. Stefon Diggs is Allen's primary wideout a reliable third down option. The Bills are enjoying an AFC East era without Brady, and the Super Bowl window for the team is hot. If Buffalo wants to see the confetti come down in February, Allen is going to have to have another MVP-caliber season for Bills Mafia to enjoy.
Thoughts on our AFC East QB rankings? 🤔 pic.twitter.com/ddhs62impc

— FanDuel (@FanDuel) July 5, 2022
Breaking Down Los Angeles Chargers NFL QB Justin Herbert: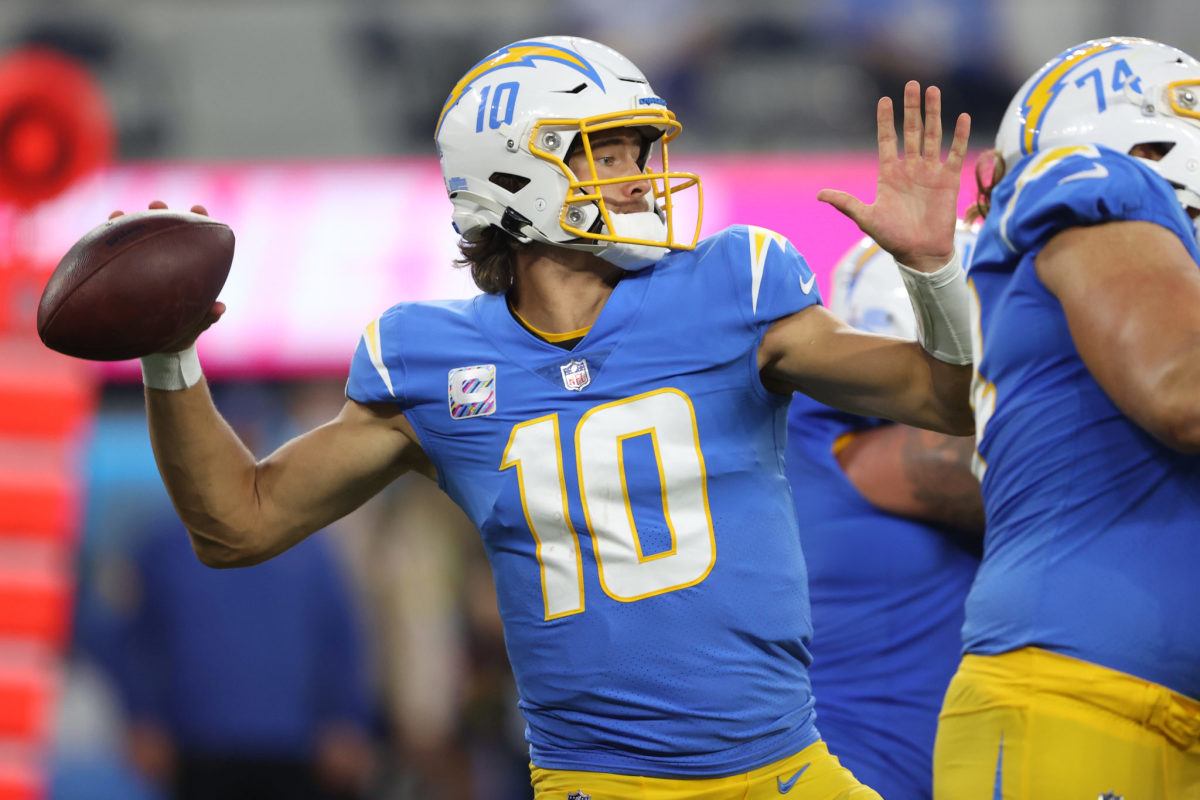 As if the AFC West wasn't already spoiled with an elite QB in Patrick Mahomes, the division got another young prodigy in Justin Herbert. Herbert might have the highest ceiling to reach out of the four quarterbacks. After his second completed season, Herbert is already almost at 10,000 passing yards. This startling pace has propelled Herbert quickly into elite QB talks.
Herbert and Mahomes will be rivals in the AFC West for years to come. The firework talent that these two possess pops on the television screen. Herbert is 2-2 against Mahomes and the Chiefs so far in his career. Herbert has thrown for 1,130 yards in those four games against the Chiefs. The next hurdle for the Chargers to overcome might very well be the kingpin of the AFC West in the Kansas City Chiefs.
Breaking Down Kansas City Chiefs NFL QB Patrick Mahomes:
There's not much to say about Patrick Mahomes that hasn't already been said by the media. Potential heir to Brady's throne, Mahomes has electrified football on a level that has rarely ever been reached. 50 touchdowns in your first season as a starter in the NFL gets you that type of attention. Although Mahomes is the only QB on the list with a Super Bowl ring, the former Texas Tech QB has more hardware left to acquire.
Last season was nothing short of disappointing for a Chiefs team that expects a Super Bowl appearance as a measure of success. Mahomes will have to shake off the haunting AFC Championship game of 2021 and work with a lineup featuring new personnel. Mobile, a cannon for an arm and an ability to make the impossible play. These are the attributes that make Mahomes one of the elites in this league.
Check out more great Gridiron Heroics content!
For More Great Football Content
Follow us on Twitter at @GridironHeroics for more great content. We appreciate you taking time to read our articles. To interact more with our community and keep up to date on the latest in Football news, JOIN OUR FREE FACEBOOK GROUP by CLICKING HERE
Checkout our latest podcast!
[powerpress_playlist limit=1]