Today, the New York Jets announced that they will bench QB Zach Wilson and start QB Tim Boyle for their NFL Week 12 game against the Miami Dolphins. It is no secret that Wilson and the rest of the Jets' offense have struggled this season. However, this move represents something bigger.
It is not the first time Wilson has gotten benched in his NFL career. However, you can argue that this time, the clock has struck midnight for Wilson. Will he ever start an NFL game again? Let's dive into it.
Zach Wilson's NFL Career
Zach Wilson's NFL career has certainly been a roller coaster. It started with high hopes considering that he was drafted with the second overall pick in the 2021 NFL Draft. However, his stats are nothing to write home about.
Wilson has a mere 56.6 completion percentage throughout his NFL career. Wilson even has more interceptions (25) than touchdown passes (21) in his NFL career. If that was not enough, his career passer rating is just 71.9.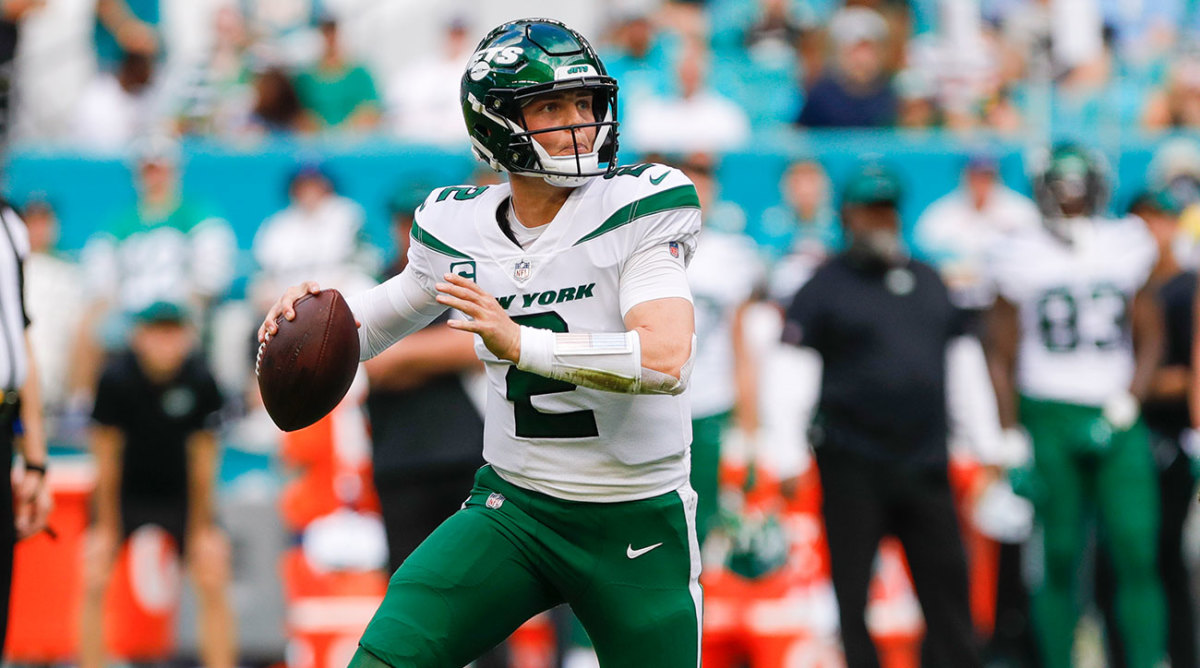 The middle of the 2022 NFL season is when everything started falling apart for Wilson and the Jets. Despite his poor performance, the Jets started that season with a 6-4 record. Then, they went on the road to face their AFC East rival New England Patriots. They lost that game by a final score of 10-3.
Why was that game so significant? Because it revealed just how concerned the Jets were about Wilson. He made some questionable comments to the press after that game. Later that week, the Jets announced that they would start QB Mike White over him.
At first, it worked out well considering they blew out the Chicago Bears 31-10. However, things spiraled quickly after that. The New York Jets would not win another game for the rest of the 2022 NFL season. They lost their last six games, going from 7-5 to 7-11.
New York Jets' 2023 Plans
We should remember that the Jets were ready to move on from Zach Wilson. They even addressed this concern by acquiring veteran QB Aaron Rodgers. Wilson was kept on the roster to serve as the emergency backup quarterback.
However, his services were needed much sooner than expected. Within the first few snaps of the 2023 NFL season, Rodgers tore his Achilles. Rodgers has not played since and it has been left up to Wilson to tread water.
Despite one or two flashes of potential, Wilson simply has not delivered for the New York Jets. They are 4-6 and the Jets had no choice but to confront this yesterday. Head coach Robert Saleh benched Wilson when they trailed the Buffalo Bills 29-6 for QB Tim Boyle. Now, Boyle gets the nod for next week and maybe the rest of the season barring an injury.
Will Zach Wilson Ever Start Again?
It is a fair question to wonder if Wilson has made his final NFL start. The 2023 offensive issues alone should warrant this discussion. The New York Jets could not score a touchdown for nearly 12 straight quarters. They only have nine touchdowns in 10 games this season.
Right now, it is very likely that the New York Jets will decline Wilson's fifth-year option. Assuming they do, that means they owe him just over $1 million in 2024 as a base salary. If they wanted to cut him outright, it would be a dead cap hit of just over $11 million.
While he was not planned to be the starter this year, he may not even be the backup quarterback for the Jets next season. Considering his poor offensive performance this season and the limited quarterback jobs available, do not be surprised if this is the end for Zach Wilson as a starter. He may even be out of the league entirely within a year or two.
Get More NFL Content
For the latest news and trends around the NFL, click here or follow me on Twitter @JohnGalletley. Also, check out our Fantasy Sports Heroics podcast for sports betting and fantasy sports advice.