The New York Jets have had a wild start to their 2023 NFL Season.  After losing Aaron Rodgers just four offensive plays into the season the Jets would go on to beat the Buffalo Bills in dramatic fashion.  However, in Week Two they were trounced by the Dallas Cowboys 30-10.
Zach Wilson has been named the starter since Rodgers went down but fans think that could change after his performance against the Cowboys.  Wilson completed just 44% of his passes against Dallas, throwing for 170 yards, 1 touchdown, and 3 interceptions.  His quarterback rating was an abysmal 38.1.  Going forward fans were hoping that the team would make a change quarterback, but that doesn't seem to be the case.
Robert Saleh Contines To Commit Zach Wilson As The New York Jets Starting Quarterback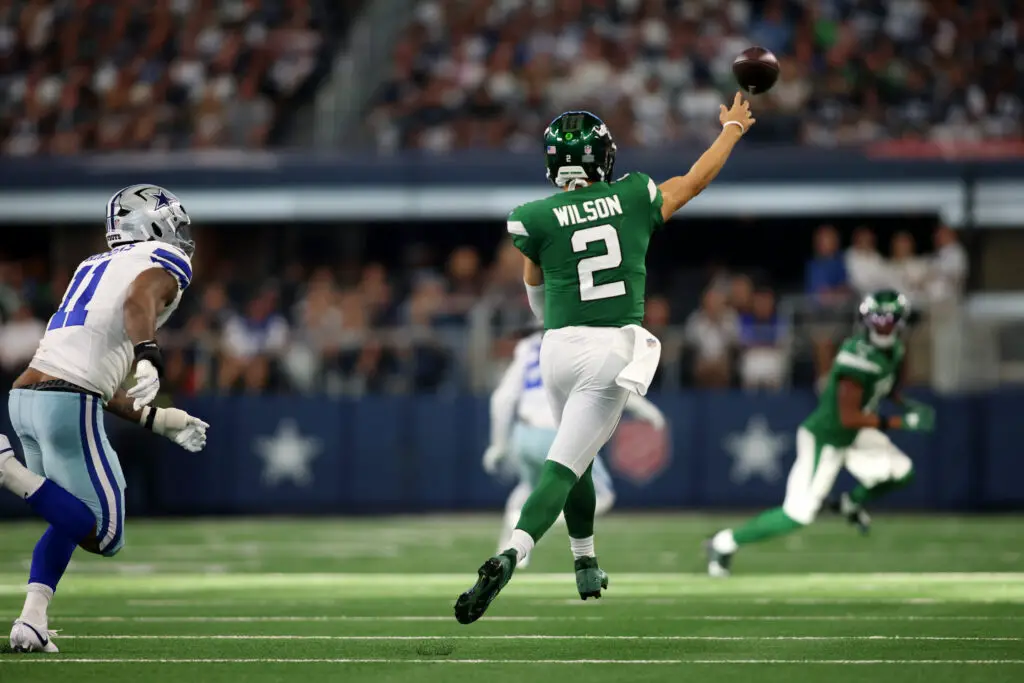 It looks like Zach Wilson will stay in the starting line up with the Jets.
Despite losing to the Cowboys in Week 2, New York head coach Robert Saleh announced on Monday that the team will not be adding any more quarterbacks this week.
From what it appears, Wilson will be the Jets' starter under center for some time to come. Although it sounds like they are pretty set for now, some veteran quarterbacks have been linked to the Jets.
Garrett Wilson's touchdown catch and run against Dallas inflated Wilson's box score. Wilson would have thrown for 102 yards on 26 attempts and no scores if he had not been guided by that lone play.
In typical Wilson fashion, he did what he always does.  He took bad sacks, relocating against pressure one second, then forgetting the pass rusher existed the next.
While we are only two weeks into this season, it is truly surprising the Jets aren't making any changes at quarterback.  As Jordan Sigler of Wisconsin Sports Heroics annotated, many Jets fans are even ready to see Tim Boyle get a shot at quarterback.
As a pro, Wilson has now thrown three interceptions in three games in his three seasons. This is tied for the most such games over that time period with Trevor Lawrence, Matt Ryan, and Mac Jones. All three of whom have attempted at least 1,000 passes during that period. Wilson has 673.
Our Partners:
Mayfield Sports Marketing
Call Mayfield Sports Marketing at 262-366-8188 to schedule Green Bay Packers players or alumni for your corporate appearance or product promotion.  Our booking agents will work on your behalf to get you the best price for your desired sports speaker.
Mayfield Sports Marketing has earned a reputation of being the one to call for booking top athletes to speak at events and trade shows. To learn more about Packers players or alumni appearance cost and booking fee, please call us today. www.MayfieldSports.com.
Radtke Sports
Wisconsin Sports Heroics and Gridiron Heroics are proud partners with Radtke Sports to offer autographed memorabilia. Brett Favre, Rob Gronkowski, Giannis Antetokounmpo, and MORE Guaranteed Authentic Collectibles and Memorabilia including signed jerseys, photos, and more at www.RadtkeSports.com USE promo code: WSH for FREE SHIPPING on your purchase. Some restrictions may apply.
For More Of My Content
Follow me on Twitter at @mcquadewarnold.  Reach out to me personally at mcquadewarnold@gmail.com.  To read more of our articles and keep up to date, click here!  –  JOIN OUR FREE FACEBOOK GROUP by CLICKING HERE