New York Jets quarterback Aaron Rodgers is determined to quickly recover following his injury in week 1 of the NFL season. Rodgers appeared on the Pat McAfee Show on Tuesday, where he discussed his status and goals for returning this season.
"There's nothing normal about how I'm attacking this rehab," Rodgers said during his weekly appearance on "The Pat McAfee Show." "The common practice is about six weeks in a boot, and I was in a shoe in 13 days."
Quarterback Aaron Rodgers is currently mending a torn Achilles Tendon he sustained in the Jets home opener against the Buffalo Bills. The unfortunate incident occurred after Bills defensive end Leonard Floyd broke through the offensive line and sacked Aaron Rodgers. Rodgers was on the field for less than a full minute before he sustained the injury.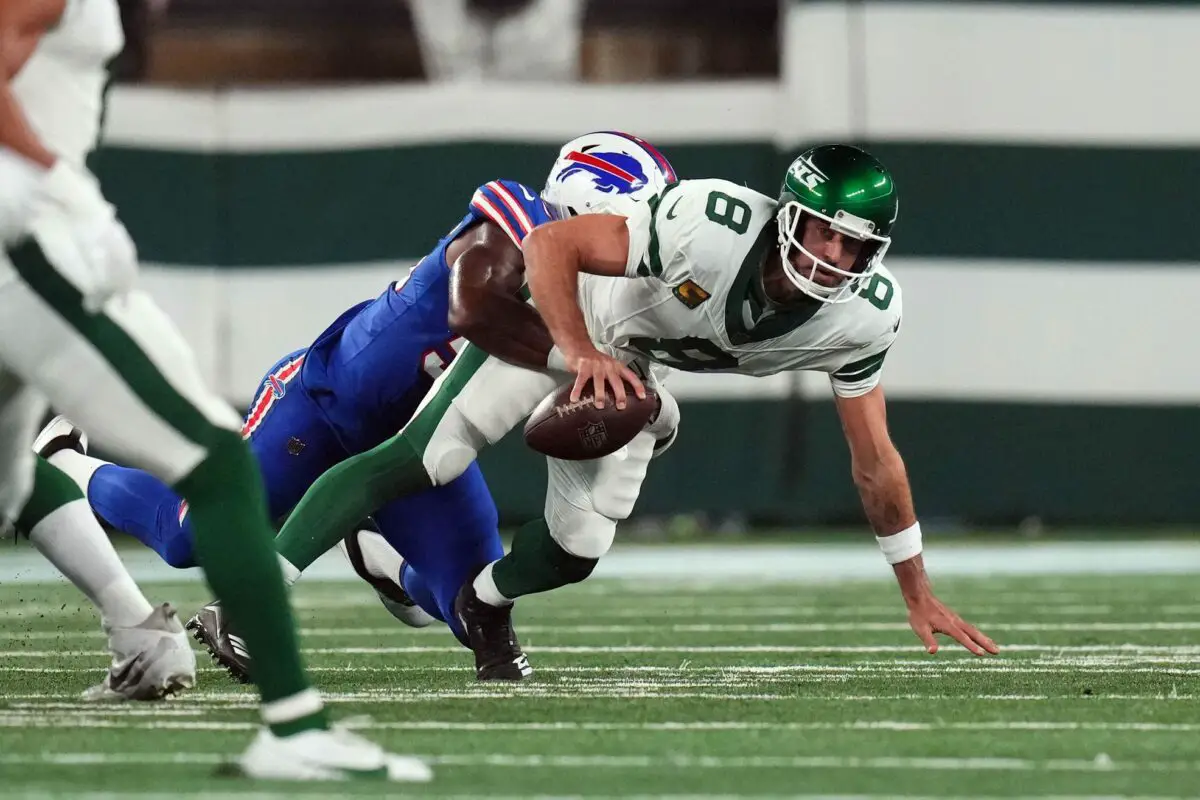 The recovery process of a torn Achilles Tendon
There are three ways to recover from a torn or ruptured Achilles Tendon. Directly after the tear, the heel is immobilized. Athletes then usually opt for the surgery rather than the splint or cast options, per The Athletic.
After the surgery, the heel is immobilized again for around two weeks. Once there is enough strength, physical therapy begins. As the heel's strength increases over time, reliance on crutches and other assisting medical equipment will no longer be necessary.
This process usually takes 6-9 months, depending on individual circumstances.
Can Aaron Rodgers come back before the end of the season?
Several factors are in play regarding the return of the star quarterback this season. One of the most important factors is Rodger's age. At 39 years old, Aaron Rodgers is one of the oldest players in the National Football League.
Another negative factor weighing in against his recovery, revealed by Rodger himself, is the issue he has been having with his deltoid. The main ligament of his inner ankle.
Nonetheless, the decorated quarterback is in high spirits, determined to make a swift recovery. He predicts he will be back within four to five months.
"This is just my mindset. I believe in the power of intention. I believe in prayer. I believe in your mental status and the power of will. I believe in making room for the miraculous to happen." Said Rodgers
The Jets star says he is "well ahead of the normal protocols." If all goes his way, Rodgers could be under center again before the year 2024.
Please go and follow me on Twitter @TFriend81 for more NFL news and updates. If you have any further personal questions or comments for Edward, email tfriend703@gmail.com or connect with him on Linkedin. For more articles on the NFL, go to this site here!