Miami Dolphins quarterback Tua Tagovailoa is taking the blame for Sunday's 21-14 loss to the Kansas City Chiefs in Frankfurt, Germany. The team tried to come back from a 21-point deficit but in the end, fell short in the final minutes of the game.
The Chiefs were able to score 21 straight points in the first half and it wasn't looking really good for the Dolphins. The Chiefs were shut out by Miami in the third quarter when they finally pulled within one score. Tyreek Hill gave up a fumble right before the half ended, that would've put the Dolphins in a good position going into the second half, but Miami was left playing catchup all game.
With just a minute left in the game, Cedrick Wilson appeared to break from cornerback Jaylen Watson for what could've been the game-tying touchdown, but the pass from Tagovailoa went well past the wide receiver.
On the next play, Miami's QB missed an off-target snap from Connor Williams, which resulted in losing 13 yards and had a turnover on downs.
Tua Tagovailoa Blames Himself for Loss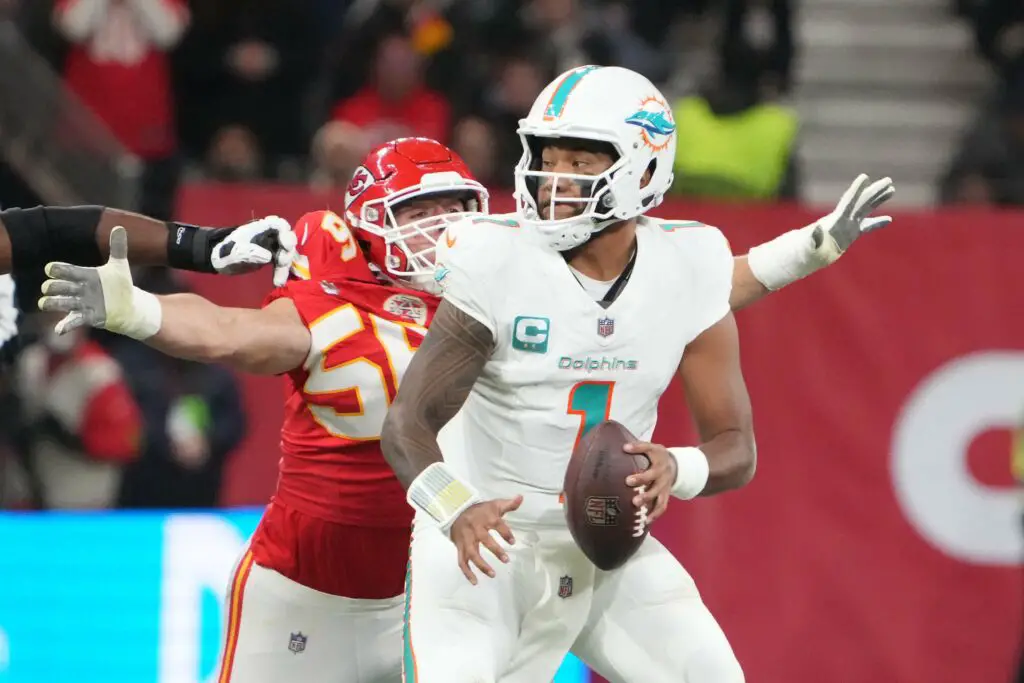 The Dolphins' quarterback is taking the blame for Sunday's loss and the mishandle of plays that cost the team the game.
"Whatever happened with me and Ced, that was just miscommunication, and in big-time moments, those things like that can happen. I've got to throw a better ball. It was just miscommunication there. Then with the last play of the game, I'm always going to blame myself. I've got to catch the ball. Whether that's getting in a better position to catch it or whatever it is, can't end the game like that when we have an opportunity like that against a really good team."
Tagovailoa declined to say what the miscommunication was between him and Wilson, but said that it was his fault, not Wilson's. Coach Mike McDaniel said he wasn't surprised to see Tagovailoa taking responsibility and blame for the plays, but also said that the blame ultimately falls on the coach.
"The miscommunication is something that doesn't happen if I put them in the appropriate situation during the week," McDaniel said. "Tua didn't have time to observe. He signaled kind of one route, and that was a conversion, and Cedric interpreted it as another thing, and that's just things that when you're working together as a football team and you have the right effort and mentality from all your players that it's one hundred percent something that I can control personally."
Tagovailoa went 21-of-24 for a season-low 193 yards and one touchdown. Miami surprisingly outgained the Chiefs 292-267, and the Dolphins defense allowed just 14 points.
Are the Miami Dolphins legit playoff contenders?
This is the third loss this season for the Dolphins – All three have come against teams with winning records. They're 6-0 and score about 40 points per game against teams that have a .500 record or worst this season. But against winning teams, they're 0-3 and scoring about 17 points per game.
This was their chance to prove themselves to be legit contenders, and after losing to the two-time Super Bowl champions, many people believe that the Dolphins don't have a shot at the playoffs.  McDaniel told the media that it's up to the team to influence what is said about them.
"You know, just that the overall mental fortitude of the collection of individuals, their commitment to this season and this organization and this team, and they show me every day. This is something that I think we're all very aware of, and we knew going into this game that if we're going to lose, what the narrative would be, and that's fair.
"We shouldn't feel entitled to high opinions from the masses. We have to earn that confidence, and we have to earn every – it also gives me a ton of confidence because I know that NFL games, each and every one of them, is tough. I think people undervalue poor records. It is hard to win in this league. To win in any right against any opponent is something not to take for granted. As long as you continue to get better, ultimately that narrative will subside. But that's on us collectively from coaches and players alike to – if you want to narrative to change, change the narrative."
For More Football News:
Follow me on Twitter at @sarahspooon. My written work can be found here on Gridiron Heroics and also on Wisconsin Sports Heroics.